This week's article from the Association for Unmanned Vehicle Systems International (AUVSI), which highlights some of the latest news and headlines in unmanned vehicles and robotics, takes a look at a new underwater camera drone, the impact a new U.S. Court of Appeals ruling has on hobby drone owners, and a new UAS aerial imaging and data collection platform.
Robosea unveils underwater camera drone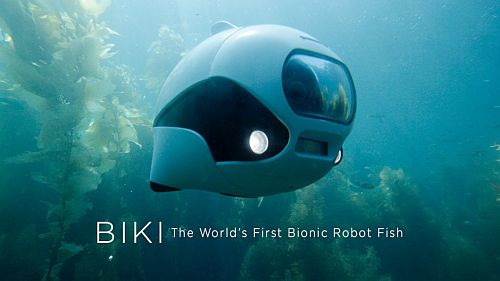 Beijing-based Robosea has unveiled its underwater camera drone, named Biki, which is capable of swimming autonomously and without a tether.
Thanks to the ability to program the routes of the drone, its owner can swim alongside it, or let the drone wander off by itself, while people watch footage from the drone's 4K camera, as it is being streamed back to a smartphone or tablet.
Described as a "robofish," Biki can move at a speed at 1.1 miles per hour for up to 90 minutes on a single charge. Biki moves through the water using its flapping fish tail that propels it, and it can dive as far as 196 feet into the ocean.
Biki can be controlled using an accompanying app or with a physical controller. Thanks to built-in GPS, Biki will automatically return to its base if it loses connection with the person controlling it. Biki also includes obstacle avoidance technology, which can save it from potential "calamitous mishaps."
The team behind Biki hopes to begin shipping the underwater camera drone starting this August.
U.S. Court of Appeals says hobby drone owners no longer must register UAS with the FAA
On May 19, the U.S. Court of Appeals determined that hobbyist UAS owners will no longer have to register their unmanned systems with the Federal Aviation Administration, potentially reversing a practice that has been in place for more than a year.
A three-judge panel determined that a final rule issued by the FAA in December 2015 requiring UAS owners to register their aircraft like manned aircraft directly contradicted another rule that was already in place from 2012.
The rule that was in place from 2012 comes from section 336 of the FAA Modernization and Reform Act, which states that the FAA "may not promulgate any rule or regulation regarding a model aircraft."
In that same section, a model aircraft is defined as "an unmanned aircraft that is (1) capable of sustained flight in the atmosphere; (2) flown within visual line of sight of the person operating the aircraft; and (3) flown for hobby or recreational purposes."
In an opinion for the Court filed by Circuit Judge Brett Kavanaugh, he says, "statutory interpretation does not get much simpler. The Registration Rule is unlawful as applied to model aircraft."
AUVSI President and CEO Brian Wynne issued the following statement after the ruling:
"AUVSI is disappointed with the decision today by the U.S. Court of Appeals to reject the FAA's rule for registering recreational unmanned aircraft systems (UAS). A UAS registration system is important to promote accountability and responsibility by users of the national airspace, and helps create a culture of safety that deters careless and reckless behavior. We plan to work with Congress on a legislative solution that will ensure continued accountability across the entire aviation community, both manned and unmanned."
Wynne served on the panel that created the drone registration, along with other industry representatives and representatives of hobbyist UAS aviators. The Academy of Model Aeronautics, which also had a representative on the panel, had opposed registration for hobbyist drone owners. The AMA said in a statement on its website that it is reviewing the new ruling.
3D Robotics launches Site Scan Manager 3.0 for UAS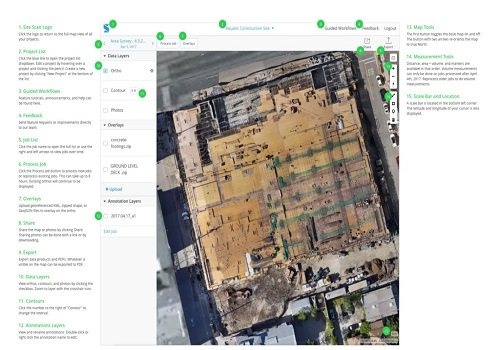 Since its launch just over a year ago, 3D Robotics' Site Scan has been used as a UAS data platform for AEC professionals across the globe.
Established firms such as PCL Construction, Kimley-Horn, and McKim & Creed have all used the Site Scan on their respective job sites, and the technology has helped them with a variety of tasks such as designing new bridges, surveying inaccessible terrain, and building artificial lagoons.
In May, 3D Robotics announced the release of its all new Site Scan Manager 3.0, which is a web application. Described as the "the best Site Scan yet," 3D Robotics has highlighted four major improvements to the latest version of the Site Scan Manager.
Firstly, 3D Robotics says that the new Site Scan Manager has a simple, intuitive interface. After redesigning the interface to make the Manager simpler and easier to use, version 3.0 offers "improved workflows for accessing your project and job lists, toolbar, and sidebar." 3D Robotics says that it is easier than ever for users to manage their jobs, add annotations, and more.
Next, the new version of Site Scan Manager allows users to go back in time without issue, as users can easily navigate to any job and "watch as the orthomosaic transitions seamlessly from one date to another." After that, it just takes a simple click to add CAD overlays, zoom in on details, and more.
Volumes can now be measured directly within the Site Scan Manager, after a UAS flies over a user's aggregates in just minutes. This eliminates the time, danger and cost of measuring stockpiles by foot. All a user has to do is tap around their area of interest, and the Manager will automatically "calculate volumes in cubic meters and cubic yards" using 3D Robotics' lowest point method. 3D Robotics says that this process makes earthworks projects simpler than ever before, as this is a fast, accurate way of managing resources for users.
Finally, the Site Scan Manager 3.0 allows users to quickly share orthomosaic, overlay, or measurements, thanks to the new PDF export feature, which allows users to download the information they need, and easily send that information to their team and other stakeholders.
These are just some of the main features of the Site Scan Manager 3.0. 3D Robotics will be announcing other improvements very soon.
View more information on the AUVSI.
Share your vision-related news by contacting James Carroll, Senior Web Editor, Vision Systems Design

To receive news like this in your inbox, click here.
Join our LinkedIn group | Like us on Facebook | Follow us on Twitter
Learn more: search the Vision Systems Design Buyer's Guide for companies, new products, press releases, and videos