This week's article from the Association for Unmanned Vehicle Systems International (AUVSI), which highlights some of the latest news and headlines in unmanned vehicles and robotics, takes a look at Intel's buzz from XPONENTIAL, a new linear drone mapping platform, and a partnership to improve beyond visual line of sight UAS operations.
Intel wows XPONENTIAL with hard facts, helpful robots, entertaining drones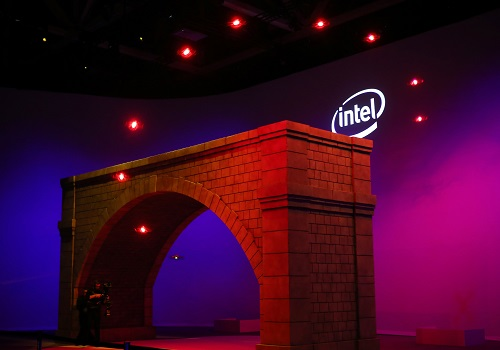 Relying upon a mix of dazzle and hard facts, Intel Corporation CEO Brian Krzanich used his May 9 keynote speech for AUVSI's XPONENTIAL 2017 as a platform to outline in crystal clear terms how unmanned systems — and the data they collect — are shaping the future.
"Data is the new oil," Krzanich says, after dispatching Loomo, the robot-vehicle developed jointly by Intel and Segway, Inc., that brought him to the stage, to fetch him a bottle of water.
Speaking to an audience of UAS industry leaders and key players, Krzanich says that when time for driverless cars and aircraft becomes commonplace, the most important aspect of the vehicles would be the data they collect, not their performance.
Today, Krzanich says, "Online people have data that brick-and-mortar people don't. The number of devices tied to the cloud is exponentially increasing."
The ever-increasing amount of data collected and shipped to the cloud for analysis will provide the backbone for commerce and government operations for generations to come, Krzanich believes.
He also scoffs at any notion that the amount of data being collected will peak. To the contrary, he says, "It will be much larger than you can imagine today. The data rate is going to explode on us in the next few years. This is an opportunity, not a problem."
Work on creating robotic systems that emulate human behavior continues apace, Krzanich says. The devices are learning how to emulate human vision and instantly map a room when they enter, enabling them to avoid obstacles. They can lock onto a feature such as a human face or pair of eyes and track the feature as they navigate.
"The next decade will bring massive innovations. A refrigerator will have 'eyes' that allow it to look out and 'see' who is in the kitchen. They'll become more autonomous, but really more smart," Krzanich says. "They will have the ability to make decisions."
During one highlight of Krzanich's presentation, an Intel Falcon 8+ drone conducted a simulated inspection of a mock bridge within minutes, a project that would take hours or days for human inspectors, at considerably more risk to life and limb.
Krzanich also outlined an arrangement between Intel and Airbus, which would foster the use of drones to conduct aircraft inspections.
"Aircraft inspection takes hours of time for humans, and airplanes have to be inspected regularly for cracks and defects. It's now a manual system, with people having to climb all over the plane," Krzanich says.
The same Falcon 8+ drone, equipped with appropriate payloads, could identify defects, including specifics about their size and proportion, for repair teams to quickly address.
He also addressed the potential uses in natural disasters, and other aspects where UAS can be used for the public good.
"Natural disasters are disruptive and costly. Flooding is one of the most expensive, costly and dangerous disasters. It's difficult to recover from for a society or community," Krzanich says.
"Automated systems — like we've been talking about all morning — are on the leading edge" of providing relief to stricken areas, he says.
Rescue and recovery operations that took days to execute could be carried out by UAS in a matter of hours, with software and payloads that can identify locations of possible victims in enough time for their lives to be saved.
"I believe this industry, with partners, can deliver that — easily," Krzanich says.
He closed his keynote with a bit of fun, as a group of Intel Shooting Star drones flew around the mock bridge and then formed an X for Xponential.
senseFly announces senseFly Corridor for UAS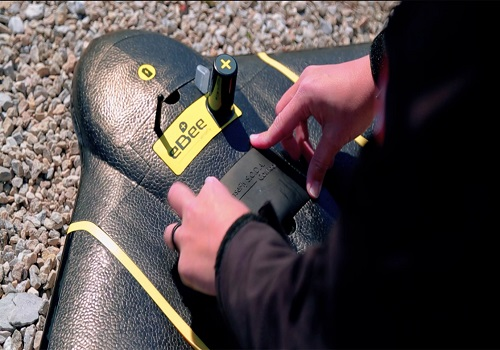 SenseFly has announced its senseFly Corridor, which is a new platform enhancement designed to simplify the UAS mapping of linear infrastructure and sites.
The senseFly Corridor, which is optimized for any eBee Plus UAS that carries a senseFly S.O.D.A. photogrammetry camera, combines software and hardware, and also includes a camera integration kit. The senseFly S.O.D.A. is housed within the camera integration kit, in a longitudinal (portrait) position. The Corridor also includes a new corridor mapping 'mission block,' which is in senseFly's eMotion 3 ground station software.
The combined hardware and software offers three specifics benefits. Firstly, it offers better ground resolution, because operators can fly closer to the ground with the eBee Plus UAS, thanks to the vertical camera position. This can be done while still achieving the image overlaps required for their digital outputs. Flying lower results in a lower ground solution, of down to 1.5 cm (or 0.6 inches) per pixel.
Secondly, the combined approach offers shorter processing times thanks to fewer images, because the senseFly Corridor can map the same linear route using 30% fewer images, in comparison to a normal, landscape-position UAS camera. This results in a 30% shorter image processing time after a flight.
Finally, the combined approach makes corridor mapping easy. Linear mapping jobs are easier than with any other solution, thanks to eMotion 3's Corridor Mapping mission block. All one has to do is load a KML, shape a file or background map, define their target corridor (clicking once each time the route changes direction), and specify the corridor width and ground resolution that they require.
"With senseFly Corridor, commercial operators can easily plan an automated corridor mapping mission, containing one or numerous flights," says senseFly's lead product manager for surveying Francois Gervaix.
"This release is also future-friendly, as more operators gradually look towards gaining EVLOS and BVLOS permissions."
Ligado Networks and Harris Corporation Partner to Further Advancement of BVLOS UAS Operations
In an effort to enable beyond visual line of sight (BVLOS) UAS operations, Ligado Networks has partnered with Harris Corporation.
Through technology trials, the two companies will look to demonstrate innovative technologies and applications of BVLOS UAS.
The trials will include Harris' planned BVLOS Network, HubNet, pilot in North Dakota and Ligado's upcoming network demonstration in Louisiana.
"We look forward to working with Harris and commercial end users to further demonstrate how our technologies can benefit both manned and unmanned aircraft in this incredibly promising era of next-generation aviation," says Ligado Networks' Chief Technology Officer Tamara Casey.
"There is an urgent demand for BVLOS UAS operations in America's core infrastructure industries. Together with Harris, we look forward to unlocking the possibilities of this technology to meet the growing demand."
Together, Ligado Networks and Harris Corporation will test mission-critical use cases to generate data that will be useful in future FAA certification processes, including the development of safety-related use cases.
George Kirov, vice president and general manager, Harris Commercial UAS Solutions, says, "Harris is excited to partner with Ligado in bringing two industry leaders together to address the rapidly emerging needs of BVLOS UAS operations."
"Our collaboration will build upon our companies' highly complementary capabilities to bring to the commercial UAS industry communications solutions that will be unmatched in geographical footprint, cost-efficiency, and reliability."
The announcement of this new partnership comes a few months after Harris announced its North Dakota grant, which will be used to expand UAS research and testing, and follows the "successful utilization of Ligado's network capabilities in demonstrations of BVLOS UAS applications supporting critical infrastructure."
View more information on the AUVSI.
Share your vision-related news by contacting James Carroll, Senior Web Editor, Vision Systems Design

To receive news like this in your inbox, click here.
Join our LinkedIn group | Like us on Facebook | Follow us on Twitter
Learn more: search the Vision Systems Design Buyer's Guide for companies, new products, press releases, and videos