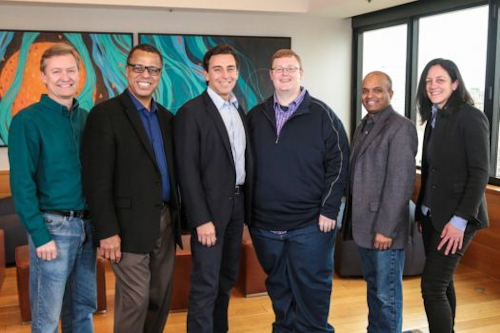 In an effort to develop a virtual driver system for the company's forthcoming autonomous vehicle, Ford Motor Company is investing $1 billion during the next five years in Argo AI, an artificial intelligence company focused on self-driving vehicles.
Argo AI was founded Bryan Salesky, company CEO, and Peter Rander, company COO. Both are alumni of Carnegie Mellon National Robotics Engineering Center and former leaders on the self-driving car teams of Google and Uber, respectively.
"The next decade will be defined by the automation of the automobile, and autonomous vehicles will have as significant an impact on society as Ford's moving assembly line did 100 years ago," said Ford President and CEO Mark Fields. "As Ford expands to be an auto and a mobility company, we believe that investing in Argo AI will create significant value for our shareholders by strengthening Ford's leadership in bringing self-driving vehicles to market in the near term and by creating technology that could be licensed to others in the future."
Ford intends to have an autonomous vehicle on the road by 2021, and with the partnership, the automaker hopes to not only develop the aforementioned virtual driver system for the car, but also potentially license the system to other companies. The machine learning software being developed for Ford's virtual driver system will be combined with the robotics talent and expertise of Argo AI, according a Ford press release.This partnership, said the company, will work to deliver the virtual driver system for Ford's SAE level 4 self-driving vehicles. Level 4 vehicles, according to SAE International, are "high automation vehicles with driving mode-specific performance done by an automated driving system of all aspects of the dynamic driving task, even if a human driver does not responds appropriately to a request to intervene."
We are at an inflection point in using artificial intelligence in a wide range of applications, and the successful deployment of self-driving cars will fundamentally change how people and goods move," said Salesky. "We are energized by Ford's commitment and vision for the future of mobility, and we believe this partnership will enable self-driving cars to be commercialized and deployed at scale to extend affordable mobility to all."
Complementing the relationship will be Ford Smart Mobility LLC, which will lead on the commercialization strategy for Ford's self-driving vehicles, including choices for using autonomous vehicles to move goods and people, such as ride sharing, ride hailing or package delivery fleets.
Ford will be the majority stakeholder in Argo AI, and the $1 billion investment will be made over five years, and is reportedly consistent with the autonomous vehicle capital allocation plan shared last September as part of Ford Investor Day. By the end of this year, Argo AI expects to have more than 200 team members, based in the company's Pittsburgh headquarters and at major sites in Southeastern Michigan and the Bay Area of California.
Ford has made a number of key investments in tech companies, and has doubled its team in Silicon Valley in an effort to launch this vehicle by 2021. These investments will expand its capabilities in advanced algorithms, 3D mapping, LIDAR, and radar and cameras sensors:
Velodyne: As previously covered on our site, Ford has invested in Velodyne, the leader in LIDAR sensors, with an eye on quickly mass producing a more affordable automotive LIDAR sensor.
SAIPS: Ford has acquired the Israel-based computer vision and machine learning company to further strengthen its artificial intelligence and computer vision capabilities. SAIPS develops algorithms for image and video processing, deep learning, signal processing, and classification, which Ford hopes will help its autonomous vehicles to learn and adapt to the surroundings of their environment.
Nirenberg Neuroscience LLC: Ford announced an exclusive licensing agreement with Nirenberg Neuroscience, a machine vision company founded by neuroscientist Dr. Sheila Nirenberg, who cracked the neural code the eye uses to transmit visual information to the brain. Nirenberg Neuroscience has a machine vision platform for performing navigation, object recognition, facial recognition and other functions.
Civil Maps: Ford has invested in Civil Maps, a company that has developed a scalable 3D mapping technique, which provides Ford with another way to develop high-resolution 3D maps of autonomous vehicle environments.
Pictured: Peter Rander, Argo AI COO; Ken Washington, Ford vice president of Research and Advanced Engineering; Mark Fields, Ford president and CEO; Bryan Salesky, Argo AI CEO; Raj Nair, Ford executive vice president, Product Development, and chief technical officer; and Laura Merling, Ford Smart Mobility LLC vice president of autonomous vehicle solutions.
View the Ford press release.
Share your vision-related news by contacting James Carroll, Senior Web Editor, Vision Systems Design

To receive news like this in your inbox, click here.
Join our LinkedIn group | Like us on Facebook | Follow us on Twitter
Learn more: search the Vision Systems Design Buyer's Guide for companies, new products, press releases, and videos