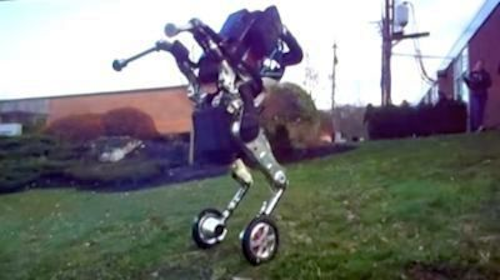 Having already developed such robots as the Atlas two-legged humanoid robotand the Spot quadruped robot, Boston Dynamics recently unveiled video of "Handle," a new robot that features both legs and wheels.
Boston Dynamics—a subsidiary of Google's parent company Alphabet—introduced video of the new robot at a recent presentation for investors. Company founder Marc Raibert commented on the new robot.
"Everybody thinks we only do legged robots, so no one has seen this, you are the first," he told the crowd. "This is the debut presentation of what I think will be a nightmare-inducing robot, if you're anything like me."
Raibert explained that the robot is an experiment with combining wheels with legs with a dynamic system that is constantly balancing itself and "has a lot of knowledge of how to throw its weight around." In the demonstration video, the robot—which Raibert says is more efficient than a legged robot—can be seen spinning around rapidly, darting across a room, and rolling down a small grassy hill. It can even be seen jumping over an object in the video.
Boston Dynamics called the robot "Handle" because it is supposed to be able to handle objects, eventually. The move, suggests Tech Crunch, could signal a push from the company to focus more on reducing the costs of its prototypes. This would make sense, since similar video demonstrations of the company's robots seem to wow the tech community, but have not necessarily found success developing a commercial robot product.
Furthermore, early last year, Boston Dynamics was reportedly put up for sale. Since we are now into 2017 and Alphabet still owns the company, however, perhaps this signals a shift in the type of robots that will be developed by the Waltham, MA, USA-based company.
View a video of the robot being introduced.
Share your vision-related news by contacting James Carroll, Senior Web Editor, Vision Systems Design

To receive news like this in your inbox, click here.
Join our LinkedIn group | Like us on Facebook | Follow us on Twitter
Learn more: search the Vision Systems Design Buyer's Guide for companies, new products, press releases, and videos