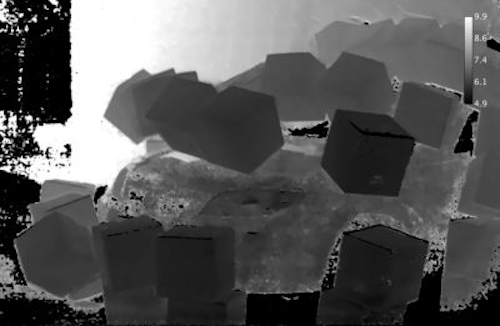 TetraVue, a company specializing in LIDAR technology, has received $10 million in Series A funding from a group led by Robert Bosch Venture Capital, Nautilus Venture Partners, Foxconn and Samsung Catalyst Fund to bring its technology to the autonomous car industry.
The company's 3D flash LIDAR technology uses standard CMOS and CCD pixel technology that is available in megapixel arrays, and by using this, the company says it allows for lower risk, lower cost, and shorter time-to-market.
"We are thrilled to share that TetraVue has officially closed its largest round of funding to date," said Paul Banks, Founder and President of TetraVue. "Our passionate team has dedicated their careers to researching and developing the technology that TetraVue is today and we plan to use this financial support to continue to deliver state of the art 3D vision technology to enable smart vision for smarter machines."
TetraVue is also developing partnerships with car manufacturers, auto artificial intelligence software developers, and other hardware markers to be an "intricate part of what can only be described as the 'eyes and brain' of self-driving vehicles."
"TetraVue is unparalleled to any other existing technologies in the three-dimensional Flash LIDAR space," said Luis Llovera, Managing Director of Robert Bosch Venture Capital. "We see its technology as being key to the enhancement and development of the autonomous car industry, which will be the future of transportation as we know it."
In terms of the technology, both the company itself and the investors are confident in its ability to identify unexpected and dangerous obstacles at hundreds of meters, which TetraVue says is not being not today. As on-board computers will make split-second decisions to adapt to road conditions and react, an autonomous car's vision system and LIDAR need to determine—at a safe distance—what the nature of the obstacle is accurately and instantly.
"TetraVue's LIDAR gives cars perfect vision, and allows them to make better decisions," said Connie Sheng, Founding Managing Director at Nautilus Venture Partners. "Imagine a car being able to instantly determine if a black spot is a rock or a plastic bag."
Pictured: Grayscale color mapping, where gray indicates the distance of the object, in a demonstration in which a car was driven through a wall of boxes.
View more information on TetraVue.
Share your vision-related news by contacting James Carroll, Senior Web Editor, Vision Systems Design

To receive news like this in your inbox, click here.
Join our LinkedIn group | Like us on Facebook | Follow us on Twitter
Learn more: search the Vision Systems Design Buyer's Guide for companies, new products, press releases, and videos