In this week's roundup from the Association for Unmanned Vehicle Systems International(AUVSI), which highlights some of the latest news and headlines in unmanned vehicles and robotics,learn about news from the third annual FAA UAS Symposium, cosponsored by the FAA and AUVSI, where industry experts discusses UAS integration and the need for remote identification, among other topics. Additionally, learn more about how Skyguide and AirMap will develop and deploy the first national UAS traffic management system in Europe.
Speakers see appetite for UAS integration, but remote ID is a must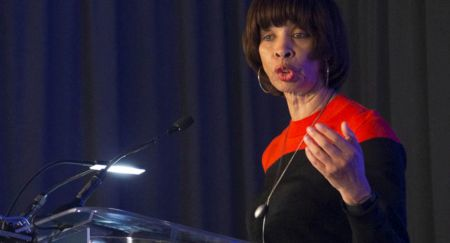 The recently created pilot program for communities wanting to expand unmanned aircraft operations will help push the technology and integration forward, said speakers at the kickoff of the third annual FAA UAS Symposium, cosponsored by the FAA and AUVSI.
One such city might be Baltimore, where the symposium is being held. Catherine Pugh, the mayor of Charm City, noted that her campaign used drone footage for an ad promoting her candidacy.
She cited AUVSI's economic impact numbers, which forecast 100,000 new jobs and more than $82 billion in economic impact upon full integration.
"I want you to know that Baltimore is poised to be part of this rapidly growing area," Pugh said.
One thing the city is doing is setting up drone camps for kids 10 years and older, which will include a drone race, complete with a "mayor's cup."
"It's really going to be an exciting race here in Baltimore," Pugh said.
Michael Kratsios, deputy assistant to the president and deputy U.S. technology officer, said the need for creating an integrated National Airspace System is "a no brainer. … Supporting technology is a critical piece of what we do every day."
More than 75,000 UAS are already registered for commercial use, a number expected to grow fivefold over the next five years, he said.
"We've never seen such a massive adoption of new vehicles taking to the sky at such a rapid pace," Kratsios said.
More work remains to be done, he said, including allowing flights at night, beyond line of sight operations and flights over people.
"We need a regulatory framework that is flexible enough to keep pace," he said, and he predicted that the pilot program for the development of UAS uses will "spur innovation" in the next three years.
Remote identification
One key part of achieving integration is knowing who is flying drones in the airspace, FAA speakers said.
Dan Elwell, the FAA's acting administrator, predicted that the next 12 to 18 months will be critical to achieving integration, as the agency expands its use of automated UAS flight permissions and analyzes a recent pathfinder program that demonstrated beyond line of sight flights.
The automated system, known as LAANC, for Low Altitude Authorization and Notification Capability, enables drone pilots access to controlled airspace near airports through near real-time processing of their applications to fly there. In some cases, it cuts the approval process from months to minutes.
Elwell said a "national beta test" will roll out starting May 30, covering 500 airports, a great increase from the 50 or so using it now. Also, from April 16, new vendors will be allowed to provide the authorizations, up from a handful doing it now.
"History and innovation are about to meet at the intersection we call unmanned aircraft," he said.
One key part of achieving that integration is knowing who is flying drones in the airspace, Elwell and other FAA speakers said.
"If you want to fly in the system, you have to be identifiable, and you have to follow the rules," he said, which will need to apply to hobbyist aircraft as well, because "one malicious act could put a hard stop on all the hard work we've done on drone integration."
Angela Stubblefield, the deputy associate administrator for the FAA, said tracking and identifying drone is a key factor for airspace integration, as the agency deals with "the clueless, the careless and the criminals."
With manned aircraft, you can see a tail number, but right now identifying a drone operator is more difficult. A drone flying over power infrastructure might cause concern, she said, but if the FAA could tell that it was owned by a utility or a railroad, it would ease those concerns.
Elwell said the agency is looking forward to having a reauthorization bill from Congress, which is "heavily involved with the drone issue."
The symposium continues on March 7 and 8.
Skyguide and AirMap team up to develop and deploy first national UAS traffic management system in Europe
Skyguide, which is a Swiss air navigation service provider, and AirMap, which is the leading global airspace management platform for UAS, have announced that they will develop and deploy the first national UAS traffic management system in Europe.
​The resulting system from this partnership between the two companies will be the first national deployment of U-space, which is Europe's vision for the "digital infrastructure that will support safe and secure access to European skies for millions of drones."
U-space is similar to the U.S. "Unmanned Traffic Management (UTM)" initiative, in that it is a "collaborative effort to enable situational awareness, data exchange, and digital communication for the European drone ecosystem."
During a pilot phase scheduled to start in June, skyguide and AirMap plan to integrate the AirMap UTM platform with skyguide's infrastructure and introduce automated flight authorization in a single airspace environment.
Described as the most "comprehensive and connected platform of its kind," the AirMap UTM platform offers a variety of things, including up-to-date airspace information for every country in the world, national airspace rules for more than 20 countries, and the largest network of UAS operators, manufacturers, and airspace managers in the UAS ecosystem, reaching more than 85% of the world's UAS.
The companies will also develop a roadmap for Swiss U-space, which is expected to set the stage for the deployment of a fully operational UAS traffic management system in 2019 and beyond.
Expected to be a powerful catalyst to Switzerland's UAS economy, Swiss U-space will make sure that all categories of UAS and all types of missions can safely take flight in Switzerland's airspace. Swiss U-space will be equipped with many features including, but not limited to, "blockchain-based registration for users and drones; dynamic geofencing and instant digital airspace authorization; and real-time traffic alerts for drone pilots and live drone telemetry for airspace managers."
"After a year of successful collaboration with AirMap, we expect that the AirMap UTM platform meets the highest standards required for a Swiss U-space," says Klaus Meier, Chief Information Officer of skyguide. "We're looking forward to bringing U-space capabilities to Switzerland and we are excited to drive this innovation together with AirMap."
Ben Marcus, CEO of AirMap, adds, "with Swiss U-space, Switzerland aims to safely open the skies for drone commerce. We're proud to work with skyguide to bring AirMap UTM to Switzerland and make it possible for more pilots, more drones, and more missions to take flight in Europe."
The partnership between skyguide and AirMap comes after the success of skyguide's 2017 Swiss U-space trial, which was the "first live demonstration of sophisticated U-space services in Europe." Skyguide, AirMap, and SITAONAIR all worked together to exhibit fully operational U-space capabilities, which included registration and identification, geofencing, and flight authorization – during live drone missions performed by senseFly and PX4 in Geneva.
View more information on the AUVSI.
Share your vision-related news by contacting James Carroll, Senior Web Editor, Vision Systems Design

To receive news like this in your inbox, click here.
Join our LinkedIn group | Like us on Facebook | Follow us on Twitter