In this week's roundup from the Association for Unmanned Vehicle Systems International(AUVSI), which highlights some of the latest news and headlines in unmanned vehicles and robotics,learn about Walmart's new Alphabot automation system, which will be used to help associates fill online grocery orders "faster than ever before." Also learn about Cyberhawk's completion of an oil tanker hull survey using an unmanned aerial system (UAS), and a UAS program in Alaska that will provide aerial support for marine mammal entanglement response efforts in the region.
Alert Innovation's Alphabot system designed to augment Walmart's online grocery service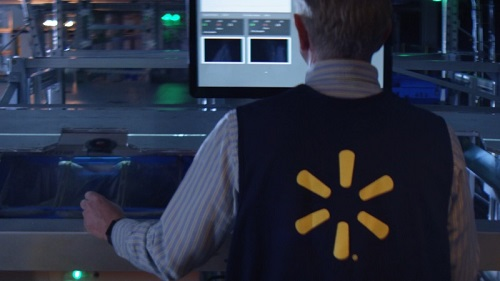 Walmart, in collaboration with a startup company called Alert Innovation, is set to launch a pilot using "first-of-its-kind automation" to help associates fill online grocery orders "faster than ever before."
Walmart will use Alert Innovation's Alphabot system to augment its online grocery service, which allows customers to quickly and conveniently order groceries online, select a pickup time and have those groceries delivered to their car in minutes.
Alphabot will work behind the scenes to make this process even easier by automatically bringing items from storage to associates, who will then consolidate the items in the order.
Walmart says that Alphabot will help cut back on the amount of time its pickup associates have to spend walking the store aisles in search of products, and ultimately free up more time for them to ensure customers are getting the best in fresh produce, meats, etc.
Developed especially for Walmart, the Alphabot system is being installed at the supercenter in Salem, New Hampshire as part of the store's re-grand opening. The system will be housed in the 20,000-square-foot extension connected to the store, which will also serve as a "dedicated grocery pickup point" with drive-thru lanes for customers.
When completed, automated mobile carts will retrieve ordered items—which will be stored warehouse-style in the new space—and deliver them to Walmart's associates at one of four pick stations. Orders will then be picked, assembled and delivered to customers by Walmart's personal shoppers.
Walmart notes that a "vast majority" of grocery products it offers in store will be fulfilled through the Alphabot system, but the personal shoppers will still handpick produce and other fresh items.
​With plans to have Alphabot online and running by the end of the year, Walmart says that the system will handle the "more mundane, repeatable tasks," giving associates more time to focus on the two things they often say are the most enjoyable part of the job: service and selling.
"Although this is a small pilot, we expect big things from it," Walmart says via press release.
"We have a lot to learn about this new technology, and we're excited about the possibilities of how we can use it to make the future of shopping – and working – even better."
Cyberhawk completes oil tanker hull survey using UAS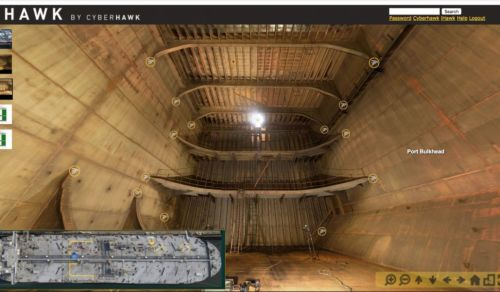 Cyberhawk has announced that it has successfully completed the first full American Bureau for Shipping (ABS) Intermediate Hull Survey 4 on an oil tanker using UAS.
​While at a shipyard in Singapore, Cyberhawk performed full class inspection across 19 tanks onboard an oil tanker, which included 12 Cargo Oil Tanks, two slop tanks and five ballast tanks.
"UAVs and robotics in general have taken inspection to a new level thanks to the time, cost and safety benefits being proven every day," explains Chris Fleming, CEO at Cyberhawk. "However, digitizing the data captured is a transformational step for the asset management industry."
ABS was present during the inspection to make sure that the quality of the inspection complied with the specific ABS rules set for tankers. The inspection also had to satisfy the U.S. Coast Guard's Critical Area Inspection Plan, as the vessel was American flagged and operated in Alaskan waters.
UAS are a safer and quicker alternative to other methods of conducting this type of inspection for this type of tanker, which include scaffolding the inside of the tank, or using rope access, the company said. It would take roughly seven days per tank to set up the scaffold, conduct the inspection, and remove the scaffold, whereas with UAS, the inspection process would take one day per tank using Cyberhawk's two-man team. Rope access would take approximately three times longer than inspection by UAS.
While UAS inspection offers "new efficiencies," non-destructive testing technicians still had to take thickness readings (at accessible levels) to meet the ABS survey requirements for this class of vessel, but this summer, Cyberhawk says that it expects to conduct its "first proof of concept on a UT solution" from UAS that would eliminate the need for scaffolding, rope access technicians or rafting solutions for this type of tanker survey.
The Cyberhawk team completed more than 350 flights and collected more than 600 gigabytes of data, which is being hosted in Cyberhawk's cloud-based visual asset management software known as iHawk. IHawk has been designed to host the huge volumes of data captured by UAS or other sources, and allows the user to access this data in a "functional and intuitive way."
IHawk provides clients with a 360-degree view of the inside of the tanks, and highlights defects and areas of interest. Thanks to high definition imagery being provided, users can see these points of interest in great detail, which allows them to make "evidence-based asset management decisions," the company says.
IHawk also provides the client with a complete visual record of the tank, which can be referred to on an ongoing basis to monitor the condition of the tank and the degradation of any defects.
"By hosting data in a cloud-based asset management system, such as iHawk, inspection information can be viewed in a far more intuitive and efficient way compared with wading through a 100-page inspection document," Fleming says. "This also means that multiple stakeholders can access and view exactly the same data, which also provides a realistic representation of the asset even for those who have never been in contact with it."
Oceans Unmanned expands its freeFLY UAS program to Dutch Harbor, Alaska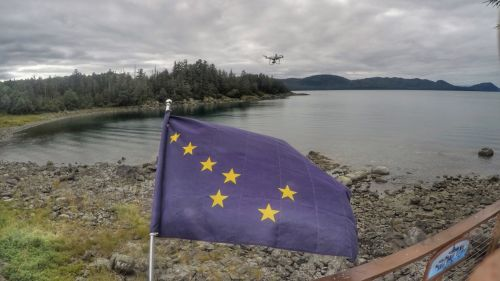 In partnership with Alaska Sea Grant and Aleutian Aerial LLC, and with additional support from DJI, Oceans Unmanned Inc. has announced the expansion of its freeFLY initiative into Dutch Harbor, Alaska, to provide UAS aerial support for marine mammal entanglement response efforts in the region.
The freeFLY program, which was launched earlier this year in Hawaii, provides training, equipment, and management oversight to networks of local volunteer UAS operators that are available to support response groups.
Led by Alaska Sea Grant Marine Advisory Program, the Dutch Harbor network seeks to "safely free endangered whales and other marine animals from life threatening entanglements, while also gathering valuable information that will reduce entanglement threats in the future." According to Oceans Unmanned, the addition of aerial imagery from on-scene, vessel-launched UAS will provide responders "improved situational awareness and increased safety for both the animal and responders."
"The use of drone technology will be a huge advantage to our response capabilities. The ability to decrease the interactions between responders and an entangled animal will increase the safety for all involved," comments Melissa (Missy) Good, the Regional Entanglement Response Coordinator.
"As a public reminder, marine mammals are wild animals and getting close increases the risk of being bitten or injured. Marine mammals should not be approached closer than 100 yards, in addition, stranded animals are likely already stressed, and your presence will increase their stress."
Brian Taggart, Chief Pilot for Oceans Unmanned, explains that "operating drones off a small boat and providing the responders the imagery they need in a timely manner can be challenging." Taggart says that "the freeFLY program ensures all operators are well trained and equipped, operate at the highest level of safety and professionalism, and meet the requirements under the NOAA permit."
Oceans Unmanned says that a recent training class has certified a local volunteer operator to support response efforts this year. More training is scheduled for next year.
DJI has donated its Phantom 4 Pro systems and accessories to the program.
View more information on the AUVSI.
Share your vision-related news by contacting James Carroll, Senior Web Editor, Vision Systems Design

To receive news like this in your inbox, click here.
Join our LinkedIn group | Like us on Facebook | Follow us on Twitter