In this week's roundup from the Association for Unmanned Vehicle Systems International (AUVSI), which highlights some of the latest news and headlines in unmanned vehicles and robotics, learn about Boeing's plans to use its new unmanned cargo air vehicle (CAV) prototype to "test and evolve Boeing's autonomy technology for future aerospace vehicles," a new unmanned aerial system (UAS) program launched by New York State Police, and a partnership that aims to secure UAS fleets.
Boeing plans to use its new CAV prototype to test and evolve its autonomy technology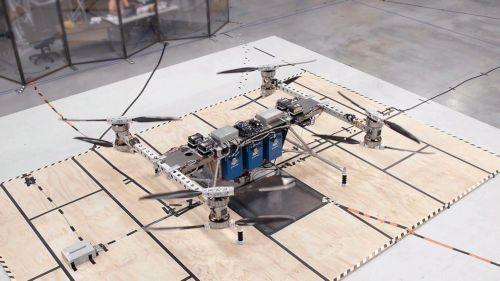 Boeing has unveiled a new unmanned electric vertical-takeoff-and-landing (eVTOL) CAV prototype. The CAV prototype will be used to "test and evolve Boeing's autonomy technology for future aerospace vehicles."
Powered by an environmentally-friendly electric propulsion system, and outfitted with eight counter rotating blades that allow for vertical flight, the CAV prototype is designed to transport a payload up to 500 pounds for possible future cargo and logistics applications.
"This flying cargo air vehicle represents another major step in our Boeing eVTOL strategy," says Boeing Chief Technology Officer Greg Hyslop. "We have an opportunity to really change air travel and transport, and we'll look back on this day as a major step in that journey."
The CAV prototype, which complements the eVTOL passenger air vehicle prototype aircraft that is currently being developed by Aurora Flight Sciences, was designed and built in less than three months by a team of Boeing engineers and technicians.
Boeing HorizonX, along with its partners in Boeing Research & Technology, led the development of the prototype.
"Our new CAV prototype builds on Boeing's existing unmanned systems capabilities and presents new possibilities for autonomous cargo delivery, logistics and other transportation applications," says Steve Nordlund, Boeing HorizonX vice president.
"The safe integration of unmanned aerial systems is vital to unlocking their full potential."
The CAV prototype, which successfully completed initial flight tests at Boeing Research & Technology's Collaborative Autonomous Systems Laboratory in Missouri, will be used by Boeing researchers as a "flying test bed" to advance the building blocks of autonomous technology for future applications.
State Police Unmanned Aerial System program launches in New York
On Jan 10., New York Governor Andrew M. Cuomo announced the launch of the new State Police Unmanned Aerial System program, which will be used to support a variety of law enforcement and public safety missions in New York.
Expected to be deployed in multiple locations across the state, the UAS, which will be operated by State Police members who are FAA certified and have undergone 32 hours of hands-on training with the systems, are expected to reduce response times and make operations more efficient and cost-effective.
Among many potential uses, the UAS can be used in dangerous situations and environments, such as natural disasters, to help keep State Troopers out of harm's way.
The UAS can also be used to help document and reconstruct serious motor vehicle crashes in less time than with current methods, which will result in shorter road closures, ultimately benefiting motorists. Investigators will also use the technology to document and photograph crime scenes.
"This state-of-the-art technology will improve emergency response, improve operational and cost efficiencies and increase Trooper safety," Governor Cuomo says.
"We will continue to implement innovative technologies to improve our ability to protect New Yorkers across this great state."
The first four State Police UAS will be put into service this month in four different Troops—A, D, F, and G. Each Troop serves several counties throughout New York.
By April of this year, 14 more UAS will be deployed throughout the state.
"The aerial drone systems we are deploying bring substantial benefits to our Troopers in the field, and are representative of our ongoing efforts to provide the tools they need to deliver outstanding service to the public," comments State Police Superintendent George P. Beach II.
"I want to thank Governor Cuomo and the Trooper Foundation for their continued support of the State Police."
Cicer One Technologies and AVIDRONE Aerospace partnering to secure UAS fleets
Cicer One Technologies Inc., which provides data privacy technologies, and commercial and industrial UAS manufacturer AVIDRONE Aerospace Inc. have announced a new strategic partnershipthat the companies say "ends the risks around cloud-based data capture services."
Through the partnership, AVIDRONE's proprietary flight control and mission planning software will be combined with Cicer One's point-to-point, globally-accessible information management system to deliver a "secure, fully private, flight control and data capture" technology for UAS.
"We realize that government agencies, large enterprises, and industrial users of drones need to keep their data and flight missions 100% in their control from end to end," says Scott Gray, Founder & CEO AVIDRONE Aerospace Inc.
"By partnering with Cicer One, we are able to create a data privacy solution for UAS vehicles that no cloud-based control for drones can achieve."
Bob Embleton, CEO Cicer One Technologies Inc., comments, "by partnering with AVIDRONE we can provide a seamless product solution for their customers. Drone operators will own and control their private data, keeping sensitive information out of the hands of third party service providers."
Cicer One and AVIDRONE believe that no third party, manufacturer, or cloud based service should "transact or jeopardize critical information about how corporations, government agencies and industrial users of drones manage their data collected by UAS."
By combining their respective technology, Cicer One and AVIDRONE are opening up a new way to operate UAS fleets by multiple users across the world, without compromising mission critical data.
View more information on the AUVSI.
Share your vision-related news by contacting James Carroll, Senior Web Editor, Vision Systems Design

To receive news like this in your inbox, click here.
Join our LinkedIn group | Like us on Facebook | Follow us on Twitter