In this week's roundup from the Association for Unmanned Vehicle Systems International(AUVSI), which highlights some of the latest news and headlines in unmanned vehicles and robotics,learn about the AUVSI's new Trusted Operator Program, which is designed to help unmanned aerial systems (UAS) operators increase safety and boost their standing in the marketplace. Additionally, learn about MIT research being done for the use of an autonomous system for a fleet of UAS that would enable the drones to search for lost hikers in forests, as well as testing being done by the Kansas Department of Transportation as part of the UAS Integration Pilot Program.
AUVSI launches Trusted Operator Program to help UAS operators demonstrate their skill, safety commitment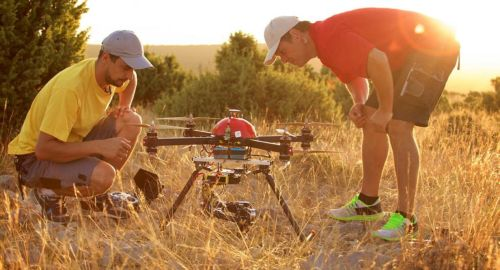 AUVSI has now given unmanned aircraft systems operators a way to increase their safety and boost their standing in the marketplace through the launch of the new Trusted Operator Program, or TOP.
Interest in becoming a commercial drone operator has been growing, but so far, from a regulatory perspective, there has been little available to allow an operator to stand out from the crowd and demonstrate competency or proficiency. While numerous training courses exist, there has been no industry unification for competency training or testing.
"This affects the end users of drone-enabled services, as there was no clear mechanism to ensure that the customer is going to receive what they believe they are paying for," says Tracy Lamb, AUVSI's vice president of regulatory and safety affairs and chief pilot.
For example, "public safety agencies had no way of knowing the level of knowledge or experience of the volunteer remote pilots that offered to help in natural disaster and for search and rescue operations."
AUVSI has worked with industry experts to create TOP, to raise the trust and acceptance of the use of unmanned aircraft around the world. TOP is a professional unmanned systems community initiative aimed at supporting industry accepted remote pilot standards and protocols, which will result in the safe and sustainable advancement of the industry.
Under the program, UAS operators will be able to achieve three levels of certification, each a series of checklists of practices, skills and competencies "that all professional remote pilots and operators should follow, no matter in what part of the world they operate," Lamb says.
TOP uses a set of protocols from many relevant standards from such bodies as ICAO, ANSI, SAE, ASTM, NIST and others. It also includes aviation regulations from the Federal Aviation Administration, Civil Aviation Safety Authorities, Directorates General of Civil Aviation and others.
"There are many standards that are applicable to UAS operations," Lamb says. "How do you know which ones to follow, and when do you follow them?"
TOP levels
All three TOP levels are aimed at both individual remote pilots and commercial UAS organizations. Each level of certification reflects the level of skills, qualifications, knowledge and safety protocols required to operate in different industries.
Level one covers relatively low-risk operations for flights under Part 107 FAA restrictions that don't require a waiver, such as flights during the day, below 400 feet and away from people.
Level two would be suitable for companies that want to conduct flights near expensive infrastructure, such as power lines or wind turbines, or any operation that would require an FAA waiver.
Level three would address flights in "safety critical" environments, such as near chemical, oil, gas, nuclear or mining facilities, even if they are offshore and no waiver is required.
"TOP Operator level three is the highest level to which a professional remote pilot or commercial organization can be certified," Lamb says. "An organization at this level would follow a more comprehensive set of standards, and their remote pilots would have demonstrated flight proficiency and competencies to this level."
For example, a Realtor who wanted to become a level one TOP Operator would contact a TOP training provider (listed on the AUVSI website) who would then supply the Protocols Certification Manual and guide the student through the required learning to gain both their remote pilot certificate under the FAA's Part 107, as well as the TOP level one remote pilot certificate.
If the Realtor already had a Part 107 remote pilot certificate and had taken a training course, they could contact a TOP certifying body, who would provide the certification manual, verify their records and then issue the TOP level one certificate.
The TOP Certification Manual has checklists for both individuals and companies. For instance, a company might need to check that they have a designated "responsible person" for all UAS operations, whereas an individual would be that person. Both would need to verify that they maintain their aircraft and know the airspace they are flying in, as well as monitoring their surroundings and the weather.
Once operators receive their certification, AUVSI lists them in a searchable TOP Registry, where those looking to find and hire a qualified UAS operator can easily find a TOP-certified operator for their needs.
Embry-Riddle Aeronautical University, Praxis Aerospace Concepts, Consortiq, Dart Drones and SGS Aerospace are the initial organizations that have received TOP certification. They will apply the TOP protocols in their UAS education and assessment programs so students are TOP certified upon graduation. Experienced remote pilots can apply for certification based on their qualifications, experience and competency.
"The TOP reflects levels of safety and competency protocols that are appropriate for everything from wedding photography to oil flare stack inspections," said Brian Wynne, President and CEO of AUVSI. "By providing UAS operators and those they enable with a standard way to demonstrate proficiency, TOP will help ensure the safe and sustainable advancement of the unmanned systems industry."
As the program continues, more details will be available on the TOP website here.
MIT researchers believe autonomous system could guide fleet of UAS during searches for lost hikers
This week during the International Symposium on Experimental Robotics conference, MIT researchers will present a paper in which they describe an autonomous system for a fleet of UAS that would enable UAS to search for lost hikers in forests.
GPS signals used to guide UAS can be unreliable or nonexistent in forest environments, so the MIT researchers propose a strategy where UAS only use onboard computation and wireless communication—effectively eliminating the need for GPS—as they collaboratively search under dense forest canopies.
Each autonomous quadrotor UAS is equipped with laser-range finders for position estimation, localization, and path planning. While flying, the UAS create an individual 3-D map of the terrain, and a UAS would know when it has fully mapped an area thanks to algorithms helping it recognize unexplored and already-searched spots.
Using an off-board ground station, individual maps from multiple UAS are fused into a global 3-D map that can be monitored by human rescuers.
In a real-world implementation—not in the current system, the researchers note—the UAS would be equipped with object detection to identify a missing hiker. When that person is located, the UAS would tag the hiker's location on the global map, and this information can be used to plan a rescue mission.
"Essentially, we're replacing humans with a fleet of drones to make the search part of the search-and-rescue process more efficient," explains first author Yulun Tian, a graduate student in the Department of Aeronautics and Astronautics (AeroAstro).
Researchers tested multiple UAS in simulations of randomly generated forests. They also tested two UAS in a forested area within NASA's Langley Research Center. During both experiments, each UAS mapped an approximately 20-square-meter area in about two to five minutes and collaboratively fused their maps together in real-time.
Researchers note that the UAS performed well across a number of different metrics, including overall speed and time to complete the mission, detection of forest features, and accurate merging of maps.
Researchers mounted a LIDAR system on each UAS, creating a 2-D scan of the surrounding obstacles by shooting laser beams and measuring the reflected pulses. While this method can be used to detect trees, to UAS, individual trees appear "remarkably similar," researchers say. So, if a UAS can't recognize a given tree, it can't determine if it's already explored an area.
With this in mind, researchers programmed their UAS to instead identify the orientation of multiple trees, which is a lot more distinctive. Using this method, when the LIDAR signal returns a cluster of trees, an algorithm calculates the angles and distances between trees to identify that cluster.
"Drones can use that as a unique signature to tell if they've visited this area before or if it's a new area," Tian says.
Researchers say that this feature-detection technique helps the ground station accurately merge maps.
The UAS generally explore an area in loops and produce scans as they go, while the ground station continuously monitors the scans. When two UAS loop around to the same cluster of trees, the ground station calculates the relative transformation between the UAS, and then fuses the individual maps to maintain consistent orientations, to ultimately merge the maps.
"Calculating that relative transformation tells you how you should align the two maps so it corresponds to exactly how the forest looks," Tian says.
In the ground station, robotic navigation software called simultaneous localization and mapping (SLAM) uses the LIDAR input to localize and capture the position of the drones, which helps it fuse the maps accurately. SLAM not only maps an unknown area, but also keeps track of an agent inside the area.
The end result is a map with 3-D terrain features, as trees appear as blocks of colored shades of blue to green, depending on height, and unexplored areas are dark but turn gray as they're mapped by a UAS. On-board path-planning software tells a UAS to always explore these dark unexplored areas as it flies around.
Tian says that producing a 3-D map is more reliable than simply attaching a camera to a UAS and monitoring the video feed. For example, transmitting video to a central station requires a lot of bandwidth that may not be available in forested areas.
MIT researchers note that an important innovation is a novel search strategy that lets the UAS more efficiently explore an area. A more traditional approach says that a UAS would always search the closest possible unknown area, but this could be in any number of directions from the drone's current position, as the UAS usually flies a short distance, and then stops to select a new direction.
"That doesn't respect dynamics of drone [movement]," Tian says. "It has to stop and turn, so that means it's very inefficient in terms of time and energy, and you can't really pick up speed."
Alternatively, the researchers' UAS explore the closest possible area, while considering their current direction. Researchers believe this can help the UAS maintain a more consistent velocity.
This strategy where the UAS tends to travel in a spiral pattern covers a search area much faster.
"In search and rescue missions, time is very important," Tian says.
Researchers compared their new search strategy with a traditional method in the paper, and compared to that baseline, their strategy helped the UAS cover "significantly more area, several minutes faster and with higher average speeds."
One limitation for practical use, though, is that the UAS still have to communicate with an off-board ground station for map merging. During their outdoor experiment, researchers had to set up a wireless router that connected each UAS and the ground station.
Researchers hope that in the future, they can design UAS to communicate wirelessly when approaching one another, fuse their maps, and then cut communication when they separate. In that case, the ground station would only be used to monitor the updated global map.
Kansas Department of Transportation and Iris Automation begin UAS test flights under UAS IPP
The Kansas Department of Transportation has started the testing phase of the UAS Integration Pilot Program.
One of KDOT's partners for the program, Iris Automation, will focus on enabling new detect and avoid capabilities for UAS.
The winner of AUVSI's 2018 Startup Showdown during XPONENTIAL 2018, Iris Automation will test its collision avoidance technology in the airspace above Gypsum's farmlands. Using computer vision and artificial intelligence, the technology allows UAS to see the world the way a pilot does, which ultimately facilitates beyond visual line of sight (BVLOS) flights.
Test flights took place throughout the week of Oct. 29, and the technology was evaluated through controlled UAS flights against a manned aircraft.
"The flights we will conduct this week are a crucial part of the overarching strategy to further UAS representation as an important economic contributor for Kansas," said Bob Brock, KDOT Director of Aviation.
"We're excited to continue our partnership with Iris Automation and our other IPP Team Members as we look forward into the future."
Iris Automation's detect and avoid technology has been thoroughly tested thanks to thousands of collision scenarios that have been designed and executed by the company's flight test team in Nevada. A camera, processor and computer vision software allow the technology to see the airspace around the UAS in real-time, enabling collision avoidance.
The software not only classifies and tracks moving objects, but it also identifies their speed and direction in relation to the UAS it is attached to. The system acts as a "high-level supervisor" to the drone's autopilot, as it instructs it to execute automated avoidance maneuvers where necessary, and alerts the remote pilot in command of emergency situations.
View more information on the AUVSI.
Share your vision-related news by contacting James Carroll, Senior Web Editor, Vision Systems Design

To receive news like this in your inbox, click here.
Join our LinkedIn group | Like us on Facebook | Follow us on Twitter