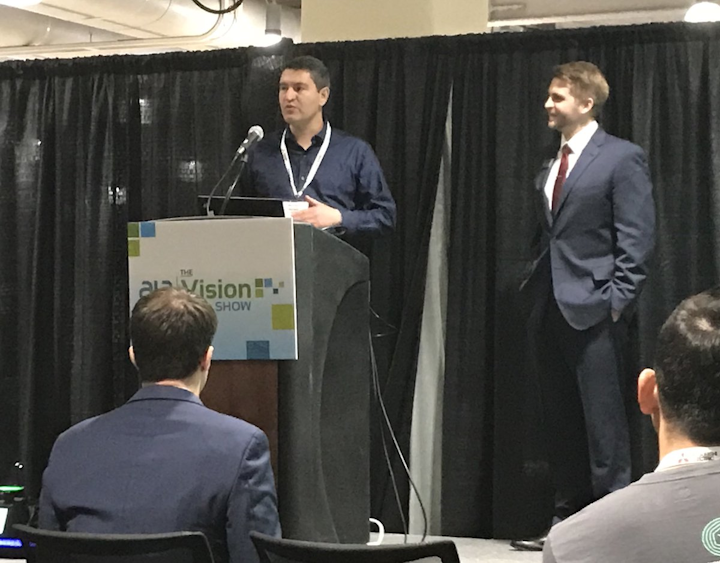 Photius, a startup company developing "disruptive inspectionand mapping solutions" for infrastructure and construction management, has won the 2018 AIA Startup Competition.
The competition saw five finalists making 10-minute pitches on new products or services that utilize vision and imaging technologies. These companies needed to have been around for five years or less, raised less than $2 million since launching, and not be affiliated with a larger group. As the winner, Photius received $5,000 cash, while also five finalists received a free booth at The Vision Show 2018.
During the event, Michael Sánchez, Ph.D., (pictured, accepting the award alongside Alex Shikany, Vice President, AIA) founder of Photius, described his "Ximera" 3D sensing technology. Photius, he said, has the ambition to create an automated 3D imaging solution that is fast, affordable, scalable, mobile, and turnkey. The drone-based sensor will be used to inspect structures such as bridges, tunnels, dams, towers, and more. Ximera hardware utilizes LiDAR, photogrammetry, and structured light technologies for "rapid 3D measurement."
The aim of the sensor is to create 100% complete maps and photo-realistic visualization, and to product 3D models in "minutes vs. hours." Ximera's software will also feature an automated data processing workflow. Tech suppliers for the current Ximera product include The Imaging Source, NVIDIA, and Hamamatsu.
The other companies competing in the competition were:
Fastree3D: A company developing next generation LiDAR designed for intelligent automation for vehicles and machines.
Logograb: A company that provides a logo recognition API to detect company logos in large volumes of images and video.
Socialmap: A company developing a social behavior intelligence platform for education and workplace settings.
Vtrus: A companydeveloping autonomous robotic inspectors that can "quickly extract information out of the analog world."
The judges for the 2018 Startup Competition were:
Julian Counihan, Partner, Schematic Ventures
Vivjan Myrto, Managing Partner, Hyperplane Venture Capital
Steve Wardell, Director, Imaging, ATS Automation & Vice Chair of AIA
View more information on Photius.
Share your vision-related news by contacting James Carroll, Senior Web Editor, Vision Systems Design

To receive news like this in your inbox, click here.
Join our LinkedIn group | Like us on Facebook | Follow us on Twitter