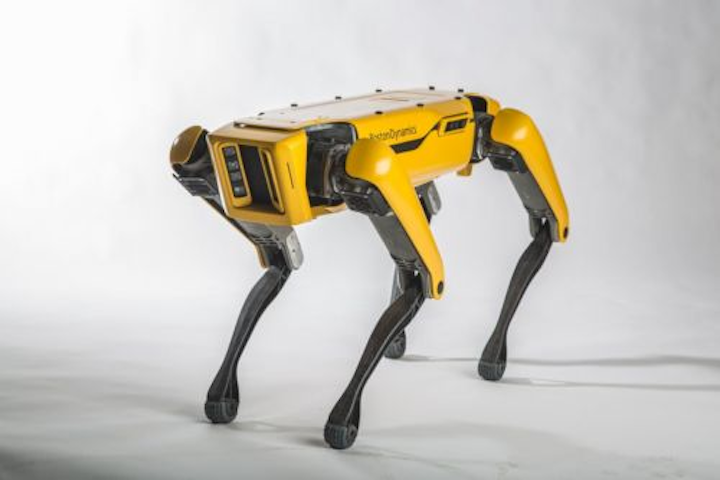 Boston Dynamics has released a video of the latest version of its SpotMini vision-guided quadruped robotopening a door and using its foot to prop it open, letting another SpotMini robot walk through.
SpotMini is a four-legged robot that weighs just over 55 lbs. (25 kg) or 66 lbs. (30 kg) if you count its arm. The all-electric robot can operate for about 90 minutes on a charge, depending on the task, and is the quietest robot Boston Dynamics has built yet, according to the company. The robot is based on the larger Spot quadruped robot, but also adds the ability to pick up and handle objects using a 5-degree-of-freedom arm and enhanced sensor suite.
The sensor suite, according to the company, includes stereo cameras, depth cameras, and IMU, and position/force sensors in the limbs for navigation and mobile manipulation. In an IEEE Spectrum article that looked at an early version of the SpotMini, it was observed that the robot was equipped with a MultiSense S7 3D stereo camera from Carnegie Robotics. The stereo camera is fitted with either 2 MPixel CMV2000 or 4 MPixel CMV4000 CMOS image sensors from CMOSIS (ams Sensor Belgium). These sensors feature a Bayer color filter array and achieve a maximum frame rate of 30 fps. All stereo processing on the camera is done inside the sensor itself, and an ROS-based API enables users to view live image and 3D range data, adjust camera and stereo parameters, and log data.
Additionally, the article noted that the SpotMini was equipped with a Velodyne VLP-16 LiDAR puck, which provides a 360° surround field of view. Velodyne LiDAR, the puck's manufacturer, recently announced a significant cost reduction on the VLP-16, which the company hoped would "spur hope and excitement for the development of safe autonomous vehicles that are accessible to all."
Any Black Mirror fans out there?
My first thought when viewing this video was the "Metalhead" episode of Season 4 of the Netflix series, in which the main character of the episode is trying to flee from robotic "dogs" after the unexplained collapse of human society. Series Creator Charlie Brooker told Entertainment Weeklythat the robots were based on those that were developed in real life by Boston Dynamics. (Spoiler alert: This is a dark episode, both literally and figuratively.)
Of course, SpotMini is not equipped with shells filled with barbed electronic trackers or powerful guns, so maybe there isn't anything to worry about just yet.
View more information onSpotMini.
Share your vision-related news by contacting James Carroll, Senior Web Editor, Vision Systems Design

To receive news like this in your inbox, click here.
Join our LinkedIn group | Like us on Facebook | Follow us on Twitter