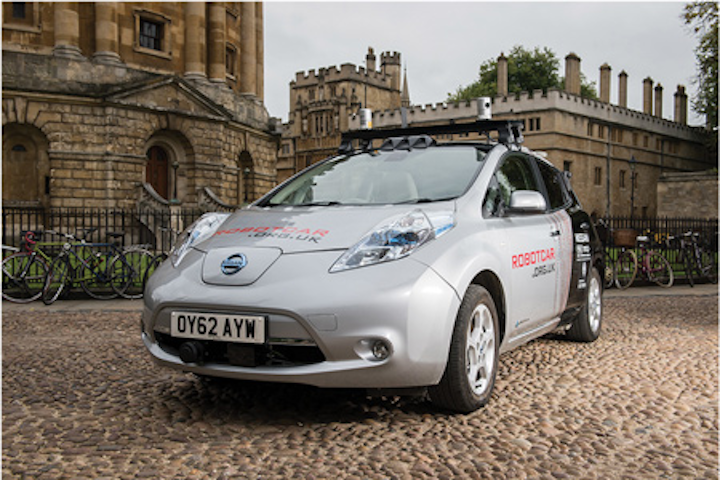 An Autonomous Vehicle Zone curated by autonomous vehicle technology event AutoSens will be featured at The London Motor Show 2018, highlighting the growing interest and importance in self-driving car technology.
Organized by Sense Media group, AutoSens is held in both Europe and the U.S., touting itself as the most influential vehicle perception technology event in the world. The company also runs Self Driving Track Days, an outreach and education-oriented event supporting technologists and engineers to develop skills for the next generation of autonomous vehicles. The Autonomous Vehicle Zone will demonstrate "exactly what the automotive world can expect from its cars and how the future will bring about big change."
AutoSens will offer interactive displays and experiences, celebrity-led panel discussions, driverless vehicles, technology demonstrations and cutting-edge exhibition features. Experienced staff will be on hand at the Autonomous Vehicle Zone to provide information to all attendees. The theme of the zone, according to AutoSens, will be communication, education, and inspiration.
Robert Stead, Sense Media Group's Managing Director, said: "We are delighted to be working with the iconic London Motor Show in its new home. Our friends in the industry from around the world recognize that supporting the general public in understanding how cars will change in the future is an important step in this technology becoming mainstream.
He continued, "Our focus is bringing together vehicle technologists and sharing information, so having the fantastic audience platform of The Confused.com London Motor Show is a tremendous opportunity for us to help support that."
Alec Mumford, Chairman of The Confused.com London Motor Show, added: "We know the messages surrounding autonomous vehicles are complex for everyone – whether car buyers, dealers or the general public – so we are delighted to have joined forces with AutoSens for this groundbreaking feature to clear up the picture of the industry's future. There will be plenty going on all day every day for all the family in the brand new zone, striking the perfect balance for informative fun."
Pictured:Autonomous vehicle driven by vision
View more information on the Autonomous Vehicle Zone at The London Motor Show.
Share your vision-related news by contacting James Carroll, Senior Web Editor, Vision Systems Design

To receive news like this in your inbox, click here.
Join our LinkedIn group | Like us on Facebook | Follow us on Twitter