In this week's roundup from the Association for Unmanned Vehicle Systems International(AUVSI), which highlights some of the latest news and headlines in unmanned vehicles and robotics,learn about how 1,218 of Intel's Shooting Star unmanned aerial systems (UAS) were used during the Olympic Winter Games PyeongChang 2018 Opening Ceremony. Also, learn about two acquisitions that aim to provide users with access to UAS pilots for commercial jobs, as well as a partnership that looks to advance an existing defense UAS system.
Intel's Shooting Star UAS light up Olympic Winter Games PyeongChang 2018 Opening Ceremony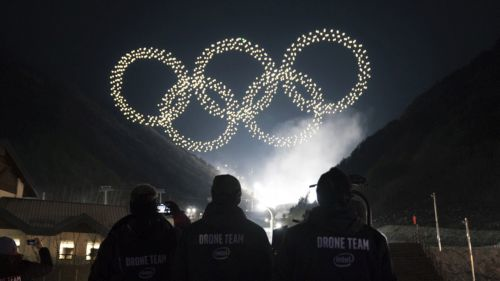 The Olympic Winter Games PyeongChang 2018 Opening Ceremony featured 1,218 of Intel's Shooting Star UAS, in what was the Winter Olympics' first-ever drone light show.
The flight, which was prerecorded for the event, set a Guinness World Records title for the "most unmanned aerial vehicles airborne simultaneously," breaking Intel's previous record of 500 UAS flown simultaneously in Germany in 2016.
"The Olympics are a time when the sports and entertainment industries are buzzing with record-setting performances, so it was the perfect stage for Intel Shooting Star drones and our team to set their own kind of record," says Natalie Cheung, general manager of Intel's drone light show team.
Specifically designed for entertainment purposes, Intel's Shooting Star UAS are equipped with LED lights that can create a wide variety of color combinations, and can easily be programmed for any animation. The fleet of UAS is controlled using just one pilot.
For the record-breaking light show in PyeongChang, South Korea, Intel designed and developed custom animations for the opening ceremony and nightly victory ceremony performances, which include animations of different sports and several Olympic-related logos, including the formation of the Olympic rings.
"It's been exciting for us to partner with Intel on the Winter Olympics, as they continue to push the limits with their advanced drone light show technologies," says Sam Prosser, commercial director EMEA APAC Guinness World Records.
"From flying 100 drones simultaneously in 2015, to 500 drones in 2016, and now more than 1,000 drones – the sky is the limit with entertaining through Intel drone light shows."
Intel is a member of the "The Olympic Partner" (TOP) worldwide sponsorship program. Through this program, Intel is helping to "transform the fan experience by creating immersive opportunities for viewers to be a part of the Olympic Games."
PrecisionHawk to launch 'nation's largest network of commercially licensed drone pilots' after acquisition of Droners.io and AirVid
PrecisionHawk Inc. has acquired two companies—Droners.io and AirVid—that have platforms that enable users to commission UAS pilots for commercial jobs.
​PrecisionHawk will merge the companies to form a network of more than 15,000 commercially licensed UAS pilots, which will be the largest network of its kind, according to PrecisionHawk.
PrecisionHawk will continue to connect certified UAS pilots directly to customers. The company will also use the network to service its growing base of enterprise customers in insurance, agriculture, energy, construction and government, as it has received increasing demand for UAS flight services from the business and government sectors since 2016, when the FAA began allowing corporations to use UAS for commercial purposes.
According to PrecisionHawk, a network of professional UAS operators will allow it to "quickly scale its team and technology to meet the growing demand for timely and consistent aerial data collection."
"Droners.io and AirVid share our mission of helping drone operators turn their passion into a profession," says Michael Chasen, PrecisionHawk CEO.
"Combined with PrecisionHawk's expertise in providing professional drone services to the enterprise, this merger enables us to build the best platform for drone pilots while simultaneously providing our enterprise clients with the on-demand services they require."
By the end of this year, PrecisionHawk expects to have completed hundreds of thousands of missions. PrecisionHawk will look to meet this demand by focusing on growing its newly formed network of certified pilots across the United States and abroad, as well.
Part 107 certified pilots can join the network and start accepting jobs in their region by creating a profile at www.droners.io.
"We believe that a drone pilot network is one of the fundamental building blocks of a successful drone ecosystem," says Dave Brown, founder of Droners.io. "We're excited to continue our mission with PrecisionHawk and support the growth of the drone pilot economy."
Brown will manage the pilot network development team, while AirVid founder Patrick Egan will assist PrecisionHawk as a consultant.
Gryphon Sensors partners with WhiteFox Defense Technologies to advance Skylight Counter-UAS System
Gryphon Sensors is partnering with WhiteFox Defense Technologies to integrate WhiteFox's "non-jamming, non-kinetic mitigation and analysis capabilities" with Gryphon's Skylight system.
Gryphon's Skylight system provides "intelligent situational awareness for integration and security," using multiple ground-based sensors to detect cooperative and non-cooperative targets in the airspace.
According to the companies, the resulting RF-based sensor-driven system provides an "industry leading unclassified and exportable counter-UAS system."
"This powerful counter-UAS partnership will ring loud and clear through the market," says Luke Fox, CEO, WhiteFox. "Two leaders are combining forces to deliver the very best products and services for the most demanding security and safety teams throughout the world."
Skylight uses a suite of radar and multispectral sensors, providing a "comprehensive, real time, 3D, low-altitude airspace picture, with superior accuracy and long-range detection performance on small UAS."
The addition of WhiteFox's mitigation and analytic capabilities to Skylight creates "one of the most technically capable and robust counter-UAS solutions anywhere," the companies say.
"We are very excited to be partnering with WhiteFox and their industry leading drone mitigation and analysis capabilities," says Anthony Albanese, president of Gryphon Sensors. "Our companies have similar advanced, agile, rapid development and engineering environments that allow us to stay ahead of the rapidly evolving threat."
View more information on the AUVSI.
Share your vision-related news by contacting James Carroll, Senior Web Editor, Vision Systems Design

To receive news like this in your inbox, click here.
Join our LinkedIn group | Like us on Facebook | Follow us on Twitter