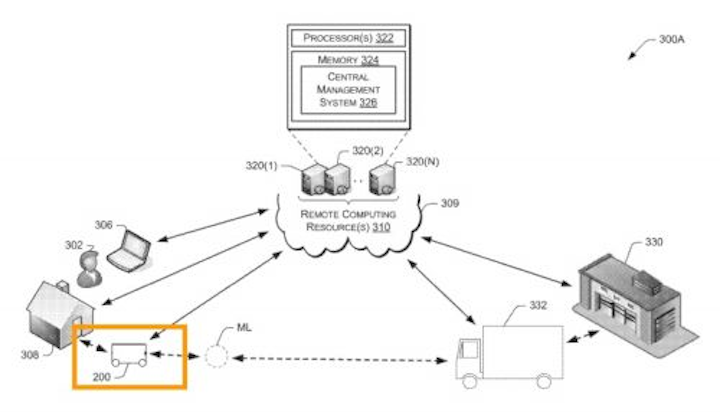 Amazonhas applied for a patent for vision-guidedautonomousground vehicles (AGV) that will be used to retrieve items from delivery trucks to and bring it right to your door.
In the patent application that was published on January 25, Amazon states that, in various implementations, the AGVs may be owned by individual users and/or may service a group of users in an area such as an apartment building or neighborhood. The AGVs may travel out the user's residence to meet a delivery truck to receive items, and may be joined by other AGVs that have traveled out to meet the delivery truck. In other words, the robots could be shared by neighbors, apartment building residents, and so on.
AGVs would line at the delivery truck and receive their packages in turn, and subsequently deliver them to an address or delivery-locker type of location. After items are received, wrote Amazon, the AGVs may travel back (e.g., to the user residences) to deliver the items, and may be equipped to open and close access barriers (e.g., front doors, garage doors, etc.).
The design of the robot that is sketched out in the patent application (see above in the orange box), GeekWire points out, is quite similar to that of the food delivery robot from Starship Technologies. In order for it to operate autonomously, this particular robot uses a minimum of nine visible cameras, including three stereo pairs for a total of six visible spectrum cameras, along with three 3D Time of Flight cameras and an NVIDIA Tegra K1 mobile processor to perform machine vision and autonomous driving functions.
Amazon's AGV would likely use some sort of remotely-similar setup. In the patent application, it states the following, regarding a vision system:
"The AGV may also include a user interface. The user interface is configured to receive and provide information to a user of the AGV and may include, but is not limited to, a display, such as a touch-screen display, a scanner, a keypad, a biometric scanner, an audio transducer, one or more speakers, one or more image capture sensors, such as a video camera, and any other types of input or output devices that may support interaction between the AGV and a user."
Additionally, the patent indicates that a camera and vision system would also be used for the storage compartment:
"The storage compartment may also include an image capture sensor, such as a camera, and optionally an illumination component (not shown), such as a light emitting diode (LED), that may be used to illuminate the inside of the storage compartment."
The sensor, according to Amazon, may also be used to capture images and/or detect the presence of absence of items within the compartment. This includes tasks such as identifying the type of object in the compartment and recording video/images of access within the storage compartment. Additionally, a barcode scanner or similar technology may also be used to determine the identification of an item that is being placed or has been placed in the compartment. Images captured by the robot's vision system may be recorded and may be provided to a user to identify what items have been placed within the compartment for delivery.
Concerning Amazon and robots, some may first think of the Amazon Prime drone that has been much talked about, or logistics robots that operate within a warehouse. With this patent application, it is evident that Amazon is considering robots in all facets of its operation.
Share your vision-related news by contacting James Carroll, Senior Web Editor, Vision Systems Design

To receive news like this in your inbox, click here.
Join our LinkedIn group | Like us on Facebook | Follow us on Twitter