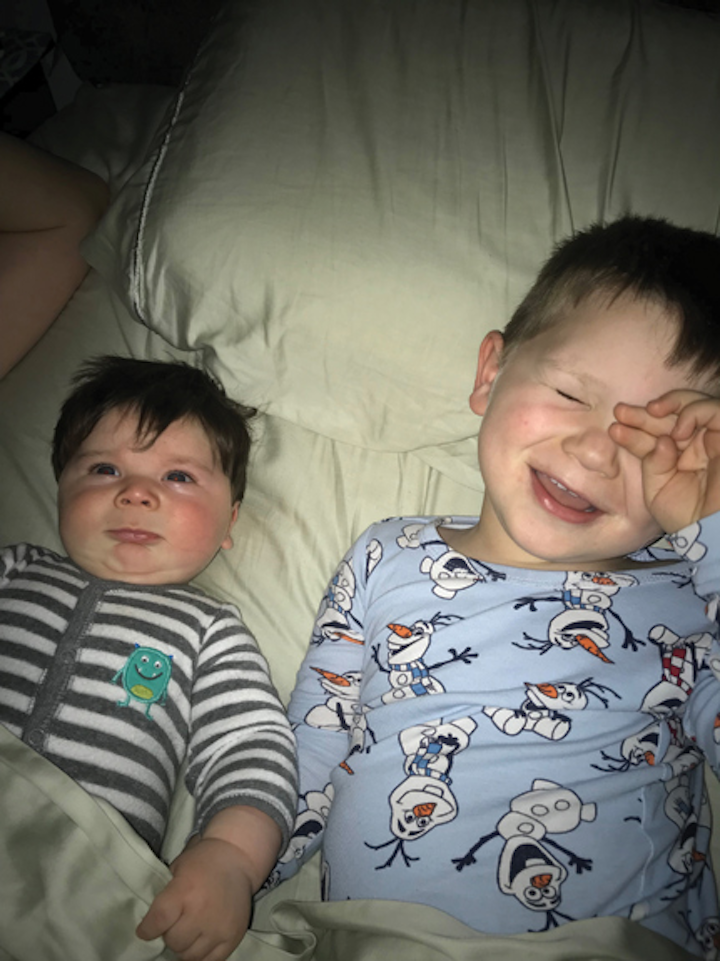 Every night when my wife Laura or I put my 3-year-old son Jacob to sleep in his blue racecar bed, we leave his door and gate open just enough so that he can get out of his room. At some point recently, he started getting up in the morning—usually around 5 AM, but sometimes much earlier—to either lie down with us for a little while longer, or to coax us out of bed and go downstairs to start the day.
Just recently, he came into our room at some unknown hour of the night, and we woke up to him telling us "I'M SO THIRSTY!" while already in our bed. I got him some water and he took a few sizeable swigs before falling back asleep. Other times, he comes in and he is ready to go for the day. There will be no convincing him to sleep more, to relax for a bit, or to otherwise not wake up his (currently) 5-month-old baby brother Brandon, and his parents.
One common, reliable occurrence during such mornings is him turning the lights on—unprompted and unexpectedly, of course. Well, nobody likes this. Not us, not you, nobody. So after some time, we conditioned him to ask one of us if it is time to turn the lights on yet.
"Can I turn the lights on, Mom?"
"Can I turn the lights on, Dad?"
This is something we hear often, usually in that order. To Jacob, turning the lights on signifies the official start of his day, meaning he can go downstairs, eat breakfast and get ready for the day. This is likely the case for most people. Whether it is your bedroom or bathroom light, turning on a light is usually one of the first things people must do in the morning to get into their daily routine.
In some ways, this is not unlike the world of machine vision. In designing and implementing a machine vision system, one of the first considerations that must be made to achieve eventual success is in the lighting. Choosing the right type of lighting in a vision system improves the contrast between the features of an object being inspected and its background, while maximizing the signal, exposure, uniformity, and suppression of noisy features. Obtaining a quality image is often the most important aspect of machine vision and doing so is generally not possible without lighting.
This month, we discuss machine vision lighting companies developing products for niche imaging requirements, including computational imaging, hyperspectral and multispectral imaging, 3D imaging, and washdown/harsh environments. After all, as the machine vision market expands, so too must the underlying technologies and products in use in today's applications.
Additionally, we highlight our fifth annual Innovators Awards program, which recognizes several innovative machine vision lighting products—among numerous other categories—in the 2019 group of honorees.