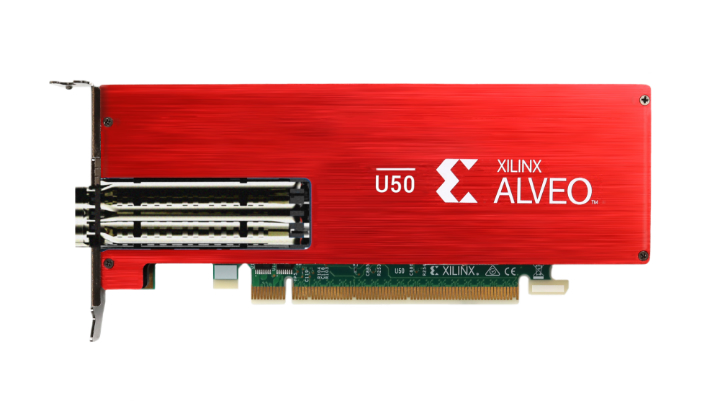 Xilinx's new Alveo data center accelerator card line, led by the release of the Alveo U50, is designed to support local and cloud server networks by providing increased memory and networking capability.
The Alveo U50 runs off Xilinx UItraScale+ architecture, fits into standard PCIe server slots, and is built with 8 GB of HBN2 high-bandwidth memory that delivers 400 Gbps data transfer speeds. QSFP ports provide up to 100 Gbps network connections, and the new card supports interconnectivity between PCIe Gen 4 and CCIX interfaces. 75 W of power is required.
According to the manufacturer, the Alveo U50's high speed networking I/O is designed to support NVMe-oF, disaggregated computational storage, and financial services applications, and help developers improve latency and data movement bottlenecks by moving compute closer to the data.
To Learn More:
Contact: Xilinx
Headquarters: San Jose, CA, USA
Product: Alveo U50 data accelerator card
Key Features: 8 GB of HBN2 memory, 400 Gbps data transfer, 100 Gbps network connection, PCIe Gen 4 and CCIX interface connectivity.
What Xilinx says: View more information on the Alveo U50 data accelerator card.
Share your vision-related news by contacting Dennis Scimeca, Associate Editor, Vision Systems Design

SUBSCRIBE TO OUR NEWSLETTERS