Wilson's Websites
Wilson's Websites brings you the latest information on what's new on the web.
Apr 1st, 2005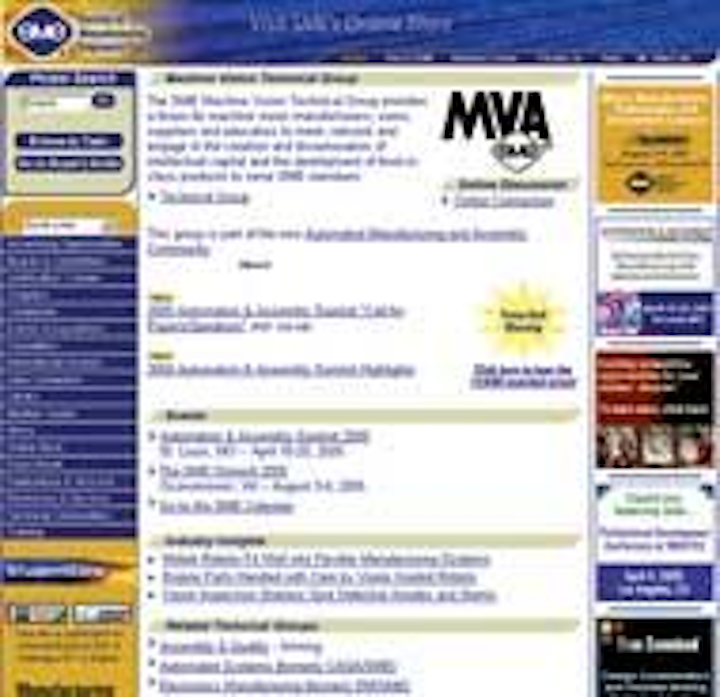 Wilson's Websites brings you the latest information on what's new onthe web. To accomplish this, we provide links to tutorial information,hardware or software product developments, product database information, technical articles, associations, and on-line magazines. If you or your company would like to be considered for Wilson's Websites, please contact Andy Wilson at andyw@pennwell.com.
ALL ABOUT COLOR
www.cie.co.at/
The International Commission on Illumination is an organization devoted to cooperation and exchange of information among member countries on matters relating to the science and art of lighting.
IMAGE SHARPNESS
www.normankoren.com/Tutorials/MTF.html
The sharpness of a photographic imaging system or of a component of the system is characterized by its modulation transfer function (MTF), also known as spatial frequency response. This site presents a visual explanation of MTF and how it relates to image quality.
ROBOTS AND VISION
www.sme.org
The SME Machine Vision Technical Group provides a forum for machine-vision manufacturers, users, and educators.
CASE STUDIES
www.adept.com/main/solutions/index.
shtml
Check out this Web site to see how machine vision and robots are teaming up to meet the needs of automotive, electronics, and food producers.
CHOOSING A FILTER
www.tiffen.com/camera_filters.htm
In his article, Ira Tiffen shows how filters can affect contrast and sharpness and highlight flare, color, and light intensity, either individually or in combinations.
3-D VISION
www.lmint.com/cfm/index.cfm
LMI Technologies provides noncontact laser sensors and systems for improved quality and productivity in industrial applications and offers more than 40 vision and laser sensor models.
LEARN ABOUT WAVELETS
www.amara.com/IEEEwave/IEEEwavelet.html
Wavelets are mathematical functions that cut up data into different frequency components and are then used to study each component with a resolution matched to its scale. They have advantages over traditional Fourier methods in analyzing physical situations where the signal contains discontinuities and sharp spikes.
COMPUTATIONAL PERCEPTION
www.cs.bham.ac.uk/research/cogaff/crp/chap9.html
Chapter 9 of Aaron Sloman's The Computer Revolution in Philosophy has been annotated and is now available online.
A MORPHOLOGY DIGEST
ams.jrc.it/mdigest/
The Morphology Digest list provides data for those interested in mathematical morphology and morphological image analysis. Publication and conference announcements, algorithms, software, queries, and job proposals are listed.