Business Vision: Stuttgart Vision '99 Show shines
The Messe Stuttgart in Germany was once again the venue for the Image Processing Europe-sponsored 1999 International Trade Fair for Industrial Image Processing and Identification Technologies, or Vision as it is widely known in Europe.
Dec 1st, 1999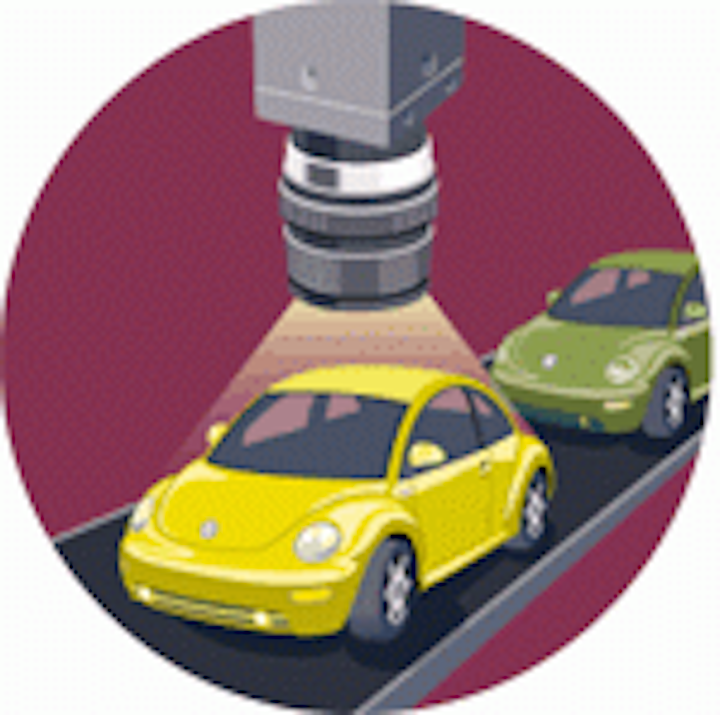 The Messe Stuttgart in Germany was once again the venue for theImage Processing Europe-sponsored 1999 International Trade Fair for Industrial Image Processing and Identification Technologies, or Vision as it is widely known in Europe. There is no doubt that this show has become Europe's leading imaging exhibition, especially where machine vision is concerned. Although the show attracts exhibitors and visitors from all over Europe, the majority of interest comes from companies located around the Stuttgart, Germany, area. This area is ideal for exhibiting vendors because the local companies are primarily either automotive manufacturers or their suppliers, many of whom are using machine vision and image processing in their automated manufacturing processes.
More than 120 exhibitors, including several US companies who were either appearing in their own right or had products on distributors' stands, attracted numerous attendees over the three-day show. To determine that the European industrial vision market was growing strongly, visitors only had to spend a few hours on the show floor.

The German trade association VDMA (Association of German Machinery Manufacturers) estimates that annual growth rate in this sector is running at double digits. The industry recorded an increase in revenues of 22.4% last year, with forecasts of DM1.4 billion (US $0.75 billion) in 2001. This market confidence was reflected by the many exhibitors who chose to showcase new products at the exhibition. Among these was Sony Deutschland GmbH (Koln, Germany), which showed its new head-mounted LCD displays. These devices are likely to find applications in various industrial inspection situations, where it is important to be able to view a field of interest while still being able to see the immediate surroundings. Apart from the obvious virtual-reality uses, Sony cites pipeline inspection as a possible application, where images produced by a mobile endoscope could be relayed to the headset.
Developments in smart cameras were evident, as indicated by the HiPerCam fromEltec (Mainz, Germany). The camera includes a CPU that can operate under Windows CE, making it applicable to process industries that need the functionality of Windows without the complexity of a full operating system. The Eltec unit uses a PowerPC processor rather than a Pentium chip. The company's director of sales, Joachim Nakat, explains that Intel chips simply burn too much power. Keeping power consumption low precluded the use of Intel chips and, because there is no Windows NT for the Power PC, Windows CE was selected. Eltec sees the security industry as a major buyer for the HiPerCam. Ethernet support enables the cameras to be networked via the Internet if necessary.
Cameras were also demonstrated byIMS Chips (Stuttgart, Germany), a commercial concern that has spun out of Stuttgart University's Institute for Microelectronics. High-dynamic-range color imaging has been perfected by the institute and is now being marketed in its HDRC VGA imagers and cameras. By using a logarithmic response, rather than the linear response of conventional CCDs, the HDRC system behaves more like the human eye. This patented technology, which was first demonstrated in 1992, is now in its sixth generation.
Sharing the IMS Chips stand were other institutes that are partnering in the Open Eye project. This German government-funded activity encourages research establishments, such as the University of Heidelberg, and commercial concerns to get together to solve specific imaging problems. Germany appears to lead Europe with this type of initiative. The Fraunhofer Institute is a well-known world-class provider of technology that can be commercialized. Smaller undertakings, such as the Open Eye project, also successfully bridge the gap between industry and academia.
Last September, camera-makerBasler Vision Technologies (Ahrensburg, Germany) announced a strategic alliance with Photobit Corp. (Pasadena, CA, USA), a supplier of CMOS imaging sensors. Basler has also moved its vision headquarters to Exton, PA, because the company sees the US market as accounting for between 35% and 40% of global sales. In addition to promoting the new Photobit alliance, Basler was prelaunching its new, digital monochrome and color progressive area-scan cameras, which should be available in early 2000.
Kodak Nederland(Vianen, The Netherlands) also had a new camera, the Megaplus, which operates at 15 frames/s with 12-bit, 2k x 2k-pixel resolution. The Megaplus has an electronic shutter and has been developed specifically for high-frame-rate, high-resolution applications such as printed-circuit-board (PCB) inspection and x-ray imaging.
Many of the products being demonstrated at the Vision show had obvious applications in the automotive industry. An internal test sensor developed byOpti-Sens (Konstanz, Germany) can search and scan 360° around a drilled hole using an array of photodiodes. Feeds to 500 mm/s are possible. Meanwhile, I To I, a business unit of MAZ (Hamburg, Germany), demonstrated its video three-dimensional depth and motion sensor, which can identify and sort different wheel rims. Siemens Automatisierungstechnik (Nurnberg, Germany) has also solved inspection problems for car manufacturers. Its VS710 cameras are being used for code identification and selection of car body panels.
Stemmer Imaging (Puchheim, Germany) attracted attention with its front-entrance location. The company recently announced it is working with Integral Vision (Farmington Hills, MI, USA) on Common Vision Blox—a set of configurable software tools—which drew much attendee interest.
Alliances accelerate
n-Vision Inc. (McLean, VA; www.nvis.com), a leading supplier of 3-D immersive display systems, has agreed to merge with a subsidiary of Advanced Technology Systems Inc. (McLean, VA), a systems software and engineering company.
Leading camera suppliersBasler Vision Technologies (Exton, PA; www.baslerweb.com) and PULNiX America Inc. (Sunnyvale, CA; www.pulnix.com) have joined resources to produce a common digital camera interface based on Channel Link technology with higher bandwidth and fewer connections than conventional RS-644 or RS-422 protocols.
DuPont Holographics (Wilmington, DE), a supplier of holographic optical components and holograms, has acquired Krystal Holographics International Inc. (New York, NY), a manufacturer of proprietary 3-D holographic technology.
Philips Flat Display Systems (San Jose, CA), a supplier of active-matrix liquid-crystal displays (AMLCDs), has entered a joint agreement with, and taken a minority equity stake in, Rainbow Displays Inc. (Endicott, NY; www.rainbowdisplays.com), a developer of large proprietary displays, to produce large AMLCDs using a design process technology called tiling. This process combines several small-sized displays to produce a single 38.6-in. diameter or larger flat-panel display without visible seams.
Technology trends
Toshiba America Electronic Components Inc. (Irvine, CA; www.toshiba. com/taec) has developed a 15-in.-diagonal, low-temperature polysilicon, thin-film transistor, liquid-crystal display. This display provides UXGA resolution (1600 x 1200 pixels), 16.7 million colors, and a 150-cd/m2 brightness.
Bundled with theScanalytics Inc. (Fairfax, VA; www.scanalytics.com) Version 3.0 release of IPLab for Windows is a free personal computing and imaging 400-MHz system from Dell Computer (Round Rock, TX). IPLab is targeted at biotechnology and life-science imaging applications.
DigiLens Inc. (Sunnyvale, CA; www. digilens.com) has unveiled an electrically switchable, diffraction lens, called the Application Specific Integrated Lens, which can replace many conventional glass or plastic optical components in microdisplay color devices.
The Cooke Corp. (Auburn Hills, MI; www.cookecorp.com) has developed the HSFC-Pro CCD-based digital camera that can provide 500 million frames/s, eight images with an exposure time down to 1.5 ns, 1280 x 1024 pixels, and 12 bits of dynamic range.
Lucent Technologies' Bell Labs (Murray Hill, NJ; www.lucent.com) has developed a digital-signal-processor chip using 248-nm optical lithography that runs at 100 MHz at 1 V and 170 MHz at 1.5 V with phase-shifting software from Numerical Technologies (San Jose, CA).
Management moves
Vitana Corp. (Ottawa, Ontario, Canada; www.ShapeGrabber.com) has hired Brent Wilson as sales manager of industrial imaging. He was formerly national sales manager of AIT. . . . Photon Vision Systems LLC (Cortland, NY; www.photon-vision.com) has named Thomas L. Vogelsong as president and chief executive officer. Most recently, he was vice president of research and development at InfiMed Inc. . . . Three-Five Systems Inc. (Tempe, AZ) has appointed Robert L. Melcher as chief technology officer. He was recently program leader for projection displays at IBM Corp. . . . The JAI Group (Copenhagen, Denmark; www.jai.com) has opened a sales and support office as JAI America Inc. (Laguna Hills, CA) under the direction of Keith Russell, director of sales. . . . Melles Griot (Irvine, CA; www.mellesgriot.com) has appointed Blake Fennell as chief operating officer of its Photonics Group, which includes the Photonics Components Division in Irvine, CA; the Optical Systems Division in Rochester, NY; and the Melles Griot European and Asian Operations. He was most recently vice president and general manager of the company's Laser Group. . . . Datacube (Danvers, MA; www.datacube.com) is making available a hardware and software imaging package to colleges and universities at a 60% discount. The package includes a MaxPCI image-processing card, an analog or digital front-end module, a convolution add-on module, a general-purpose add-on module, and three software suites, PC Image Flow, DatacubeWiT, and MaxVision Toolkit. . . . Scimagix Inc. (Redwood Shores, CA; www.scimagix.com) has appointed Robert E. Dunkle as president and chief executive officer and a member of the company's board of directors. He previously served as president and chief executive officer of the National Center for Genome Resource . . . . Analogic Corp. (Peabody, MA) has named Donald Barry as group vice president and also as president and chief executive officer of its subsidiary, SKY Computers Inc. (Chelmsford, MA; www.sky.com). He was previously vice president of the medical business group at Mercury Computer Systems. . . . Optikos Corp. (Cambridge, MA) has appointed Kevin Carr director of marketing and sales, worldwide. Most recently, he held various positions at Labsphere Inc.
Contracts committed
BrainTech Inc. (N. Vancouver, BC, Canada; www.bnti.com) has been contracted by Canadian Autoparts Toyota Inc. (Delta, BC, Canada), a manufacturer of aluminum alloy wheels, to study the feasibility of automatic identification of wheels and inspection of various wheel parameters.
Radstone Technology Corp. (Montvale, NJ; www.radstone.com) has been awarded a $10.7 million, five-year order from Lockheed Martin to supply Octegra image and graphics processors and DAVIC frame grabbers into the US Navy's Lightweight Airborne Multi-Purpose System helicopter upgrade program.
InVision Technologies Inc. (Newark, CA; www.invision-tech.com) has received an $8 million order from Inchon International Airport Corp. (Seoul, Korea) for multiple InVision CTX 9000 DSi explosive detection systems and services.
George Kotelly
Executive Editor
georgek@pennwell.com