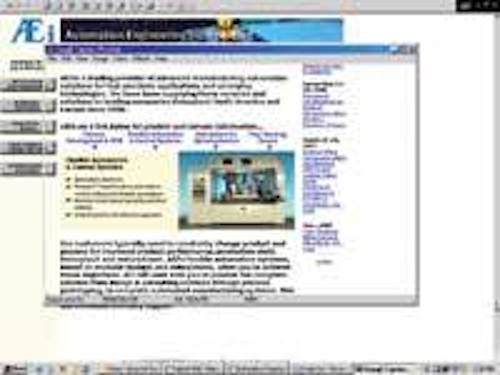 Wilson's Websites brings you the latest information on what's new on the web. To accomplish this, we provide links to tutorial information, hardware or software product developments, product database information, technical articles, associations, and on-line magazines. If you or your company would like to be considered for Wilson's Websites, please contact Andy Wilson at andyw@pennwell.com.
Case studies
www.dmcinfo.com

DMC is an engineering and software-development company providing a range of services for the industrial-automation market. Numerous case studies highlighted on this site include systems for part tracking, wafer inspection, and automotive sensor testing.
Neural nets
www.imagination-engines.com

IEI holds patents for allowing large assemblies of artificial neural networks to connect themselves into complex neural architectures that emulate the visual pathways of the brain. Currently, IEI machine-vision systems are being used by automotive-parts manufacturers for intelligent headlight control and occupant identification.
Automated manufacturing
www.aeiboston.com

AEi provides customized solutions for automation applications based on the company's Flex 1000 series of standard automation platforms. These support material-handling modules for automated manufacturing and test applications.
Watching videos
www.resecsystems.com

Resec Systems designs and builds video measurement and gauging systems, automatic sorting and video-based alignment equipment, and machine-vision components. Watch the company's applications at work with the short video clips available on this site.
Factory automation
www.atsautomation.com

Automation Tooling Systems designs and manufactures factory-automation systems, custom automation equipment, standard automation products, and turnkey assembly machinery.
Industrial inspection
www.industrialeye.net

Industrial Eye provides integrated machine-vision solutions using Cognex technology. On this site there are case studies including radioactive-vessel inspection, gloss and roughness inspection of tablets, and 3-D position gauging.
3-D Imaging
www.genextech.com

If you are interested in 3-D and 360° imaging, take a look at the Web site of Genex Technologies, where you will find descriptions of the company's expertise in 3-D capture and facial-recognition systems.
German vision
www.machine-vision.de

Although predominantly German-based, this machine-vision site contains news, technical reports, and product information in both English and German. In addition to an online bookstore and encyclopedia, the site's integrated search function allows access to archived material.
Cow hides
www.tisfoon.com

This site shows some interesting applications of technology, including defect recognition in cow hide, woodworking, and using eddy current imaging in metal inspection.