Wilson's Websites
Tools and techniques, Test patterns, PC-based test, Plug-in test, Manufacturing test, Scopes and meters, Other video test Web sites
Jun 1st, 2002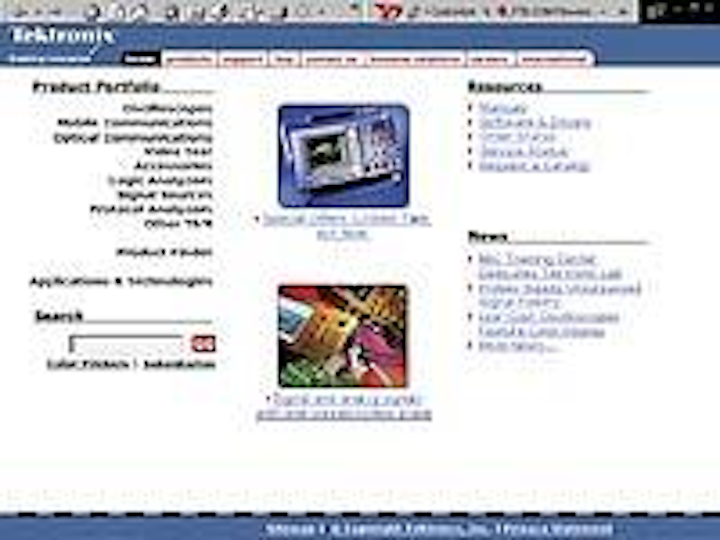 Video test equipment generates stable video signals with carefully defined characteristics that enable engineers to measure, analyze, and display the results of image digitizing, processing, and display. To examine conventional broadcast signals, engineers use signal and pattern generators, oscilloscopes, waveform monitors, and vectorscopes. Now, with the increased interest in digital-camera interfaces, they must also be aware of the latest digital storage oscilloscopes and test-pattern generators. This month, we look at Web sites that describe video test equipment and how it can be used to analyze the operation of imaging products.
---
Tools and techniques
www.tektronix.com
On the Web site of Tektronix (Beaverton, OR), you can access technical papers, manuals, software, and drivers for the company's range of test equipment, including video measurement equipment, signal generators and monitors, and MPEG testers. In addition, the company provides access to its latest newsletters, Ask the Experts columns, product data sheets, and sales-contact information.
---
Test patterns
www.gekco.com
Gekco (Issaquah, WA) designs video and audio test-pattern sources, video/audio switchers, character overlay generators, video loss detectors and switchers, and distribution amplifiers for broadcasting, video production, and security applications. On this site, you'll find a listing of all these products, a video tutorial, and pricing and ordering information.
---
PC-based test
www.team-systems.com
Offering a number of PC-based, stand-alone, and digital video generators, Team Systems (Santa Clara, CA) also sells other related products, including the Astro SC-2024 scan converter. During operation, this converter accepts signals ranging from NTSC to 1080p (1920 x 1080 pixels progressive-scan) and converts them to other computer monitor formats or NTSC/HDTV settings.
---
Plug-in test
www.quantumdata.com
Last year, Quantum Data (Elgin, IL) announced its Model 802B 200-MHz analog/digital video signal generator with programmable capabilities for testing CRTs, flat panels, projectors, and HDTVs. As well as detailing this product, this Web site provides an overview of all the company's portable, hand-held, and PCI-based signal generators.
---
Manufacturing test
www.unigraf.fi
Unigraf (Espoo, Finland) supplies PC-based test equipment for the manufacture, development, and service of electronic products. It includes the VTG-3030 and VTG-3016 PCI analog video generator boards designed for testing, evaluating, and servicing CRTs, analog input displays, and other devices. This site also provides descriptions of the company's industrial-automation and military products.
---
Scopes and meters
www.leaderusa.com
Oscilloscopes, video products, and test-pattern generators are all featured on the Web site of Leader Instruments (Cypress, CA). Here, too, there is a range of primers that show how to operate vectorscopes and waveform monitors and how to measure video test signals.
---
Other video test Web sites
www.rsd.de
www.extron.com
www.snellwilcox.com
www.videotek.com
www.burosch.com
www.horita.com
www.leitch.com