National Instruments outlines future virtual instrumentation
Despite the global economic slowdown, a record attendance of nearly 1500 attendees, 100 exhibiting companies, and 60 trade-press editors, representing 48 countries, participated in the recent National Instruments (NI) Week 2002 Worldwide Conference on Virtual Instrumentation.
Oct 1st, 2002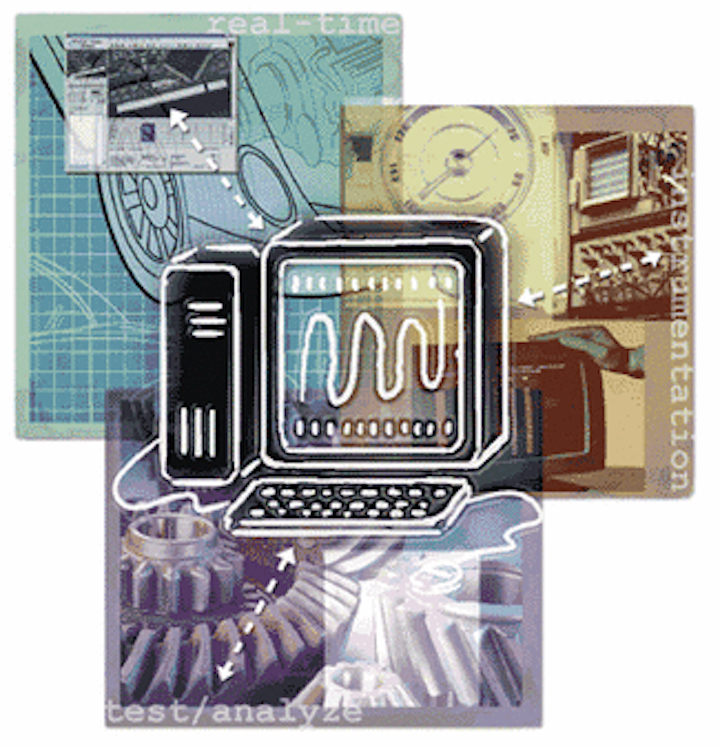 George Kotelly, Editor in Chief
georgek@pennwell.com
Despite the global economic slowdown, a record attendance of nearly 1500 attendees, 100 exhibiting companies, and 60 trade-press editors, representing 48 countries, participated in the recent National Instruments (NI) Week 2002 Worldwide Conference on Virtual Instrumentation. A technical program of 140 presentations and hands-on sessions covered the latest measurement, test, vision, and motion hardware and software topics, technologies, and trends.
James Truchard, chief executive officer and president of National Instruments (Austin, TX; www.ni.com), in a keynote address, discussed the new products and technologies that are fulfilling his company's vision of virtual instrumentation. He discussed how PC processing power and advances in other commercial technologies are making virtual instrumentation the preferred approach to modern test systems.
Truchard said, "Virtual instrumentation has improved to the point that today we can meet and sometimes exceed the capabilities of traditional measurement systems. By leveraging the continuous advancements in commercial technologies, virtual instrumentation is addressing application areas that only a few years ago were the domain of proprietary vendor-defined solutions."
As examples of this trend, Truchard discussed two new modular instruments—the PXI-4070 6.5-Digit FlexDMM and the PXI-5660 2.7-GHz RF signal analyzer. The FlexDMM offers a continuously variable reading rate from 100 S/s at 6.5 digits to 5 kS/s at 4.5 digits, as well as a 1.8-MS/s fully isolated digitizer. The RF signal analyzer offers a 20-MHz wide bandwidth for capturing magnitude, frequency, and phase data. It also ships with NI LabView software for performing advanced analysis on complex signals.
"These new products illustrate how we are extending the reach of virtual instrumentation by leveraging the power of the PC," Truchard said. "We continue to shape the future of measurement and automation, finding new, more-productive ways for engineers to leverage the ever-increasing peformance of PC technology."
Truchard also discussed a road-map for growing the use of LabView-based virtual instrumentation throughout the system design process. Increasingly, engineers deliver new products to market faster using LabView, not only to test completed products but also to integrate real-world measurements into the simulation and modeling of product designs. From defining the first prototypes to manufacturing the final product, virtual instrumentation-based system design and test is accelerating the entire design flow.
As part of this discussion, Truchard talked about the development of the LabView FPGA, a reprogrammable plug-in module for the NI flagship graphical development environment. Just as the productivity of LabView transforms instrumentation with user-defined instruments, LabView FPGA enables user-defined hardware for a variety of applications that can benefit from high-speed custom hardware logic and tightly integrated real-time systems.
Yiannis Pavlou, control platform manager of the FPGA board development project, says that NI is developing LabView virtual instruments functions to run on programmable logic. These functions are slated to be implemented on a Xilinx Virtex 40-MHz FPGA containing 1 million gates that can be board-loaded into a chassis. However, programmable logic densities are expected to vary depending on need. The board is targeted at frequently changed hardware testing and its cost, including software, is expected to range around $400.
"As a first step, LabView FPGA will target an NI reconfigurable I/O device so that users who build sophisticated test systems, such as automotive testers, can use off-the-shelf software and hardware to build flexible test platforms that integrate both test and real-time control," Truchard said.
In a demonstration of a hardware-in-the-loop tester, NI engineers showed how LabView FPGA block diagrams can execute on a FPGA in a closed loop with real I/O up to 80 times faster that what could be done before.
Truchard said, "Historically, programming FPGAs was relegated to specialists in digital design. We now envision a mass market where LabView again opens the opportunity for broad-based virtual-instrumentation systems that once were limited to only a small group of expert developers. Truchard said commercialization of this technology is expected in 2003 and that NI would be working with a small group of LabView pioneer developers in the next few months.
Mike Santori, NI business and technology fellow, and Ray Almgren, vice president of product strategy, spoke about the use of LabView throughout the system-design process. They noted that, in this manner, designers could deliver new products to market faster not only to test completed products but also to integrate measurements into the simulation and modeling of product designs. Santori said, "We're going to make design and test come together seamlessly." Demonstrations showed how engineers leveraged the power of LabView to perform high-level data analyses on Tektronix open-Windows oscilloscopes and to validate designs on Texas Instruments digital signal processors. To address the needs of the spectrum of programmers from expert to novice to verify hardware designs, NI engineers are working on new LabView features such as easier programming and visualization, larger project development, and quality diagnostic tools.
---
Contracts committed
Teradyne (Westford, MA; www.teradyne.com) has received an order for two Optima 7300 post-reflow automated optical-inspection systems from Beijing International Switching System Corp. Ltd. in China. These systems use patented lighting, camera, positioning equipment, software, and image processing to scan, detect, diagnose, and handle solder and component defects on printed-circuit boards.
Dalsa Inc. (Waterloo, ON, Canada; www.dalsa.com) has agreed to design, build, and install an on-line real-time, variable-speed inspection system to detect and classify defects in DuPont Corp. (Circleville, OH; www.dupont.com) Kapton polyimide film. The inspection system will be structured around Dalsa 4k, 4-tap, Piranha2 linescan cameras and MotionVision software to image single-pixel defects at speeds ranging from the maximum 36-kHz line rate down to a stopped state.
FLIR Systems Inc. (Portland, OR; www.flir.com) has been awarded a $5.5 million contract to deliver eight Star Safire II multisensor infrared surveillance systems for Mexican Navy fixed-wing aircraft.
American Science and Engineering Inc. (Billerica, MA; www.as-e.com) has received orders worth $8.5 million for several cargo x-ray inspection systems from the Port of Sokhna, which is owned by the Egyptian Container Handling Co.
Alliances accelerate
DVT Corp. (Norcross, GA; www.dvtsensors.com) has agreed to integrate Veritec Inc. (St. Paul, MN; www.veritec.com) Vericode symbol-reading capabilities into its Legend line of Ethernet-enabled SmartImage sensors.
The MathWorks (Natick, MA; www.mathworks.com), a developer of technical computing software, has unveiled two software tools for Texas Instruments Inc. (Dallas, TX; www.ti.com), a supplier of DSP and analog technologies. The MatLab Link for Code Composer Studio Development Tools and the Embedded Target for the C6000 DSP platform enable faster system integration for DSP developers.
Management moves
National Instruments (Austin, TX; www.ni.com) has elected Duy-Loan Le to its board of directors. A 20-year veteran with Texas Instruments (TI), Ms. Le is a TI senior fellow, DSP advanced technology ramp manager, and holder of 20 technology patents.
Cognex Corp. (Natick, MA; www.cognex.com) has upgraded its In-Sight vision sensors with the capability to read and verify reduced space symbology barcodes on pharmaceutical packages for product identification and traceability.
Photon Dynamics Inc. (San Jose, CA; www.photondynamics.com), a provider of yield-management platforms, has agreed to acquire the Infrared Screening and Inspection Solutions Division of Advanced Research Technologies Inc. (Montreal, QC, Canada), a developer of optical and infrared imaging technologies, for $5.5 million.
Fairchild Semiconductor International (S. Portland, ME; www.fairchildsemi.com), supplier of electronics components and products, has promoted vice president of marketing for the interface and logic division Bill Hall to vice president of corporate marketing.
Motorola Inc. (Schaumburg, IL; www.motorola.com), provider of integrated communications and embedded electronics products, has promoted executive vice president and president of Motorola's personal communications sector Mike Zafirovski to president and chief operating officer.
Redlake MASD Inc. (San Diego, CA; www.redlake.com), supplier of digital motion analysis and imaging systems, has acquired DuncanTech (Auburn, CA; www.duncantech.com), a supplier of digital cameras.
Imagis Technologies Inc. (Vancouver, BC, Canada; www.imagistechnologies.com), a developer of facial- and image-recognition technology, has named Richard Katrusiak vice president of sales. He was previously senior alliance manager for Pivotal Corp.
Fluke Corp. (Everett, WA; www.fluke.com), a supplier of electronic test tools, has acquired Raytek Corp. (Santa Cruz, CA; www.raytek.com), which supplies infrared temperature measurement instruments.
ITT Industries Inc. (Roanoke, VA; www.itt.com), a developer of image-intensification devices and night-vision equipment, has purchased intensified video-imaging camera and systems supplier Xybion Electronics Systems Corp. (San Diego, CA). ..