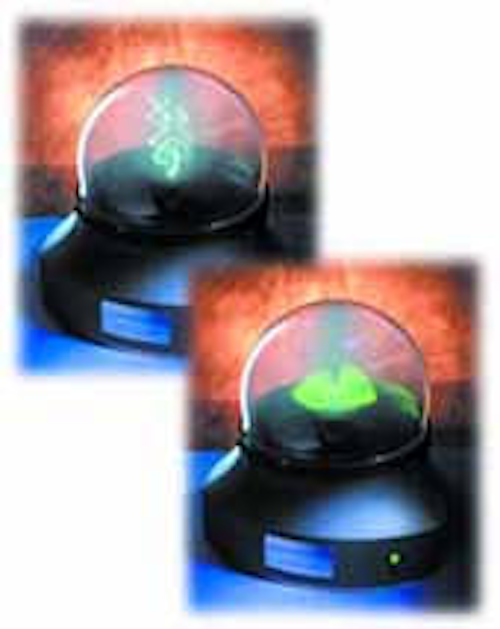 George Kotelly,Editor in Chief
georgek@pennwell.com
3-D dome display explores biology
First reported in Vision Systems Design (May 2001, p. 17) as a 360° dome viewer, a spherical three-dimensional (3-D) display from Actuality Systems Inc. (Reading, MA; www.actuality-systems.com) is being evaluated by its first beta user. Structural GenomiX Inc. (SGX; San Diego, CA) is using the Helios 20-in.-diameter dome viewer to help develop experimental and computational structural biology that can transform genomic information into structural templates for drug discoveries.
In sum, the dome viewer can show high-resolution color images that appear to hover in space and permit several users to move completely around the 360° display and view images from any angle. This technology is claimed to provide the highest-resolution volumetric imagery available. Gregg Favalora, Actuality Systems founder and chief technology officer, says, "This type of volumetric 3-D display will impact a number of different fields. But the range of possible uses for drug design and biotechnology is so varied that it is well suited for beta-testing real-life sciences."
Drug design has traditionally involved a trial-and-error process. Recently, however, many pharmaceutical companies have undertaken a more rational approach to drug discovery. For example, chemists now carefully consider the 3-D shape of the chemicals that their drugs attack. The 3-D shape of a drug target molecule is, in many cases, a complex structure that to a layman looks like a tangled-up spider's web (see photos). This imagery is harder to comprehend on today's flat computer screens.
Therefore, companies such as SGX are looking to advanced display technologies such as Actuality Systems' volumetric 3-D display, which is under investigation by SGX to determine if it can help scientists understand and collaborate on protein structures. Now, in real time, scientists can rotate and zoom in on molecules using software they're already familiar with and with a 3-D copy of molecules as they tumble in real-time in the display.
The large number of newly mapped genes in the human genome has markedly increased the pool of potential drug targets. The challenge that confront scientists working to develop new drugs is that they need detailed information on how the protein under investigation interacts with compounds under study. After a protein structure is determined, scientists can use a method called "structure-based drug design" to develop compound libraries aimed at a specific protein target.
Doug Livingston, SGX vice president of chemistry and new technologies says, "This 3-D display offers a new paradigm for us. Many of our scientists spend a lot of time working on a flat screen with goggles that only simulate 3-D. Using the Actuality Systems' display allows a more natural process. It facilitates collaborations among our work teams, and, when used as a presentation tool, it could help our partners and clients better understand the data."
Unlike some 3-D displays that require special stereoscopic goggles to simulate multidimensional imagery or flat-screen monitors that translate 3-D data into flat 2-D images, the Actuality Systems technology is volumetric, which means that it illuminates volume pixels (voxels) throughout the full range of 3-D locations within the spherical display. Moreover, a custom embedded-graphics architecture takes computational load off the user's workstation, enabling an animated 3-D imagery that can be controlled and maneuvered from a keyboard.
Actuality Systems uses proprietary graphics-rendering algorithms to generate the very fast, high-performance scene drawings that are crucial for smooth movements. In addition, it uses a high-speed, high-resolution projector to create bitmapped 3-D imagery that enables users to access 100% of the available volume instead of just a small portion of the display as accomplished with traditional vector-based systems.
The 3-D display offers a resolution of approximately 100 million voxels. In contrast to flat and square pixels, voxels also provide depth. Resolution is described in terms of a stack of flat slices arranged around a centerline similar to thin wedges of an apple around its core.
Doctors can also benefit from viewing medical images in a volumetric 3-D format. Traditionally, a radiologist looks at hundreds of 2-D "image slices" through a patient's body from a computed-tomography (CT) or magnetic-resonance-imaging (MRI) system. Then, the radiologist describes the location of a tumor, for example, to a surgeon, who then performs an operation. It would make sense to empower nonradiologist physicians—such as surgeons—with a complete and highly detailed representation of the tumor's location using a 3-D display. The display could also be used to give patients a better understanding of surgical procedures or in plastic-surgery simulation to show "before" and "after" presentations in a floating, lifelike 3-D display.
The company expects to disclose other beta users in the next few months and is planning to ship commercial units by the end of 2002.
_________________________________
Market vision
Semiconductor Equipment and Materials International (SEMI; San Jose, CA; www.semi.org) reports that worldwide semiconductor-manufacturing equipment shipments totaled $5.63 billion for the third quarter of 2001, a 55.6% decrease from the $12.98 billion posted for the same quarter in 2000. Shipments are down 20.2% from the second quarter of 2001. Worldwide equipment orders of $3.92 billion for the third quarter of 2001 represented a 75% drop from the same quarter of 2000.
The Semiconductor Industry Association (SIA; San Jose, CA; www.semichips. org) reports that worldwide sales of semiconductors were $10.43 billion in October 2001, an increase of 2.51% from $10.18 billion in September 2001. This is the fourth consecutive month that month-to-month sales improved and the first month since November 2000 with a sequential monthly growth. The SIA also forecasts that the worldwide semiconductor industry will begin to recover during the fourth quarter of 2001 and will total $141 billion for the year.
Business Communications Co. Inc. (Norwalk, CT; www.bccresearch. com) reports in its RGB-171N The Changing Display Industry: CRT and Flat Panel-Updated Edition that worldwide shipments of electronic displays are estimated at approximately $64 billion in 2001. Shipments are forecasted to grow at an average annual growth rate (AAGR) of 12.3% and total $114.8 billion by 2006. Liquid-crystal-display shipments are valued at $25.6 billion in 2001 and are expected to grow at an AAGR of 16.5% and reach $54.8 billion by 2006.
_________________________________
Alliances accelerate
Pixim Inc. (Mountain View, CA; www.pixim.com), developer of the patented Digital Pixel System image-capture and processing technology, has licensed the ARM9E line of microprocessors from ARM Ltd. (Cambridge, England; www.arm.com), provider of 16/32-bit embedded RISC processor platforms. The ARM9E microprocessor line will be integrated into Pixim digital imaging platforms.
Banner Engineering Corp. (Minneapolis, MN; www.bannerengineering.com) and Red Lion Controls (York, PA; www.redlion-controls.com) have jointly developed a vision inspection system that allows users to instantly change inspection parameters while processing multiple products that need frequent changeovers. The system consists of the Banner PresensePlus vision sensor and software, Red Lion operator interface terminal, and Red Lion Edict-97 software.
OmniVision Technologies Inc. (Sunnyvale, CA; www.ovt.com) has worked with Cypress Semiconductor (San Jose, CA; www.cypress.com) to develop a USB, stand-alone camera module reference design to ease camera-to-host integration for OEMs. This module combines the OmniVision proprietary CMOS CameraChipT and the Cypress EZ-USB FX2T USB 2.0 microcontroller. It saves design time, eliminates the need for compression to achieve a 30 frames/s video output, and offers 640 x 480 (VGA), 800 x 600 (SVGA), or 1280 x 1024 (SXGA) resolution.
Adept Technology Inc. (San Jose, CA; www.adept.com), a manufacturer of factory-automation components and systems, and JDS Uniphase Corp. (Ottawa. Ont., Canada; www.jdsuniphase.com), a manufacturer of fiberoptic-related products, have agreed to form an automation-development alliance for optical-component and module manufacturing. Adept will serve as JDS's development partner for optical automation processes and platforms, and JDS will invest $25 million in Adept.
SMO Multimedia Corp. (Everson, WA; www.smomedia.com) has entered into a business alliance with Imagis Technologies Inc. (Vancouver, BC, Canada; www.imagistechnologies.com) that will incorporate Imagis' biometric facial-imaging technology into US airport and office-building kiosk installations.
Data-Ray Corp. (Westminster, CO; www.data-ray.com) and Eizo Nanao Corp. (Matto, Japan) are jointly developing a Precision 3MX 20.8-in., 3-Mpixel, liquid-crystal display (LCD) for diagnostic imaging. Eizo Nanao is providing the LCD technology and Data-Ray is furnishing Dr. Kal calibration software and a Real Vision digital graphic controller. The LCD will offer a 10.5-bit gray-scale, a luminance of 204 ft-lamberts, a 600:1 contrast ratio, and images calibrated to the DICOM standard.
Viisage Technology Inc. (Littleton, MA; www.viisage.com) has partnered with Netegrity Inc. (Waltham, MA; www.negegrity.com) to integrate Viisage's face-recognition technology with Negegrity's SiteMinder software for managing and controlling user access to e-business web sites. This integration is anticipated to enhance on-line security, privacy, and convenience for business-to-business transactions.
NICE Systems (Ra'anana, Israel; www.nice.com) and Visionics Corp. (Jersey City, NJ; www.visionics.com) have agreed to integrate Visionics FaceIt identification technology with NICE NiceVision platform of digital video-recording platforms. This integration is expected to result in the ability to perform face recognition on demand based on the analysis of high-resolution digital video images and data received from third-party security applications for prompt suspect identification.
_________________________________
Technology trends
Fujitsu Microelectronics America Inc. (San Jose, CA; www.fujitsu.com) has unveiled its MBF200 solid-state fingerprint sensor. The sensor comes in an 80-pin LQFP package, measures 1.38 x 1.5 cm in area, provides 256 x 300-pixel resolution, and produces 500-dpi fingerprint images. It incorporates a patented scratchproof protective coating, a two-stage 8-bit A/D converter, and a choice of an 8-bit microprocessor bus, a serial peripheral interface, or a USB interface.
LG Electronics (Englewood Cliffs, NJ; www.lgusa.com) has released the Iris Access 3000 biometrics security system, which can capture and process eye-recognition images in less than 1 s. The system uses illuminated infrared light, which is safe for human eyes and meets US and European safety standards, and operates from a distance of 3 to 10 in., whether or not the person wears eyeglasses or contact lenses.
Data Translation Inc. (DT; Marlboro, MA; www.datatranslation.com) has released Data Translation Information Exchange, a COM-based peer-to-peer communications system that integrates both vision and sensor-based measurements. This system allows users to share variable and image data between DT Vision Foundry machine-vision software and DT Measure Foundry test and measurement software.