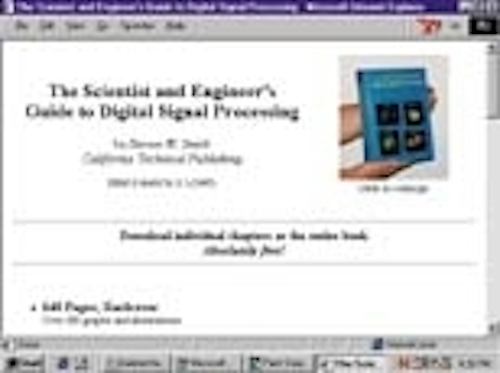 Data from remote space probes, radar and sonar echoes, seismic vibrations, and image-processing applications often use digital-signal processors (DSPs) for data analysis. In these applications, DSPs perform filtering, image enhancement, and data compression. This month, we take a look at some of the latest DSP-devoted Web sites and the technical data, product information, and application information that can be obtained on-line.
Find it fast
www-dsp.rice.edu/splib/
SPLIB, a signal-processing URL library, is designed for those looking to find data on signal-processing-related URLs. This Web site is divided into a number of subject areas including hardware, image processing, medical signal processing, robotics, and video. By clicking on each subject, the reader is brought to a number of different links describing products, technology, software, and applications.
Free DSP guide
www.dspguide.com
Written by Steven W. Smith, The Scientist and Engineer's Guide to Digital Signal Processing is a free, on-line 600+ page book. In addition to describing techniques such as convolution, recursion, and Fourier analysis, the book features applications including audio and image processing, neural networks, and data compression. Here, too, you'll find links to the author's work including the development of an imaging system used to detect weapons, explosives, and drugs concealed under a person's clothing.
Dedicated to DSP
www.techonline.com
Developed as a site for systems designers, DSPnet is just one of many technical sites available at Techonline. Exploring DSP system architectures, algorithms, and implementation strategies, the site also details subsystem components ranging from DSP-based boards and modules to software and software-development tools. Although you have to register before obtaining access, the large amount of product information, tutorials, and feature articles is well worth the effort.
Java applets
www.dsptutor.freeuk.com
Digital-signal processing (DSP) is traditionally a highly mathematical subject, and the standard DSP textbooks contain a lot of mathematical exposition necessary for a profound understanding of the subject. However, many people just want a simple introduction to the basic concepts and techniques of DSP. To do so, this site provides an introduction to DSP, digital filters, and Java applets that provide interactive demonstrations of DSP principles and techniques.
All the FAQs
www.bdti.com
Companies using or considering digital-signal processing (DSP) are faced with a bewildering array of choices in chips, tools, and software. To help companies navigate these choices and use DSP technology, the Web site of Berkeley Design Technology (Berkeley, CA) contains processor overviews, links to other DSP sites, DSP benchmark results, articles, papers, and presentations. Of special interest is a list of frequently asked questions (FAQs) and Comp.dsp, a worldwide Usenet news group used to discuss various aspects of DSP.
Signal-processing research
www.dspworld.com
As an international forum dedicated to signal processing and related digital and analog technology, the International Conference on Signal Processing Applications and Technology (ICSPAT) provides access to information on the latest developments in signal processing. In addition to putting the technical program of the ICSPAT conference on-line, this Web site allows you to listen to the audio from last year's conference.