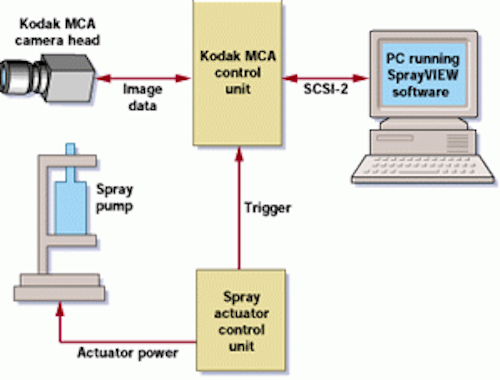 To characterize its high-speed nasal inhaler sprays, Muro Pharmaceutical (Tewksbury, MA) needed a new testing method that could capture, process, and analyze the time-evolving fluid dynamics of the sprays and would meet or exceed current US Food and Drug Administration (FDA) testing standards.
To meet those goals, Muro Pharmaceutical and ImageTherm Engineering (Waltham, MA) teamed to develop a digital imaging system to these sprays. The system, called SprayVIEW, helps Muro Pharmaceutical drug designers optimally match the geometry and performance characteristics of the spray pump to the fluid properties of medicinal solutions.
"In the design of the SprayVIEW system, images are acquired at 400-500 frames/s at a resolution of 500 x 200 pixels and 8-bit intensity using a SR-500 motion analyzer from Kodak (San Diego, CA). In addition, the camera's on-board memory and SCSI interface bus allow images to be directly downloaded to custom analysis software running on a PC," says Dino J. Farina, president of ImageTherm.
To provide adequate illumination of the spray particles at 500 frames/s, the system uses a Magnum 4000 laser line generator from Lasiris (St. Laurent, Quebec, Canada). This provides 4 W of illumination power and projects a sheet of light at 810 nm with a fan angle of 30°.
In building the SprayVIEW system, ImageTherm chose LabVIEW and IMAQ Vision from National Instruments (Austin, TX). "These provided the best mix of image-processing functionality and user interface development tools for the application, says Farina." In addition, the SCSI Toolkit for LabVIEW from Icon Technologies (Victoria Park, Australia) was used to download digital images from the SR-500 to other system components.
RIGHT. To test the mist of nasal sprays, the SprayVIEW system consists of an off-the-shelf camera, computer, actuator interfaces, and triggering components. In operation, the system can capture the time evolution of the spray for complete plume geometry and spray pattern characterization.

In operation, the spray pump is filled with test fluid and placed into the actuator. This is precalibrated for compression force and duration, and the camera is set to capture images at 500 frames/s and a resolution of 512 x 240 pixels. The input trigger is then armed and set to wait for the actuator to fire. The laser is then focused to a thickness of approximately 1 mm to illuminate the plane of spray particles.
To simulate the trajectory of individual particles in the spray, SprayView's software has a time-average or summation tool, which allows a user-selectable range of spray images to be combined. This allows the 200 images from a typical test to be represented in one image that can be used for measurements of the spray uniformity, spray pattern, and plume geometry.