Stuttgart VISION show accents worldwide imaging
Just less than 5000 attendees from Germany and abroad visited the VISION 2001 International Trade Fair for Industrial Image Processing and Identification Technologies, held at Messe Stuttgart in Germany last month. The attendance was slightly less than expected and was attributed to a decline in foreign visitors because of turbulent world conditions.
Nov 1st, 2001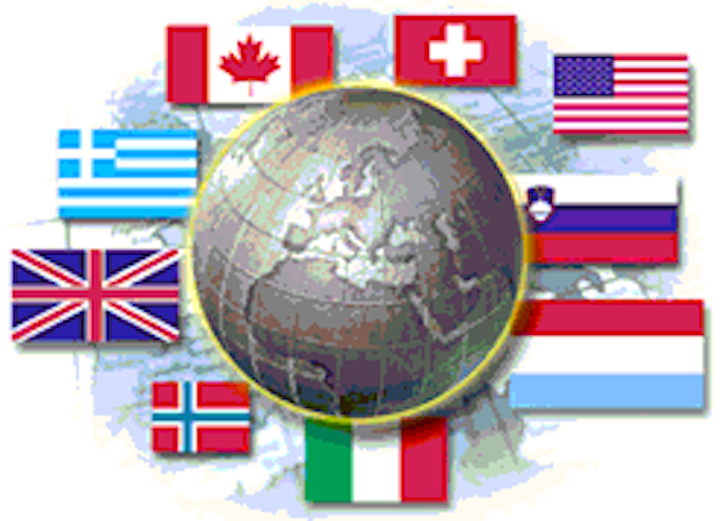 George Kotelly,Editor in Chief
georgek@pennwell.com
Stuttgart VISION show accents worldwide imaging
Just less than 5000 attendees from Germany and abroad visited the VISION 2001 International Trade Fair for Industrial Image Processing and Identification Technologies, held at Messe Stuttgart in Germany last month. The attendance was slightly less than expected and was attributed to a decline in foreign visitors because of turbulent world conditions.
Nevertheless, some 175 exhibitors (153 in 2000) from 18 countries displayed a variety of vision and imaging products. Further establishing the VISION trade fair as the leading worldwide venue for machine-vision and image-processing technologies and products, exhibiting companies came from Belgium, Canada, Denmark, France, Greece, Italy, Japan, Norway, Russia, Slovenia, Sweden, Switzerland, The Netherlands, the United Kingdom, and the United States, among others. The occupied net exhibition area increased from 2900 sq m in 2000 to 4250 sq m in 2001, a record expansion of 47%.
The majority of visitors came from the electronics industry (40%), the mechanical engineering industry (15%), the car-manufacturing industry and automotive-component suppliers (13%), and the pharmaceutical and medical technology industries (6%). Exhibitors said they detected a greater interest in applications as visitors inquired about solutions for specific problems. Visitors that came from small- and medium-sized enterprises (fewer than 50 employees) totaled 74%; the remaining 26% of trade visitors came from large companies. The number of decision makers among trade visitors also increased to 86% (2000: 82%), as determined by on-floor visitor surveys.
In the exhibitor booths, smart color cameras that digitize and process images within their housings were prevalent. New CMOS imaging sensors gained attention, as well as a variety of linescan and area-array cameras. Many software packages accented ease of use in system integration. Frame-grabber boards centered on Camera Link and IEEE 1394 (FireWire) connectivity.
Several officials presented expert viewpoints on the vision/imaging industry in Germany at a press conference. Frank Layer, the new divisional director of trade fairs at Messe Stuttgart International, commented, "Stuttgart and the area surrounding the state capital of Baden-Wüttemberg encompass 45% of German machine-tool manufacturers, who supply machinery to the car, mechanical engineering, electronics, and electrical industries in this region. Renowned international companies in this region include DaimlerChrysler, Porshe, Bosch, Hewlett-Packard, and IBM, among others. Together with their suppliers, the area companies represent 40% of the European metalworking industry within a radius of 250 km around Stuttgart. All these companies are potential users of machine-vision components and systems. As far as VISION exhibitors are concerned, their customers are located in this region."
Enis Ersü, chairman of the board of management of ISRA Vision Systems AG and chairman of the executive committee of the Machine Vision Group within the Association of German Machinery Manufacturers (VDMA), said, "With the recent increase in the number of exhibitors and the occupied exhibition area, VISION has now become the world's leading trade fair for image processing. It will undoubtedly act as a barometer for the development of the machine-vision industry."
Manfred Hock, head of the technical section of the Machine Vision Group within VDMA, presented a detailed analysis of the German market in machine vision. He summarized this market as containing about 250 companies with 5000 employees. Some 53% of these companies consist of less than 10 employees; 92% of the companies have fewer than 50 employees. The German machine-vision market surged 28.4% from 1999 to 2000 with revenues of DM865 million ($372 million) and DM1.1 billion ($473 million), respectively. Sales in 2001 are projected to climb to DM1.435 billion ($617 million). System sales captured 67% of the market in 2000, whereas components (devices and software) achieved 33%.
In 2000, quality assurance dominated the applications sector at 61.4%, with second place going to production automation at 19.4%. The major industry users were electromechanical/electronics at 20.8%, automotive at 17.2%, and metalworking at 8.5%. The German market imported 61% of their components from European companies, 20% from Asia-Japan, and 19% from North America. This market exported 56.1% of its sales domestically, 22.3% outside the European union, and 21.6% within the European Union.
Hock estimated the worldwide machine-vision market at DM14.0 billion ($6.02 billion). Regional markets were projected at DM4.5 billion ($1.94 billion) for both North America and Japan, DM3.6 billion ($1.55 billion) for the rest of Europe, and DM1.4 billion ($0.6 billion) for Germany.
Jeff Burnstein, executive director of the Automated Imaging Association (Ann Arbor, MI; www.machinevisiononline.org), presented an overview of current conditions and market projections pertaining to the North American machine-vision market. In sharp contrast to the surging German market, the North American market is plagued by declining sales, revenues, and production in nearly all sectors, such as semiconductor, telecommunications, and automotive. For example, industrial production is down 4.8% from August 2000 to August 2001. Moreover, industrial capital spending has been halted or severely limited, and US unemployment rose to 4.9% in September 2001. In the US machine-vision market, Q2 2001 revenues dropped approximately 15% from Q1 2001. This sales decline is expected to continue through Q3 and Q4 2001. As for an economic recovery, the US machine-vision market is projected to continue its downward trend through Q1 2002. Then, the market may remain flat throughout the remainder of 2002 and begin a modest growth going into 2003.
The winner of the ninth annual Machine Vision Prize, which is presented for the outstanding new development by a research institution or company in the industrial machine-vision industry, was Prof. Dr. Robert Massen. He is a professor of computer science at Constance Technical College and managing partner of Massen Machine-Vision Systems GmbH, Constance. His award-winning entry was a new development for automatic visual control of the aesthetic color quality of textured surfaces called ColourBrain Carpet.
Unlike traditional colorimetry, which works on spatially averaged color images, ColourBrain technology simulates the way that human perception processes color images. It takes into account the multiplicity of colors, their relative frequencies, the differently colored regions and their individual shapes, and mutual spatial relationships. During operation, three digital linescan color camera-based sensor heads automatically learn the statistical color distributions of the right web edge at the beginning of every production batch of textured products as a reference. They then move their measuring positions to the right edge, mid-web, and left edge and continuously compare the learned references to the actual measurements. The deviation in multicolored appearance is displayed on a monitor graph that shows color shade drift over the length of the textured product.
The next VISION trade fair will be held again in Messe Stuttgart, Germany, from 8 to 10, October 2002.
_____________________________________________
Alliances accelerate
SK Corp. (Seoul, Korea; www.skcorp.com), a global investor in major research and development technologies and products, has invested $3 million in eMagin Corp. (Hopewell Junction, NY; www.emagincorp.com), a developer of organic light-emitting-diode-on-silicon microdisplay technology. A follow-on investment of $7 million is based on meeting target events and final negotiations.
CDM Optics Inc. (Boulder, CO; www.cdm-optics.com) and Carl Zeiss Group (Thornwood, NY; www.zeiss. de) have partnered for the use of CDM Optics' proprietary wavefront coding technology into Carl Zeiss' products. The companies will jointly develop and market the technology, which allows imaging to a farther depth of field than is possible with conventional imaging systems.
Braintech Inc. (North Vancouver, BC, Canada; www.braintech.com) has begun work on a jointly funded project with the National Research Council-Innovation Centre (NRC-IC) of Canada to develop vision science and technology specific to geometric stereo vision. The project is attempting to solve the industrial problem of handling unsorted parts in a bin using vision-guided robots. The results of the research will be the exclusive intellectual property of Braintech under special license from the NRC-IC.
Proctor & Gamble (Cincinnati, OH; www.pg.com), a global supplier of household goods, has chosen Eastman Kodak Co. (Rochester, NY; www.kodak.com) ENVI software to analyze, identify, and extract data from new chemical research compound and product infrared images.
_____________________________________________
Technology trends
IBM Research Labs (Yorktown Heights, NY; www.research.ibm.com) has demonstrated what it claims is the world's first logic-performing circuit within a single molecule, which might lead to a new class of smaller and faster computers that consume less power. Researchers fabricated a voltage inverter ("not" gate) logic circuit with a gain of 1.6 from a carbon nanotube, a tube-shaped molecule of carbon atoms that is 100,000 times thinner a human hair.
Photobit Technology Corp. (Pasadena, CA; www.photobit.com) has introduced its PB-MV40, claimed by the company as the fastest available 4-Mpixel CMOS image sensor. The sensor captures images at speeds to 240 frames/s at full resolution, resulting in a throughput of 1 Gbyte/s. Other features include on-chip 10-bit A/D converters, a 2352 x 1728-pixel format, 7-µm-square pixels, and a digital responsivity of 2500 bits per lux-second.
Intel Corp. (Santa Clara, CA; www.intel.com) has unveiled its 2-GHz Pentium 4 processor. This processor is based on the company's 845 chipset, which permits the use of PC-133 SDRAM for memory. Applications are focused on the Windows XP operating system and include peer-to-peer computing, multitasking, background services, and enhancing Web services, among others. Intel also showed a digital video camera connected to a Pentium 4 processor, a prototype chipset, and an integrated controller for demonstrating the deployment of Universal Serial Bus 2.0.
AMD (Sunnyvale, CA; www.amd. com) has released its 1.1-GHz Duron processor with 3DNow technology and hardware data prefetch support. It offers a 193-kbyte on-chip cache, a 200-MHz front-side bus, a superscalar floating-point unit, and Windows XP operating-system compatibility.
Planar Systems Inc. (Beaverton, OR; www.planar.com) has unveiled 19-in.-diameter flat-panel monitors with 1600 x 1200-pixel UXGA resolution and 1280 x 1024-pixel SVGA resolution. Both monitors handle digital and analog inputs.
TeraRecon Inc. (San Mateo, CA; www. terarecon.com) has released three imaging products based on its patented VolumePro processor technology for Geoscience applications. VolumePro 1000 is a real-time 3-D volume-rendering accelerator for PCs and Unix workstations; VolumePro Net is a streaming 3-D interactive image server for interpretation groups; and VolumePro Visualization Platform is a custom high-end interpretation system for OEMs.
Eastman Kodak Co. (Rochester, NY; www.kodak.com) has developed a flexible software package to complement its KAC-0311 VGA and KAC-1310 megapixel CMOS image sensors. Sensor Studio software is being shipped with the purchase of a company CMOS sensor evaluation board. The menu-driven software, I2C adapter board, evaluation board, and a frame grabber allow designers to immediately acquire images and start CMOS image sensor evaluation and analysis.
Texas Instruments Inc. (TI; Dallas, TX; www.ti.com) has introduced an IEEE 1394b-compliant serial bus for mass-storage devices. Backward-compatible with the existing IEEE 1394b-2000 standard, this bus is claimed to double the speed of previous IEEE 1394 devices to 800 Mbits/s over distances to 100 m using TI devices for managing the 1394 physical and link layers.
LightSurf Technologies Inc. (Santa Cruz, CA; www.lightsurf.com) is offering its LightSurf Visual Intelligence Platform, which provides instant and secure two-way facial-recognition image and data viewing using virtually any wireless or wireline imaging device.
Philips Components (Sunnyvale, CA; www.philips.com) has introduced a technology that enhances luminance and color saturation in mobile transflective LCDs.