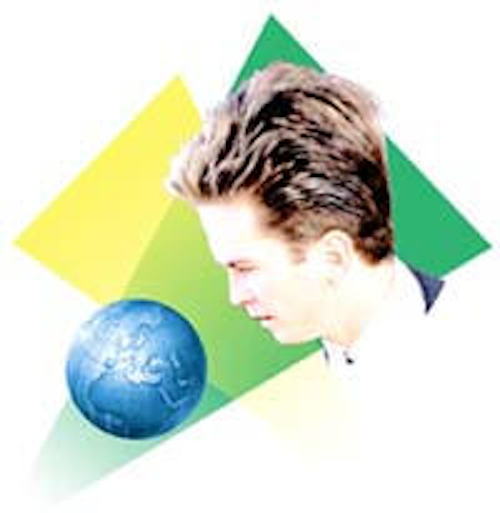 George Kotelly,Editor in Chief
georgek@pennwell.com
VISION 2001 preview reflects German market growth
More than two-dozen international journalists attended a trade press conference held recently at hema Elektronik GmbH in Aalen, Germany, for information briefings on the VISION 2001 International Trade Fair scheduled for Oct. 9-11, German industrial image-processing (IIP) company activities, and the continuing double-digit IIP market growth in Germany. Opening speaker, Ulrich Kromer, the new managing director of Messe Stuttgart International, the fair organizer, estimated that more than 180 national and international exhibitors will attend VISION 2001. He also projected that last year's records of 5280 attendees, 153 foreign visitors, and 3200 square meters of exhibiting space will all be surpassed.
Due to this growth, the VISION Fair will be held in the largest exhibition area (Hall 5.0) of Messe Stuttgart. The exhibitors are expected to offer a range of components, systems, and applications that cover image-processing systems for industrial and nonindustrial applications, image-processing components and measuring systems, image-processing technologies, and automatic identification products.
The major trade-fair events include the Third Industrial Image-Processing Workshop—"The ABCs of Industrial Image Processing." Held one day before the start of the VISION Fair, this workshop will present company and user representatives who will explain the basics of IIP and offer insights about potential applications using image-processing components, subassemblies, and systems.
Another annual fair event is "Industrial Vision Days," which is a forum of industry experts from research, development, and industry companies who deliver talks on a range of image-processing-related topics. Organized by the VDMA (Association of German Machinery Manufacturers), the talks will also cover novel solutions to practical application problems.
The Ninth Annual VISION 2001 Award will be given to a company, research institution or university that has developed the most outstanding image-processing product, system, or process of the year that advances the industry. The award winner receives DM4000 ($1794) and does not have to be a VISION Fair exhibitor. An independent group of international image-processing experts will judge the entries.
According to Kromer, the German IIP product trends include smart cameras, 3-D imaging, CMOS imaging sensors, more-sensitive line cameras, user-friendly software interfaces, and lower-cost hardware components. He commented that compared to 1999, the German IIP industry of more than 250 companies increased its sales by 28.4% to DM1.1 billion (US $493.2 million). This is the first time that the DM1 billion sales level has been exceeded. Industry analysts are predicting a growth rate of 30% for 2001. In addition, IIP sales are projected to double to DM2.25 billion (US$1.01 billion) in 2003.
Enis Ersü, chairman of the board of management at ISRA Vision Systems AG (Darmstadt, Germany) and chairman of the executive committee of the technical section for industrial image processing in the VDMA, examined the German image-processing market and companies based on a VMDA survey. He commented that the German IIP industry is still largely made up of small and medium-sized companies. For example, 53% of companies have fewer than 10 employees and about 92% have fewer than 50 employees.
Applications that accounted for the DM 1.1 billion in sales were quality assurance at 61.4%, production automation at 19.4%, nonindustrial at 11%, material flow control/regulation at 4.5%, and machine control/regulation at 3.7%. In terms of sales, the major user industries were electronics/electrical at 17.2%, automobiles at 20.8%, metal working at 8.5%, pharmaceuticals at 6.6%, plastics at 5.9%, and production, identification, transport, semiconductor, and others at 41%.
The export share of the German image-processing industry surged to 44% in 2000 from 35% in 1999. Most of the exports (61%) went to European countries, 20% to Asia and Japan, and 19% to North America. For 2001, the worldwide market for machine-vision sales is estimated at DM14 billion (US $6.3 billion), with North America and Japan each at DM4.5 billion (US $2.02 billion), the European market at DM3.6 billion (US $1.6 billion), and the German market at DM1.4 billion (US$ 0.63 billion). Therefore, the German image-processing industry represents approximately 1/10 of the worldwide market and more than one-third of the European market.
____________________________
Technology Trends
IBM Research Labs (Yorktown Heights, NY; www.research.ibm.com) has developed the T220 flat-panel monitor. The monitor is claimed to show 12 times more detail than available monitors by providing 200-pixel/in. resolution and more than 9 million pixels on a 22-in.-diameter screen.
IC Media Corp. (San Jose, CA; www.ic-media.com) has unveiled two small CMOS image sensors for still-image and full-motion video applications. The ICM-105Ala sensor is 8 x 8 x 8 mm and provides 640 x 480-pixel resolution, an f/2.5, 1/4-in. lens, and an acquisition rate of 30 frames/s. The ICM-102Ala sensor offers 352 x 288-pixel resolution and an f/2.8, 1/7-in. lens and is 8 x 8 x 5.8 mm.
Intel Corp. (Santa Clara, CA; www.intel.com) has released 1.7-, 1.5-, and 1.4-GHz xeon processors based on the company's NetBurst microarchitecture, 860 chipset, and dual bands of Rambus RDRAM. Performance is claimed to be 30%-90% higher than the Pentium III-based xeon processors. The company has also made available its Pentium 4 1.8- and 1.6-GHz 32-bit processors, dual RDRAM memory banks, and a 400-MHz bus that can handle data up to 3.2 Gbytes/s.
Motorola Inc. (Schaumburg, IL; www.motorola.com) has released the MPC7440 PowerPC host processor in speeds of 600 and 700 MHz and the MPC7410 at 450 MHz. The MPC7440 processors can achieve a sustained bandwidth of 1064 Mbytes/s using a 256k L2 cache, a seven-stage pipeline, and the MPX bus.
Original Solutions (St. Laurent, Quebec, Canada; www.original-solutions.com) has released its DOTector Inline Vision Inspection System, which uses the company's patented Blue Dot automated component-verification techniques. The company claims that the system can verify assembled printed-circuit boards for gross manufacturing defects at speeds of 300,000 components/hour.
Umax Technologies Inc. (Fremont, CA; www.umax.com) has released the Astra 4400 scanner. This unit provides 1200 x 2400-pixel resolution, 48-bit internal color, a USB output port, programmable pushbutton controls, and Windows 98/98SE/ 2000/ME support.
Analogic Corp. (Peabody, MA; www.analogic.com) has developed the DBS2055 4.8-Gsample/s waveform generator. Key specifications include 8-bit resolution, signal rise- and falltimes of less than 250 ps, and a 60-dB dynamic range.
____________________________
PennWell acquires Strategies Unlimited
PennWell Corp. (Tulsa, OK), a global media and information company and owner of Vision Systems Design, has acquired the market-research and management-consulting firm Strategies Unlimited (Mountain View, CA), which specializes in technologies including optical networks, optoelectronic components, wireless communications, compound semiconductors, and photovoltaics. Strategies Unlimited will operate as a subsidiary within the PennWell Advanced Technology Division (Nashua, NH).
The Advanced Technology Division serves the global electronics, communications, and information-technology markets with an array of 22 publications and has been building a market-research capability starting with the acquisition of KMI (Providence, RI) in 1999. "We are pleased and fortunate to have Strategies Unlimited become part of PennWell's Advanced
Technology Division," said David Janoff, PennWell vice president and the new president of Strategies Unlimited. "Strategies Unlimited has earned a reputation for identifying the critical commercial issues for emerging technical products and accurately forecasting their market potential," he commented. PennWell will also benefit from the strong Strategies Unlimited presence in the heart of Silicon Valley.
Working with the KMI team will enable us to greatly enhance the value we bring to our customers," remarked John Day, founder and president of Strategies Unlimited. "In addition, joining the PennWell organization will significantly broaden our market reach," he noted. For example,
PennWell's expertise in conferences and exhibitions will support the upcoming Strategies Unlimited conferences on Optical Amplifiers and Solar Electric Building. PennWell publications, including Laser Focus World, Lightwave, and Integrated Communications Design, will provide opportunities to disseminate Strategies Unlimited material.
____________________________
Alliances accelerate
AXS Technologies (Annapolis, MD; www.axstech.com), a supplier of patented software platforms that speed up the access and deployment of digital imagery, and Inciscent Inc. (Falls Church, VA; www.inciscent.com), a wired-to-wireless software provider, have formed an alliance to develop wireless software for delivering high-resolution digital images to mobile devices.
Vitana Corp. (Ottawa, Canada; www.pixelink.com) and Hitachi Denshi America Ltd. (Woodbury, NY; www.hdal.com) have formed an alliance that makes Hitachi Denshi the exclusive distributor of Vitana's PixelLink video converters and digital cameras in the United States.
DuPont Displays (Wilmington, DE; www.dupont.com/displays) and Three-Five Systems Inc. (Tempe, AZ; www.three-five.com) have formed Three-D OLED LLC (Tempe, AZ), a new display module joint venture that will design, assemble, and market glass-substrate, passive-matrix, polymer, organic light-emitting diode (OLED) display modules for OEMs worldwide.
Sky Computers Inc. (Chelmsford, MA; www.skycomputers. com) and the Defence Evaluation and Research Agency (DERA), an agency of the United Kingdom Ministry of Defence, have entered into an alliance to jointly provide real-time data-processing systems. Sky Computers will provide COTS processing engines and subsystems, and DERA will offer application-based platforms for radar and electro-optic sensor platforms.
Philips Components (Sunnyvale, CA; www.components. philips.com) and Mitsubishi Electric Corp. (www.mitsubishielectric.com) have agreed that Mitsubishi will supply low-temperature polysilicon, active-matrix liquid-crystal displays to Philips Components for integration into small-scale applications.
A group of researchers from Sarnoff Corp. (Princeton, NJ; www.sarnoff.com), Penn State University (University Park, PA; www.psu.edu), and the Kent State University Liquid Crystal Institute (Kent, OH; www.kent.edu) claim to have developed a flexible-plastic thin-film-transistor liquid-crystal display that can show video content.
____________________________
Management moves
ViTechnology LLC (Haverhill, MA; www.vitechnology.com), a manufacturer of automated optical inspection systems, has promoted Larry Sirois to thermal product manager, Americas, and has opened a sales, service, training, and demonstration center in Fremont, CA.
Dy4 Systems (Kanata, Ontario, Canada; www.dy4.com), a supplier of VME- and CompactPCI-based boards, systems, and software, has named Suzanne M. Larsen vice president of operations. She previously was vice president of operations at Sedona Networks.
Photon Dynamics Inc. (San Jose, CA; www.photondynamics.com), a supplier of yield-management platforms for the display and electronics industries, has agreed to purchase Intelligent Reasoning Systems Inc. (Austin, TX; www.irsinc. com), a manufacturer of automated optical inspection equipment.
Melles Griot (Rochester, NY; www.mellesgriot.com), a global supplier of photonics products, has promoted Blake Fennell to chief executive officer of its Photonics Components Division (Irvine, CA), named Val Moshkovskiy product manager—machine vision, and appointed Georg Nadorff senior optical engineer. Fennell was chief executive officer of the Photonics Group, Moshkovskiy was business unit manager at Volpi Manufacturing USA, and Nadorff was with Corning Rochester Photonics Corp.
CR Technology (Aliso Viejo, CA; www.crtechnology.com) has introduced a lease program for its line of automated optical and x-ray inspection systems. At the end of a one-year lease term, users can extend the lease, purchase the system, or return the system with no further obligation.
Colorado MicroDisplay (Boulder, CO; www.comicro.com), a developer of color microdisplays, has changed its name to Zight Corp. and has named Mark Wilner chairman of the board and chief strategy officer and promoted Kenney Roberts to president and chief executive officer.
Panasonic Vision Systems Group/OEM (Secaucus, NJ; www.panasonic.com/iris) has promoted Tim Meyerhoff to business-development manager for Panasonic Iris Recognition Products.
Leica Microsystems AG (Wetzlar, Germany; www.leica-microsystems.com), a global producer of precision optical systems, has moved its semiconductor-equipment division worldwide headquarters to Chantilly, VA.
Security Biometrics Inc. (Vancouver, BC, Canada; www.securitybiometrics.com), a developer of biometrics-enabled gesture-recognition systems, has appointed Ken Barr chief executive officer. He was formerly president and chief executive officer of Combined Telecom Inc.
____________________________
Contracts committed
Coreco Imaging Inc. (St Laurent, QC, Canada; www.imaging.com), a supplier of machine-vision products, has been awarded a three-year, $33 million contract with a European OEM supplier of machine-vision inspection systems to supply PC-series frame grabbers and software.
Cognex Corp. (Natick, MA; www. cognex.com), a supplier of machine-vision systems, has delivered SmartView ICN web-inspection systems to a leading Japanese pulp and paper manufacturer, a North American producer of rigid films, and a North American steel-product manufacturer. All three users are automatically detecting, identifying, and classifying product flaws.
Amicas Inc. (Newton, MA; www.amicas.com) is providing Web- and DICOM-based software, workstations, and PCs to Radiology Ltd. (Tucson, AZ) that reportedly make Picture Archiving and Communications Systems (PACS) obsolete. The equipment is compatible with a JPEG-2000-compliant archive and enables one-click instantaneous and simultaneous access to patient images and studies.
Adept Technology Inc. (San Jose, CA; www.adept.com), a manufacturer of flexible automation products and systems, has signed a $700,000 contract to provide an automated fiber-pigtailing workcell to a large photonics manufacturer. In another transaction, Adept has agreed to acquire Chad Industries (Orange, CA), a provider of custom workcells based on Adept products.
DRS Technologies Inc. (Parsippany, NJ; www.drs.com) has received an $18.3 million production contract from Raytheon Missile Systems Co. (Tucson, AZ) to supply second-generation forward-looking-infrared detectors for the US Army Javelin Anti-Tank Weapon System Program.
August Technology (Bloomington, MN; www.augusttech .com) has received orders totaling $3.8 million to deliver automated defect-inspection equipment to a manufacturer of data-storage components.
The UK subsidiary of Scan-Optics Inc. (Manchester, CT; www.scanoptics.com) has received a $2.5 million order to supply automated document-capture and imaging systems for the Driver and Vehicle Licensing Agency—the government agency responsible for the administration of all vehicles and drivers in the United Kingdom.
____________________________
Market vision
According to Semiconductor Equipment and Materials International (Mountain View, CA; www.semi.org), the North American-based manufacturers of semiconductor equipment reported a very slight upturn from the April 2001 book-to-bill ratio of 0.44 to the May 2001 ratio of 0.46; however, both order bookings and shipments continued to decline. This ratio means $46 in orders were received for every $100 worth of products shipped. The three-month average of worldwide shipments in May 2001 was $1.5 billion, which was 9% lower than the revised April 2001 shipments level of $1.7 billion and 30% lower than the $2.2 billion shipments level of May 2000.
Semiconductor Industry Association (San Jose, CA; www.semichips.com) reports that worldwide semiconductor sales totaled $12.71 billion in May 2001, a decrease of 7.3% from the $13.72 billion achieved in April 2001 and down 20.1% from the $15.9 billion reached in May 2000. Compared to May 2000, May 2001 sales were lower by 32.1% in the Americas, down by 16.6% in both Europe and Asia-Pacific, and down 10.6% in Japan.
Worldwide semiconductor revenues are projected to drop 15.8% to $170 billion in 2001, according to research-firm Cahners In-Stat Group (Scottsdale, AZ; www. instat.com). In 2000, the semiconductor industry enjoyed an outstanding year, with revenues increasing 36.8% to a record $204.4 billion.
The IPC-Association Connecting Electronics Industries (Northbrook, IL; www.ipc.org) reports that the May 2001 book-to-bill ratio increased slightly to 0.66 for the US printed-wiring-board industry. The ratios for April 2001 and March 2001 were 0.63 and 0.70, respectively. For May 2001, shipments, or billed sales, dropped 20.6%, and orders plunged 53.4%, compared to the levels of May 2000.
DisplaySearch (Austin, TX; www.displaysearch.com) says that flat-panel-display revenues are expected to fall by 5% in 2001 to $22.8 billion, the market's first drop since 1995. The market drop is attributed to excessive industry capital spending, reduced fabrication utilization, and lower product prices.
Stanford Resources Inc. (San Jose, CA; www.stanfordresources.com) forecasts that the worldwide annual value of the liquid-crystal-display market will climb from $23.1 billion in 2001 to $51 billion in 2007 with shipments of more than 3.2 billion units.