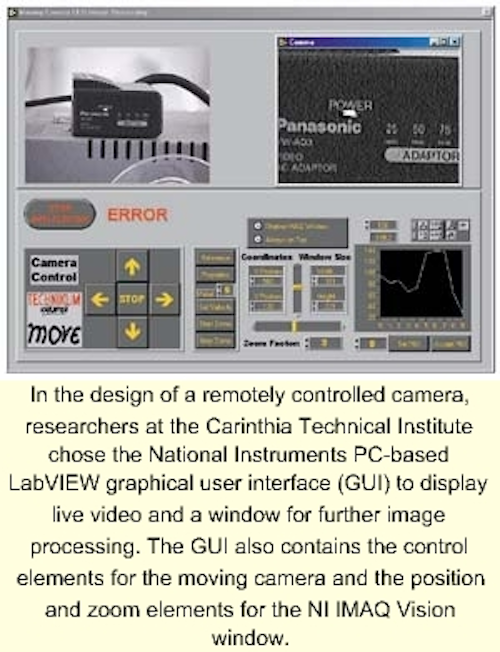 Andrew Wilson,Editor,andyw@pennwell.com
Electromagnetic compatibility (EMC), the ability of a device or system to function without error in its intended electromagnetic environment, must be met by many products in industrial, medical, military, and scientific applications. Because EMC problems can significantly decrease the reliability, increase the cost, and delay the development schedules of modern electronic systems, they must be strictly tested to meet specified criteria. To do so, such products are placed in an anechoic chamber—a shielded room where radiated emissions, radiated susceptibility, and electrostatic discharges can be measured by oscilloscopes, spectrum analyzers, and other test equipment.
"During testing procedures," says Thomas Klinger of the Laboratory for IEEE-1394 Industrial Solutions at Carinthia Technical Institute (CTI; Villach, Austria), "people are not allowed in the chamber since they will disturb the homogeneity of the electric field." As a result, remotely controlled cameras are used in the anechoic chamber to monitor the equipment under test.
Rather than purchase a camera system for this purpose, Klinger and his colleagues chose to develop a new system based on an off-the-shelf camera, PC/104 boards, and software. To acquire and digitize images of devices under test in the chamber, Klinger choose the CCM-DS250, a 1394-based VGA (640 x 480-pixel) camera from Sony Electronics (Park Ridge, NJ) that provides 30-frame/s images at a data rate of 200 Mbits/s. Digital data from this camera are then transferred under the control of a 386SX-based PC/104 board to a 1394 low-cost-node (LCN) 104 board from 1STT Components Software (Villach, Austria), which provides all the asynchronous functions of the 1394 serial bus.
"Designed for industrial control systems, this board allows designers to use the IEEE-1394 bus to connect their modules together. No second bus system is necessary to transport compressed or uncompressed digital video signals. A second interface provides the isochronous data stream to a PCI-based image-processing system housed in a PCI chassis," says Klinger. This interface, a FireBoard 400 Host Adapter from Unibrain (San Ramon, CA), can connect a maximum of 63 devices and supports speeds to 400 Mbits/s.
In the CTI design, image data are transferred from the LCN-104 over the 1394 interface to the Fireboard 400 and to host memory for further image processing. This interface also is used to transfer motor-control signals and power for both the camera and MOCO PC/104-based motion-controller board, also from 1STT Components.
To control camera motion, Klinger developed two ActiveX controls that are layered above the driver for the IEEE-1394 PCI board to enhance the capability of the system's IMAQ Vision software from National Instruments (Austin, TX). "Because of ActiveX capabilities," says Klinger, "it is easy to enhance the functionality of National Instrument's LabVIEW software with custom-made functions. As a result, it is possible to include digital video functions, dc motor control, IEEE-1394 bus handling, and image processing in a single application," he adds. In addition, the motion-control software embedded within the LabVIEW application allows the user to operate the unit.