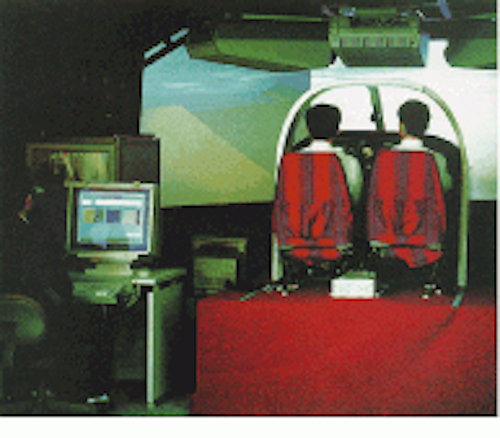 Multiple CPUs share flight-training images
To develop a flight-training device for Korean Airline`s ChangGong-91 light aircraft, the Korean Institute of Aeronautical Technology chose to build a multiple CPU-based system based on the VMEbus. In developing the system, the institute distributed software across several VMEbus-based computers to simulate such functions as the aircraft`s aerodynamics, engines, and environment.
Connected to a Silicon Graphics` Crimson workstation and three screen projectors providing out-the-window graphics, the system is controlled by a VMEbus-based MC88110 32-bit RISC processor system from Motorola (Austin, TX) that is used for input/output (I/O) processing. In turn, the MC88110 VMEbus host is interconnected to a VMEbus target system, consisting of five Motorola MC68040 microprocessor boards and I/O cards connected by a Model 413-1 VMEbus-Adapter from SBS Bit-3 Operations (St. Paul, MN). All data transfers between the host and the target systems and among all the microprocessors are achieved through common VMEbus memory in the target system.
In addition to handling flight-scheduling tasks, one of the CPUs synchronizes local-area-network communications and other processors in the target system. Two other CPUs drive the aircraft instruments and indicators in the simulator cabin, and another two processors control loads on the ailerons and rudder.
Korean Airline`s CangGong-91 light aircraft flight-training system partitions simulation software in a multiprocessor environment based on VMEbus technology.