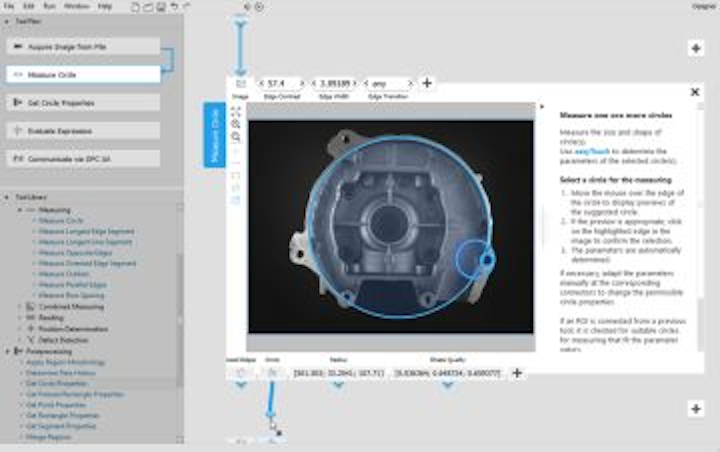 More than one year after announced its MERLICmachine vision software, MVTec has officially launched the new product and made it available in a free 45-day trial version.
MERLIC is an all-in-one software product for quickly developing machine vision applications—including graphical user interface, integrated plc communication, and image acquisition based on industry standards—without the need for software programming. It provides an image-centric user interface, which will guide the user through the application. Similar to a what-you-see-is-what-you-get editor (WYSIWYG) used for HTML, developers can focus on the image-based display rather on complex lines of code or parameter lists. Professional developers will also benefit from the too, which allows them to speed up their development processes and more easily implement standard projects.
The software's backend development interfaces includes an array of tools for solving standard machine vision applications, including tools for image acquisition, calibration, alignment, measuring, counting, checking, reading, position determination, and defect detection. Additionally, the software features the "easyTouch concept," which interactively guides users towards a solution by automatically determining the appropriate parameter settings for each tool based on where in the image the mouse pointer is pointing.

Once an application and operator interface is developed, the front end is ready to be deployed on the system. Multiple front ends can be designed for each application in MERLIC, and can run simultaneously. Developers can control what information or parameters are accessible on each front end. Additionally, MERLIC front ends can be accessed remotely, enabling integrators to diagnose and correct problems on a customer's factory floor.

View more information on MERLIC.
View more information on the trial version of MERLIC.
Share your vision-related news by contacting James Carroll, Senior Web Editor, Vision Systems Design
To receive news like this in your inbox, click here.
Join our LinkedIn group | Like us on Facebook | Follow us on Twitter | Check us out on Google +