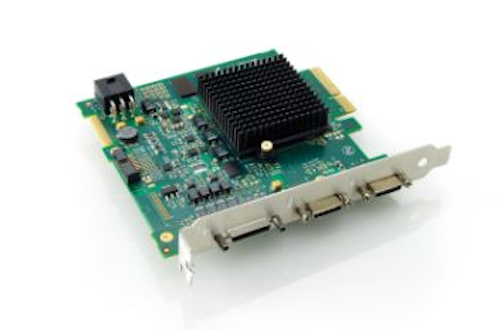 Based on the PCI Express Gen 2.0 expansion bus, the Xtium-CL MX4 frame grabber from Teledyne DALSA supports all Camera Link configurations and can deliver bandwidth in excess of 1.7 GB/s and continues to support PCIe Gen 1.0 with 850 MB/s throughput. The frame grabber offers high bandwidth to sustain Camera Link 80-Bit modes over longer cable distances and supports a wide variety of area and line scan cameras in a compact half-length, single slot solution. Features of the Xtium-CL MX4 frame grabber include a pixel clock up to 85 MHz, up to 16 bits per pixel, up to 10 taps/8-bit, and a 512 MB frame buffer. Additionally, the frame grabber is supported by Teledyne DALSA's Sapera software development kit.
To Learn More:
Contact: Teledyne DALSA
Headquarters: Waterloo, ON, Canada
Product: Xtium-CL MX4
Key Features: Half-length PCI Express Gen 2.0 x4 Board, Camera Link Rev 2.0 compliant, 1.7 GB/s, 850 MB/s throughput, 85 MHz pixel clock, Sapera SDK.

What Teledyne DALSA says:
View more information on the Xtium-CL MX4 frame grabber.

View More Products| Locate a vendor or system integrator | Receive e-mail updates

Share new products that you think are particularly interesting or helpful by contacting James Carroll, Senior Web Editor, Vision Systems Design.
Join our LinkedIn group | Like us on Facebook | Follow us on Twitter | Connect on Google +