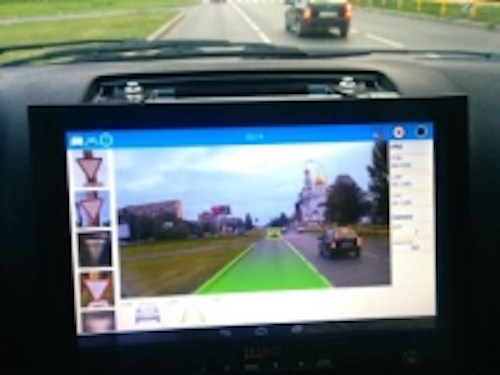 Russian computer vision company Itseez has created an advanced driver assistance system (ADAS) for the latest sports utility vehicle (SUV) from UAZ, the Patriot, which was demonstrated at an annual automobile manufacturers Forum in Tolyatti, Russia from July 15-16.
Itseez, which recently joined the Embedded Vision Alliance, has been developing its suite of ADAS algorithms, including traffic sign recognition, lane departure warning, front collision warning, and pedestrian detection for the past two years. In this particular design, which was for the mid-size Patriot SUV from UAZ, Itseez provided a complete demonstration that included the use of a monocular camera, an embedded platform for running the ADAS algorithms, and a display for visualization of results.
Crucial to the imaging portion of operation, according to the company, is the OV10635 high dynamic range (HDR) sensor from OmniVision. Designed specifically for automotive imaging, the OV10635 comes with a full set of automatic controls and an image processing pipeline for display and sensing. The system-on-chip sensor is built on a 4.2 µm OmniPixel3-HS pixel, enabling a low light sensitivity of 3.65 V/lux-sec to capture HD color video in any environment. The 1 MPixel CMOS image sensor achieves a dynamic range up to 115 dB in color and black and white, and employs auto dynamic range control to adjust to changing lighting and scene conditions.
The demo system from Itseez performs traffic signs recognition, forward collision warning, and lane departure warnings.
"We are pleased to bring our ADAS solution to UAZ. Our expertise in complex embedded vision applications is a key differentiator of our company. We expect other Russian car OEMs to follow UAZ in trials and further adoption of our ADAS solution in serial production vehicles," said Alexey Myakov, CEO, Itseez.
The next generation SUV with the Vision ADAS option will go in serial production in 2017, according to UAZ.
View more information on the ADAS system from Itseez.
Share your vision-related news by contacting James Carroll, Senior Web Editor, Vision Systems Design
To receive news like this in your inbox, click here.
Join our LinkedIn group | Like us on Facebook | Follow us on Twitter | Check us out on Google +