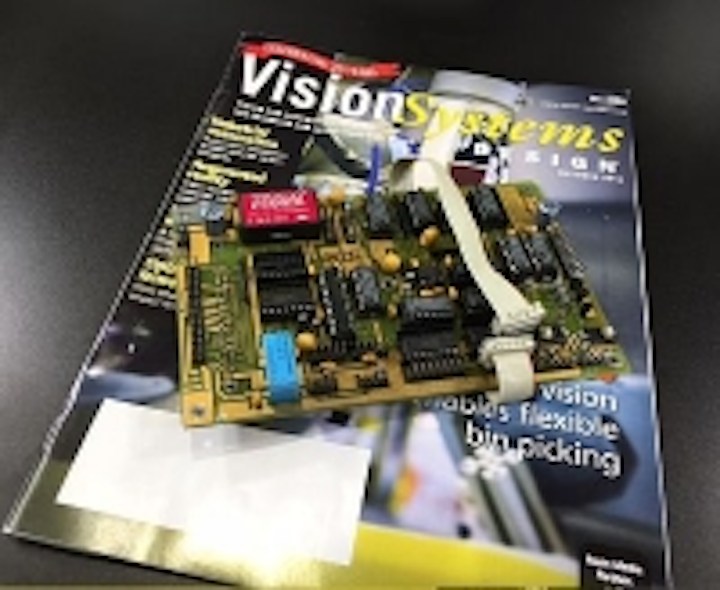 High-speed and high-resolution products turn up at VISION 2016
All of the machine vision and imaging products I've seen demonstrated at VISION 2016 serve specific purposes in the industry, but some of the products I came across during my three days are here are a bit "out of the ordinary," when it comes to things like speed, interface, and resolution.
One company showing a few of these types of products was Euresys. The company was showcasing a live CoaXPress demonstration running at 10 Gbps, but also noted that they are testing for JIIA to get bandwidth to 12.5 Gbps, using transceivers from Microchip and from Macom, and that the idea behind this is to have products for such a bandwidth ready in one year. Euresys also used two four-connection frame grabbers to operate an 8-connection Vieworks camera with a 12 MPixel sensor at 330 fps, as well as a CoaXPress Quad CXP-6 frame grabber with on-board laser-line extraction, for 3D profiling, running at 15.000 profiles / second.
Another company showcasing its high-speed capabilities was Kaya Instruments, who had a Camera Link HS frame grabber, the Komodo-CLHS, which supports the Camera Link HS X Protocol (10G) standard and is capable of receiving data from up to eight CLHS X Protocol links using four SFP+ 10GigE transceivers and a single QSFP+ 40GigE optical interface. Each link supports standard X Protocol bitrates up to 10Gbps. The board's eight-lane Gen 3.0 PCI Express interface allows data transfer between optical links and computer memory. As data rates with new interfaces and sensors continue to grow, such a product will be able to help support such needs.
Another high-speed product I saw in action was the StarStop Freeze Motion Camera from Odos Imaging, which was specifically designed to capture and record a large number of images in a short period of time that can be downloaded rapidly for later review. The camera features a 1280 x 1024 global shutter CMOS image sensor with high sensitivity and wide dynamic range, and can reach speeds of up to 605 fps at full resolution. An on-board circular memory buffer can be used to capture images before, during, and after a critical event, and high intensity strobe lighting units freeze any type of high speed movement with nanosecond precision. Additionally, low latency triggers enable the fastest events to be captured.
Another interesting product, among many others that I saw, was the obviously very high-resolution 71 MPixel camera (Image captured by company at demonstration pictured) from The Crowley Company. Originally designed for archival preservation, the MACHCAM 71 machine vision camera is available in monochrome and color and features the 71 MPixel CHR70M CMOS image sensor from CMOSIS, which has a 3.1 µm pixel size that can capture images at 3 fps. This camera, according to company owner Chris Crowley, is suitable for use in anything that requires larger field of view and high resolution images, including car or large vehicle manufacturers, robotic applications, research and development, and more. The company has future plans for additional products and has already seen its new camera being deployed in a number of applications.
Keep an eye out for future articles based on interviews at VISION 2016.
Share your vision-related news by contacting James Carroll, Senior Web Editor, Vision Systems Design

To receive news like this in your inbox, click here.
Join our LinkedIn group | Like us on Facebook | Follow us on Twitter
Learn more: search the Vision Systems Design Buyer's Guide for companies, new products, press releases, and videos