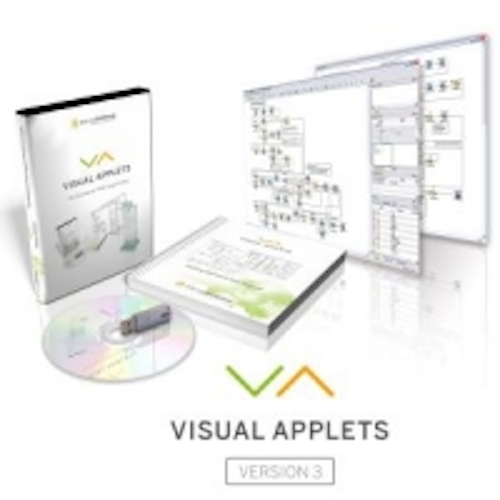 Silicon Software has released VisualApplets3, a graphical development environment in a 64-bit version with new functions and extensions. VisualApplets simplifies the programming of image processing applications on FPGA processors for frame grabbers, industrial cameras, and image processing devices via data flow models, without using a hardware description language. In VisualApplets base version, it is now possible to extend the functionality with enhanced function operator libraries via licensed extensions. Currently available are segmentation and classification along with compression extensions.
Among the new operators in the VisualApplets base version is a loop operator that allows loops within the data flow model, which will enable users to calculate image sequences and matches along with image batch processing. The Fast Fourier Transformation operator has also been enhanced to implement more complex filters with a high-computing time, making bandpass filters more FPGA-resource efficient.
Read about the rest of theupdates here.
To Learn More:
Contact: Silicon Software
Headquarters: Manheimm, Germany
Product: VisualApplets3 graphical development environment
Key Updates: Enhanced function operator libraries, new loop operator, Fast Fourier Transformation operator enhancement, VisualApplets Expert and Embedder extensions.

What Silicon Software says:
View more information on VisualApplets.

View More Products| Locate a vendor or system integrator | Receive e-mail updates


Share new products that you think are particularly interesting or helpful by contacting James Carroll, Senior Web Editor, Vision Systems Design.
Join our LinkedIn group | Like us on Facebook | Follow us on Twitter