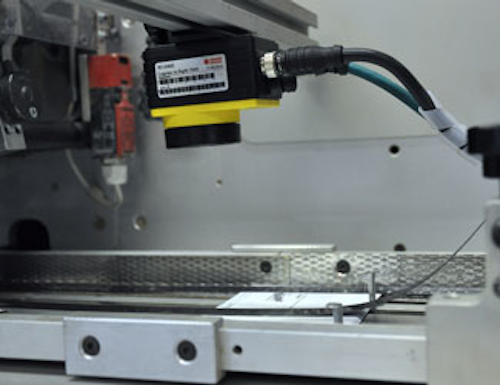 In order to ensure accuracy and meet aesthetic demands for envelope insertions, postal dispatch company Sigloch Distributioninstalled the In-Sight vision system from Cognex.
The envelope insertion system at Sigloch achieves a peak work-rate of 16,000 insertions per hour, so the In-Sight vision system helps the machine to ensure accuracy. After envelopes are inserted into the system, they are rotated 180° and In-Sight reads the envelopes' alphanumeric print and 2D codes, such as address and code positions. In-Sight Explorer vision software is used to reference pre-defined characteristics and errors and subsequently redefine the position of the 2D data matrix codes, as well as the human-readable alphanumeric print to facilitate reading applications.
In-Sight vision systems feature integrated smart cameras with high image capture rates, integrated lenses, IP67 housing, as well as tools for inspection, color, and OCR applications. In addition, the systems also enable the setting and saving of optimal focus values associated with the inspection of parts. It also offers integrated, field-replaceable lighting with five different color options (red, blue, green, white, and infrared).
In-Sight Explorer software offers a spreadsheet view for an efficiency way to configure the drag and drop vision tools and handle the data created from Sigloch's In-Sight vision inspection system. It features an EasyBuilder software interface, which enables the setup and deployment of various applications, including automatic extraction of features, setting smart parameters, and limits.
Changeovers on the Sigloch line used to take several hours, but are now completed in less than 45 minutes, according to the Cognex news release.
Also check out:
Cognex to showcase vision systems and ID readers at Pack Expo 2013
Five interesting applications of imaging software technology
Vision-based loss prevention solution increases retail revenue

Share your vision-related news by contacting James Carroll, Senior Web Editor, Vision Systems Design
To receive news like this in your inbox, click here.