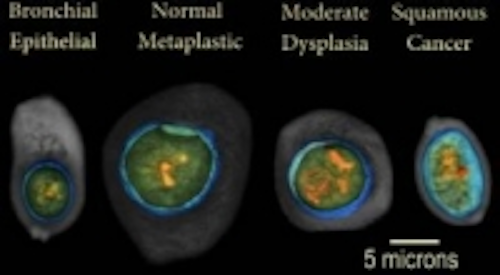 A recent pilot study saw an automated 3D cell imaging platform called Cell-CT non-invasively detect the presence or absence of lung cancer in sputum samples collected from patients.
In the pilot, researchers collected and studied sputum samples from lung cancer patients and from healthy patients.VisionGate's Cell-CT platform and LuCED sputum test creates 3D images of the cells contained in the sputum and uses advanced algorithms and image analysis software to make a cell-based diagnostic approach.
Cell-CT uses optical projection tomography to render cells in 3D. In the VisionGate video below, a cell is transported through the Cell-CT's glass micro-capillary by applying pressure to a gel that embeds the cells. As the capillary spins, the cell is scanned from multiple angles, producing a set of images. These images are then stitched together using filtered back-projection, which produces a 3D cell image. Results showed that the method was able to accurately detect the presence or absence of lung cancer cells to a sensitivity of more than 95% and a specificity of 99.8%.
This potential method of lung cancer detection would be more logistically feasible than current methods, as low-dose x-rayCT screening has a high rate of false positives. Cell-CT would allow physicians to non-invasively confirm or refute positive results from x-ray CT scans. In a press release, Glen J. Weiss, M.D., Director of Clinical Research, Cancer Treatment Centers of America Western Regional Medical Center said that the urgency of developing accurate and cost-efficient tools for early detection of lung cancer is imperative.
"This data showing that the Cell-CT platform can detect lung cancer with high accuracy from sputum samples in patients at all stages of the disease, as well as identifying those who are cancer-free, is very encouraging," he said. "We look forward to continuing to work with VisionGate to enlarge the study population and generate the data needed to advance development of this promising lung cancer screening test."
VisionGate's CEO, Scarlett Spring, said that the system is currently being peer-reviewed and that they are expanding their efforts with a variety of institutions in order to obtain the necessary data to gain FDA regulatory clearance of the3D imaging system for adjunctive use with x-ray CT screening, and then possibly as a standalone test for lung cancer screening which would be available to the general population.
The data gathered by VisionGate in its studies was presented at theInternational Association for the Study of Lung Cancer 15th World Conference on Lung Cancer in October.
View thepress release.
Also check out:
Academic researchers working to create pediatric eye cancer detection software
Fraunhofer scientists combine medical imaging techniques for gentler biopsies
Carnegie Mellon to develop robots for bridge inspection, surgery
Share your vision-related news by contactingJames Carroll, Senior Web Editor, Vision Systems Design
To receive news like this in your inbox,click here.
Join ourLinkedIn group | Like us on Facebook | Follow us on Twitter| Check us out on Google +