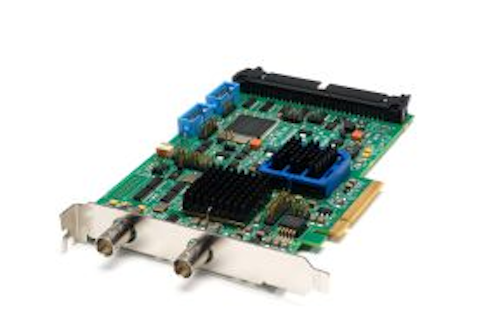 BitFlow's Karbon CXP2 is a two-link frame grabber which offers video acquisition speeds of up to 6 Gbps and will send control commands and triggers at 20 Mbps, all over a single piece of 75 Ohm coaxial cable in lengths of up to 135 meters. CXP2 frame grabbers support CXP speeds from 1.250 to 6.250 Gbps, provide power for all cameras (up to 13W per camera) and safe power full protection from all power line faults. In addition, cameras are plug-and-play with automatic link speed detection and can be synchronized. The frame grabbers have a PCI Express x8 interface and separate I/O for each camera and are suitable for use in package processing, semiconductor, web inspection, and motion analysis applications.
To Learn More:
Contact:BitFlow
Headquarters: Woburn, MA, USA
Product: Karbon CXP2 frame grabber.
Key Features: Video acquisition speeds up to 6 Gbps, commands and triggers at 20 Mbps, supports CXP speeds from 1.250 to 6.250 Gbps.
What BitFlow says:
View more information on Karbon CXP frame grabbers.

View More Products| Locate a vendor or system integrator | Receive e-mail updates
Share new products that you think are particularly interesting or helpful by contacting James Carroll, Senior Web Editor, Vision Systems Design.
Join our LinkedIn group | Like us on Facebook | Follow us on Twitter | Connect on Google +