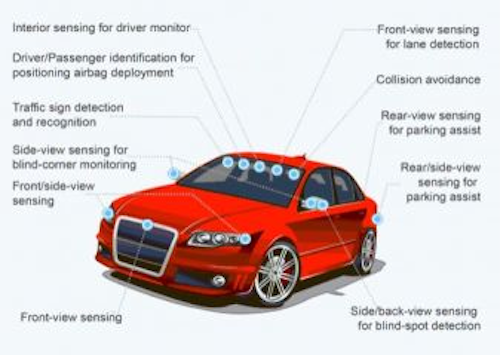 CogniVue Corporation has announced that, as a result of growing demand for automotive vision processing in smart cameras and driver assistance systems, it has licensed its vision aware software tools and vision algorithm toolkits to Freescale Semiconductor.
The companies hope to combine CogniVue's image processing software and tools with Freescale's programmable image cognition processor core to create a superior automotive driver assistance system, according to the press release.
CogniVue's APEX Vision Processing IP is a versatile, programmable platform that is scalable and adaptable to different applications and feature sets with changes to the embedded software. ICP vision processing IP and software toolkits enable advanced driver assistance system applications, including object detection and distance estimation, lane departure warning systems, and forward collision warning systems.

Freescale's SCP2000 family of image cognition processors (ICP) are designed to enable programmable intelligent imaging and video applications for automotive vision systems. Powered by CogniVue's APEX, the processors are capable of up to 34 billion operations/seconds and feature an ARM926EJ RISC CPU main processor, MPEG-4 video encoding at 30 fps, MPEG-4, H.264 video decoding at 30 fps, and 128 MB SDRAM in package for image data processing. In addition, the processors come with a software development kit for image cognition processing applications and a rapid prototyping development kit.
Freescale recognized the need for a programmable image cognition processor core, but also recognized the need for complementary image processing software, as well as tools to offer customers a solution for automotive driver assistance systems, said Ray Cornyn, Vice President of Product Management for Freescale's Automotive Microcontroller Group.
"Our customers need the ability to differentiate and reduce development time and cost while maintaining automotive quality and ensuring safety. Freescale is pleased to be strengthening its collaboration with CogniVue to address the growing demands of automotive vision processing," he said.
View the press release.
View more information on CogniVue.
View more information on Freescale Semiconductor.
Also check out:
Embedded vision system targets assembly line inspection
Pick and place machine integrates real-time I/O
Vision helps dairy spot slack cheese bags
Share your vision-related news by contacting James Carroll, Senior Web Editor, Vision Systems Design
To receive news like this in your inbox, click here.
Join our LinkedIn group | Like us on Facebook | Follow us on Twitter | Check us out on Google +