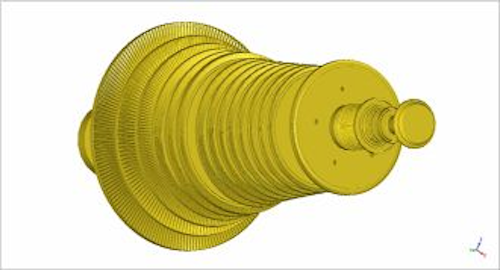 When a major turbomachinery engineering firm in Texas was tasked with redesigning a more energy-efficient turbine for its plant, it needed to produce the proper computer-aided design (CAD) model before it could begin the project. Lacking this CAD file, the company needed to create a new one by gathering turbine geometry data in order to reverse engineer the turbine. With that in mind, the company contacted NVision.
NVision's technicians went directly to the firm's site and used HandHeld 3D laser scanners to measure the parts' geometry to produce the necessary files, which made it possible for the company to perform simulations to optimize the turbine's design, which substantially improved its energy efficiency, according to a news release.
NVision's HandHeld scanner is a portable scanning device which is capable of capturing 3D geometry from objects of almost any size or shape. It is attached to a mechanical arm which moves around the object being scanned, capturing data rapidly. As parts are inspected, the scanner generates a point cloud consisting of millions of points, each with x, y, and z coordinates and i, j, k vectors. Accompanying software is used to convert the point cloud into an STL polygon and also enables rendering, editing, polygon reduction, and data output to all standard 3D packages.
After completing the scans, NVision processed the data into said STL format and then converted it to native parametric SolidWorks CAD format so the company could begin the redesign project. Having initially allotted six months to the entire reverse engineering process, the engineering firm was of course pleased when the project was completed within five weeks.
View the news release.
Also check out:
3D imaging market predicted to reach $9.82 billion by 2018
Robots and 3D scanners used to map ancient Roman aqueducts
3D imaging software and scanner inspect corroded oil and gas pipelines
Share your vision-related news by contacting James Carroll, Senior Web Editor, Vision Systems Design
To receive news like this in your inbox, click here.
Join our LinkedIn group | Like us on Facebook | Follow us on Twitter | Check us out on Google +