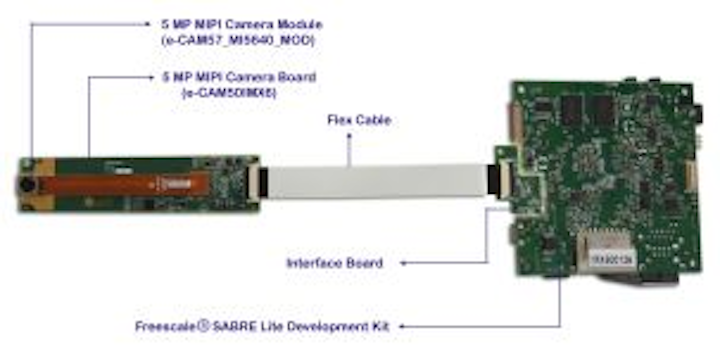 The e-CAM50IMX6 5 Mpixel full HD MIPIcamera board interfaces on to i.MX6 Freescale SABRE Lite and streams full HD 1080p@30 fps. It includes e-CAM57_MI5640_MOD, a 5 Mpixel autofocus 2-lane MIPI CSI-2 camera module with 70 mm flexible PCB length and full schematics and Linux driver support with source code. OmniVision's OV5640 image sensor, which comes with the e-CAM57_MI5640_MOD, has an embedded in-system programmability and features automatic image control functions including automatic exposure, automatic white balance, automatic band filter, 50/60Hz automatic luminance detection, and automatic black level calibration. The e-CAM50IMX6 is suitable for customers designing handheld devices, automotive infotainment, industrial & medical HMI, multimedia navigation, industrial automationand for those are in markets such as portable computing, education, industrial, medical and home automation.

To Learn More:
Contact:e-con Systems
Headquarters: Tamil Nadu, India
Product: e-CAM50IMX6 camera board
Key Features: Streams full HD 1080p@30fps, includes e-CAM57_MI5640_MOD, OmniVision OV5650 image sensor.

What e-con says:
View a press release on the e-CAM50IMX6 camera board.
View More Products
Locate a vendor or system integrator in Vision System Design's Buyer's Guide
Share new products that you think are particularly interesting or helpful by contactingJames Carroll, Senior Web Editor, Vision Systems Design.