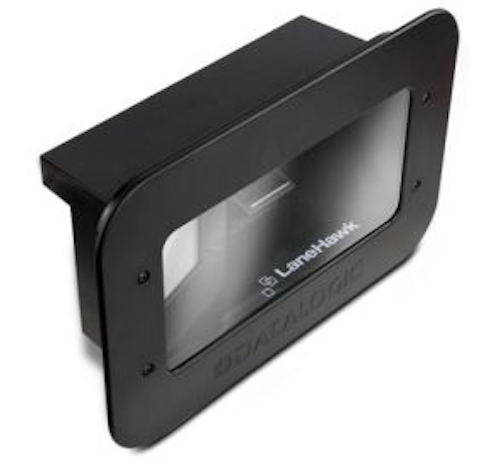 Datalogic has released the latest generation of their Lanehawk loss prevention solution – the LaneHawk LH4000 unit.
Vision-based LaneHawk products are developed by Datalogic in order to reduce bottom-of-basket (BOB) shrink in retail stores. A flush mountsmart camera is located level with the bottom of the basket in the checkout stand to look for items left on the bottom of the cart. Using visual pattern recognition (ViPR) software, the LaneHawk LH4000 can recognize items based on packaging without reading the bar code and can send the cashier a notification which enables them to add the UPC directly to the current transaction, according to the Datalogic press release.
This is enabled through a modelset database of images containing the product packaging of common BOB items. ViPR software extracts feature points from the images and creates a unique identifying pattern for each UPC. When products pass by the LaneHawk unit, an image is captured and the software extracts feature points and matches the patterns to those in the modelset. These computations are then streamlined to produce immediate results to allow for real-time recognition.
In addition, LaneHawk loss prevention solutions can log weekly reports of BOB items will also poiting to poor cashier training or misuse. With the latest iteration of the LaneHawk, Datalogic has improved the lighting panel that optimizes illumination within the target area and increased the resolution of the imager and the field of view in the vision system. It also implements spacer add-ons to enable the smaller form factor LaneHawk LH4000 to be compatible to its predecessor's cut out holes.
Datalogic suggests that a reduced BOB shrink helps boost profits per lane by up to 10%.
View the Datalogic press releases on theLaneHawk LH4000.
Also check out:
Robotic factory automation system reduces costs, increases productivity
Machine vision systems sort and grade seafood
Vision automates jar inspection
Share your vision-related news by contactingJames Carroll, Senior Web Editor, Vision Systems Design
To receive news like this in your inbox,click here.