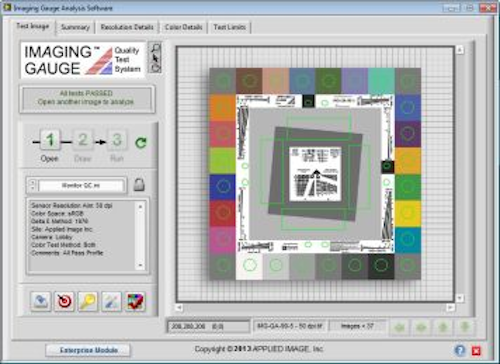 The Imaging Gaugequality analysis software system from Applied Image was developed to address the need for standardization of digital imaging systems. It includes software and test targets that help to assess the quality of a camera system. Primary image quality metrics include color accuracy for standard color spaces, resolution of sensor and optical components, tonescale characteristic curve, neutral balance of gray color patches, color channel recognition, and lighting and sensor uniformity. The system is suitable for use in police and identification applications, security systems, document storage, digital archiving, and industrial imaging. The software is available in engineering, enterprise, and deployment editions.
To Learn More:
Contact:Applied Image
Headquarters: Rochester, N.Y., United States
Product: The Imaging Gauge quality analysis system
Key Features: Developed for research and engineering environments to provide full image analysis capability (Engineering edition), developed for system integrators and engineers who deploy test systems to production (Enterprise edition), and developed for use by non-technical operators in field or production environments (Deployment edition.)

What Applied Image says:
View more information on The Imaging Gauge.

View More Products
Locate a vendor or system integrator in Vision System Design's Buyer's Guide
Share new products that you think are particularly interesting or helpful by contactingJames Carroll, Senior Web Editor, Vision Systems Design.