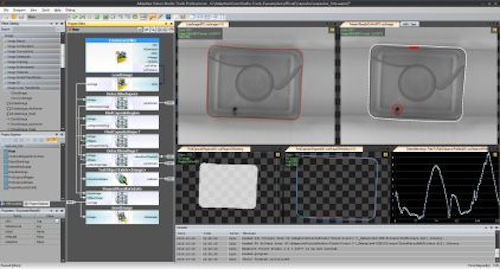 Adaptive Vision's Studio is a dataflow-based software toolkit that is equipped with a set of ready-to-use image analysis tools. It offers machine vision engineers an interactive, scalable visual development and programming environment. Studio comes with a library of tools that have reportedly been optimized for flexibility and usability. Adaptive Vision will showcase its Studio toolkit at Control Trade Fair 2013.
Control 2013 booth: 7413
To Learn More:
Contact:Adaptive Vision
Headquarters: Gliwice, Poland
Product:Studio 3.0
Key Features: 500 ready-to-use filters, drag and drop programming, customizable user interface
What Adaptive Vision says:
View more information on Adaptive Vision Studio.
Additional information:
View exhibitor list for Control Trade Fair 2013.
Share new products that you think are particularly interesting or helpful by contacting James Carroll, Senior Web Editor, Vision Systems Design