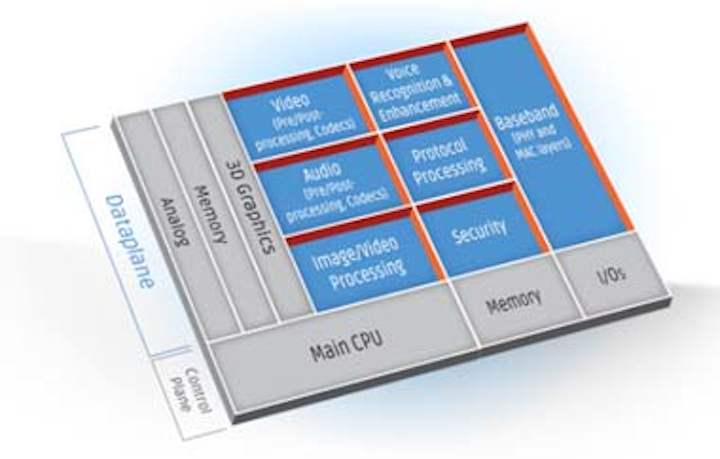 Imaging and video processor developerTensilica (Santa Clara, CA, USA) has formed three recent relationships that will see a variety of image processing software ported over to its new IVP Imaging/Video DSP.
Dream Chip Technologies (DCT; Garbsen, Germany), Irida Labs (Platani Patras, Greece) and Morpho (Tokyo, Japan) are all to port their video and image signal processing software offerings to Tensilica's processor.
Dream Chip Technologies has developed a number of IP based solutions for image processing and is actively involved in helping its European customers develop System on Chips (SoCs) and embedded software.
Irida Labs' product portfolio includes embedded vision software and silicon IP for applications such as video stabilization, face detection and recognition, low-light image enhancement, pedestrian detection and traffic sign recognition.
For its part, Morpho has developed a number of image processing libraries for processing images on mobile devices. These can be used for image stablilization, panoramic image generation, automatic object tracking and face recognition.
Tensilica's IVP itself is a so-called dataplane processor unit (DPU) that is suitable for image and video processing. The IVP DSP instruction set has more than 300 imaging, video and vision-oriented vector operations.
Related articles from Vision Systems Design you might also be interested in.

1.New API aims to help developers of multiprocessor systems
Software engineers who develop code for embedded image processing systems are constantly looking for ways in which they can accelerate their applications using the latest breed of multicore processors.

2.GPU speeds up Generalized Hough Transform
Researchers at KPIT Cummins Infosystems (Pune, India) have created a parallel implementation of the GHT algorithm that can run on a GPU. The researchers claim that their implementation is 80 times faster than a CPU-based version.
3.IP corrects for fish eye distortions
Engineers at Xylon (Zagreb, Croatia) have developed an IP core to process multiple still images or video streams in real time to remove fish eye distortions caused by extreme wide-angle field of view lenses.

-- Dave Wilson, Senior Editor,Vision Systems Design