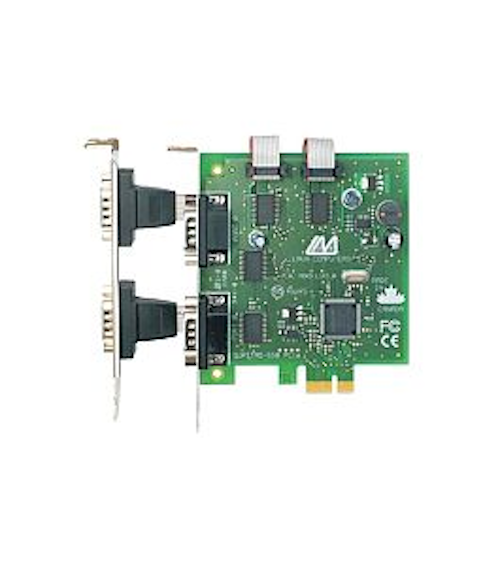 The Quattro-PCIe is a four-portserial card utilizing the PCI Express (PCIe) bus, for current server technology as well as for specialized PC desktop models. The current card is a full-height model; a low-profile version is under development. The PCIe board supports drivers for Windows 2000, XP, and Vista, and has RS-232 support for 115.2-kbit/s transmission. Port voltage levels are optimized for signaling at any cable length.
LAVA Computer MFG Inc.
Toronto, ON, Canada
-- Posted byVision Systems Design

---
NEW PRODUCT PRESS RELEASE

LAVA Computer MFG

Four-Port Serial PCI Express Card
The LAVA Quattro-PCIe is a four-port serial card that is the line extension of our PCI line of 4-port cards, namely the Quattro-PCI, Quattro-PCI/LP, Quattro-PCI 3.3 Volt, and Quattro-PCI Powered cards.
The LAVA Quattro-PCIe provides serial port expansion utilizing the PCI Express bus, both for current server technology as well as for specialized PC desktop models. The current card is a full height model but a low profile version is slated for the marketplace as well.
The features of this new card include:
· Form factor: 1x. Will fit into any PCIe slot.
· Form factor: LAVA's full-height PCIe cards are engineered for full height cases.
· Driver support: Win 2000/XP/Vista
· Serial support: RS232, for 115.2 kbps. Ships as 16550 UART implementation.
· LAVA Lifetime Warranty
Also, unlike many PCIe serial cards on the market, the voltage levels on serial ports of the LAVA Quattro-PCI are enough to give the best possible signalling at any given cable length.
The LAVA Quattro-PCIe, like all LAVA products, is covered by the LAVA Lifetime Warranty and LAVA Technical Support is staffed by technical engineers to answer questions or troubleshoot installations Monday through Friday, 9:00 a.m. to 5:30 p.m. EST.
SOURCE:LAVA Computer MFG Inc.