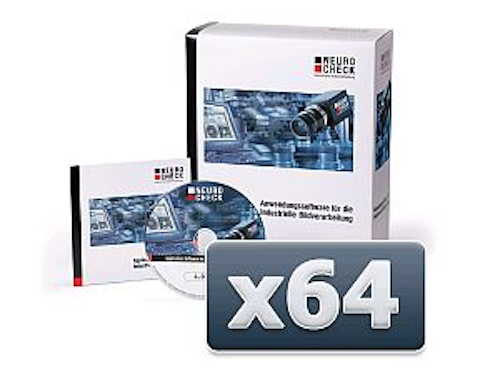 NeuroCheck 6.0 – 64-Bit Edition is an integrated neural-network software application used for inspection, guidance, identification, metrology, tracking, and counting in mission-critical inspection systems. Compared to the 32-bit edition, which was limited to using 4 Gbytes of RAM, the 64-bit version can address more RAM, allowing larger images to be processed in real time. The latest multicore processors are supported, particularly for fast cameras connected via GigE and FireWire (IEEE 1394b) interfaces. A free upgrade is available as part of the Service Pack 3 download for current 6.0 users, or the software can be ordered as part of the standard NeuroCheck Professional, Premium, and Run-Time licenses.
NeuroCheck GmbH/Industrial Vision Systems Ltd.
Kingston Bagpuize, UK
-- Posted by Vision Systems Design

---
NEW PRODUCT PRESS RELEASE
NeuroCheck introduces 64-bit vision system for automated visual inspection.
Latest generation machine vision technology supports Windows 7 64-Bit edition
NeuroCheck GmbH (Stuttgart, Germany), a leading supplier of machine vision software, and sister company Industrial Vision Systems Ltd (Oxford, UK) have launched NeuroCheck 6.0 – 64-Bit Edition, the most capable vision system available today.
Reengineered for the latest software environment, it offers manufacturers dramatic improvements in inspection processing, manufacturing integration and audit tracking as well as support for the latest high-resolution color digital cameras and multi-core CPUs.
NeuroCheck is an integrated software application used for inspection, guidance, identification, metrology, tracking and counting in mission-critical inspection systems. The new version takes account of the trend towards the 64-bit edition of the successful Microsoft Windows 7 operating system. In contrast to the 32 bit edition which was limited to using 4 GB of main memory (RAM), the 64-bit edition can address much more RAM, thus allowing much larger images to be processed in real time.
"The move to sixty four bit is critical for the machine vision industry," states Christian Demant, Managing Director of NeuroCheck GmbH. "With ever increasing sensor resolutions and full color processing in every function of our NeuroCheck vision system, the sixty four bit environment offers us the ability to address more RAM enabling the processing of very large images in real time."
In addition to the 64-bit support the new software version offers new functionality to help engineers deploying the vision system and for those engineers tasked with supporting the systems on the shop floor. The new "Project Directory Concept" within the software allows engineers to easily set-up, deploy and support a number of projects in parallel with different configurations and settings for each vision project. For engineers responsible for multiple vision systems across a factory it offers fast and easy administration of all their deployed machine vision solutions.
A cornerstone of NeuroCheck's philosophy from day one has been to remove any need for the
applications engineer to understand traditional programming when building vision systems
solutions. This is carried through in the latest edition with two new touchscreen ready designs for the Control Panel: 'Cool Black Buttons Top' and 'Cool Black Buttons Left'. These new control panels can be set up within minutes thus allowing more space on the display screen for a comprehensive visualization of process data and check results when required. A new window type is also available in the Process View Display, the new 'Data Register Viewer' offers comprehensive visualisation of the communication data within freely definable registers for production line communication.
New optimised image processing algorithms for the 64-bit environment allow faster solution
creation and more precise evaluations. All functions process colour data, check functions
incorporate numerous geometric characteristics and calculation rules, and barcode processing supports a wide range of 2D and 1D formats, allowing engineers to build solutions quicker and more accurately. 24-bit colour processing is carried through template matching, supported with the latest template definition wizard. Modern multi-core processor support further improves performance, particularly for fast cameras connected via GigE and FireWire B (IEEE 1394b) interfaces. In addition the new version includes several further enhancements, improvements and corrections.
NeuroCheck 6.0 64-Bit Edition is available as part of the new Service Pack 3 download available free of charge for current NeuroCheck 6.0 users, or can be ordered as part of the standard NeuroCheck Professional, Premium and Run-Time Licences.
Earl Yardley, Director, Industrial Vision Systems Ltd
Tel: 01865 823322, email: eyardley@industrialvision.co.uk
SOURCE: NeuroCheck GmbH