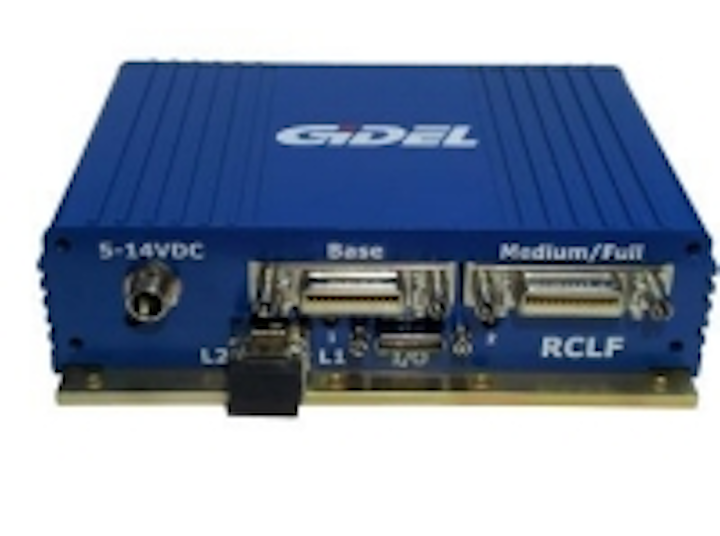 A new Remote Camera Over Fiber Link extender family from Gidel enables frame acquisition from a remote camera at a distance of up to 40 km without repeaters. The system features two SFP+ transceiver modules, each at 6.144 (or 6.25 GHz) for up to full duplex of ~ 12.5 Gb/s (10Gb/s net transfer rate.) A remote camera connects to the Gidel module that transmits the camera image over fiber optic cables to a frame grabber (Gidel, or any other model), that is mounted on a host computer. A remote RS232 via an MDR connector is available for camera shutter control, zooming and other camera controls. Status LEDs indicate power, link connection, transmission activity, and user defined functionality. The first model supports all Camera Link configurations, but support for CoaXPress, Camera Link, SDI, and HDMI is planned for Q1, 2015.
Check out the freeD sports imaging demonstration from VISION 2014, which features the fiber extender boxes and Camera Link over fiber frame grabbers from Gidel, along with 12 MPixel cameras from JAI.
To Learn More:

Contact: GiDEL
Headquarters: Or Akiva, Israel (Worldwide), Santa Clara, CA (US)
Product: Remote Camera Over Fiber Link family
Key Features: Two SFP+ transceiver modules each at 6.144 (or 6.25 GHz), maximum distance of 40 km w/ no repeaters, supports all Camera Link configurations, remote RS232, four remote opto-coupler inputs.
What GiDEL says:
View more information on the Remote Camera Over Fiber Link family.

View More Products| Locate a vendor or system integrator | Receive e-mail updates
Share new products that you think are particularly interesting or helpful by contacting James Carroll, Senior Web Editor, Vision Systems Design.
Join our LinkedIn group | Like us on Facebook | Follow us on Twitter | Connect on Google +