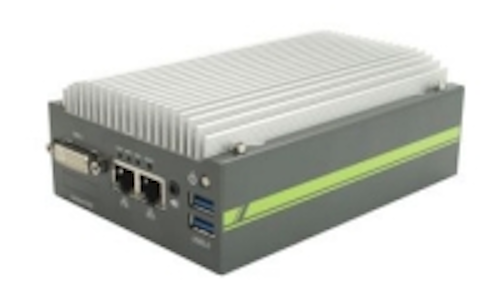 Neousys Technology has announced the release of the POC-200 fanless embedded computer, which is a 146 x 102 x 58 mm system powered by the Intel Atom E3845 1.91GHz Quad-core processor. The embedded computer features three USB 3.0 ports, two GigE Power over Ethernet ports, one USB 2.0 port, and four isolated I/Os. The compact POC-200 has an extended operating temperature range of -4°F to 158°F and also has a special heat sink design that enhances thermal dissipation more efficiently. The POC-200 embedded computer is suitable for use in vision-guided robotics, factory automation, and surveillance applications.
See other articles from our June 9 e-newsletter.
To Learn More:
Contact:Neousys Technology
Headquarters: Taipei, Taiwan
Product: POC-200 embedded computer
Key Features: Intel Atom E3845 1.91GHz Quad-core processor, three USB 3.0 ports, one USB 2.0 port, two GigE PoE ports.
What Neousys Technology says:
View more information the POC-200 embedded computer.

View More Products| Locate a vendor or system integrator | Receive e-mail updates
Share new products that you think are particularly interesting or helpful by contacting James Carroll, Senior Web Editor, Vision Systems Design.
Join our LinkedIn group | Like us on Facebook | Follow us on Twitter | Connect on Google +