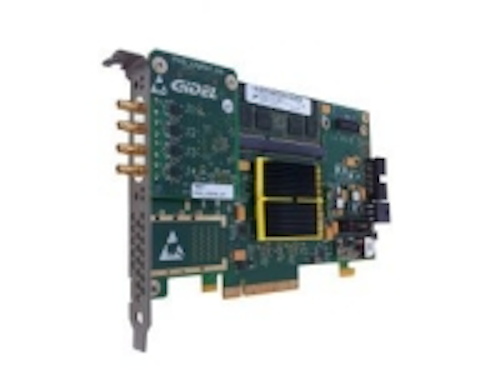 GiDEL has announced the release of the ProcCamSim-X CoaXPress camera/machinesimulator board that generates video and test patterns to a frame grabber supporting the CoaXPress specific configurations. The ProcCamSim-X simulator supports up to four devices with up to 6.25 Gbps over a single coaxial cable and up to 25 Gbps using four cables. ProcCamSim-X software configures all of the simulation parameters, including timing, resolution, and CoaXPress channels structure. Supported pixel formats include raw, mono, planar, planar raw, Bayer, RGB, RGBA, YUV, and YCBCR. The ProcCamSim-X simulator is suitable for use in imaging algorithm development, image processing application testing, machine vision integration, and vision system testing.
To Learn More:

Contact:GiDEL
Headquarters: Or Akiva, Israel (Worldwide), Santa Clara, CA (US)
Product: ProcCamSim-X CoaXPress simulator
Key Features: Simulates images on CoaXPress (Raw, mono, Bayer, etc.), fully programmable image timing and data parameters configuration, API methods for developing user simulation application, 4GB image buffer.
What GiDEL says:
View more information on the ProcCamSim-X.

View More Products| Locate a vendor or system integrator | Receive e-mail updates
Share new products that you think are particularly interesting or helpful by contactingJames Carroll, Senior Web Editor, Vision Systems Design.
Join ourLinkedIn group | Like us on Facebook | Follow us on Twitter| Connect on Google +