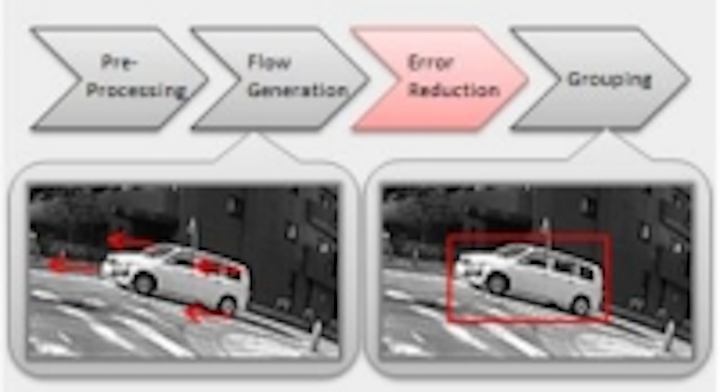 Fujitsu Semiconductor Limited has announced the release of its Approaching Object Detection Library software, which is designed for use with the company's system-on-chips (SoC) to visualize information from vehicle-mounted cameras to detect people, vehicles, and other nearby objects.
The library—which uses proprietary technology to reduce detection errors—generates optically-detected movements via the input video stream and applies a detection-error reduction processing algorithm, and then groups objects with similar flows to identify moving objects. The algorithm developed by Fujitsu Semiconductor limits detection errors such as false positives and false negatives and identifies the factors that lead to such errors and corrects them through the validation of a massive library of images. Through this, the software will improve detection performance with fast-moving objects and in low-light conditions.
The system runs on an ARM Cortex-A9 533 MHz processor, features ROM of 90 Kbytes, and has 4 Mbytes RAM (Input image size: 720 x 480, detection area: Two areas of 240 x 160).
The Kids and Transportation Safety Act in the US will require that all passenger cars made from May 2018 on include rearview cameras. As a result, the demand for functionality that can provide drivers with information on their vehicles' surroundings is expected to significantly increase. The Approaching Object Detection Library software was developed by Fujitsu Semiconductor with this in mind. The software is expected to be released commercially in September.
View the press release.
Also check out:
Academic researchers developing new activity recognition algorithm
MIT researchers develop algorithm for better robotic navigation and scene understanding
Software aims to characterize algorithm performance
Share your vision-related news by contacting James Carroll, Senior Web Editor, Vision Systems Design
To receive news like this in your inbox, click here.
Join our LinkedIn group | Like us on Facebook | Follow us on Twitter | Check us out on Google +