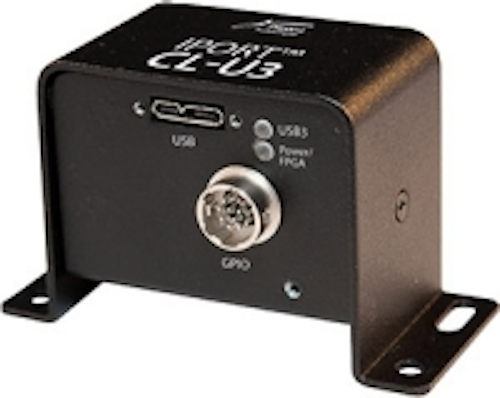 The following is a discussion continued from page one with John Butler, Sales Manager, Pleora Technologies Inc.

Name: John Butler
Company: Pleora Technologies Inc.
Title: Manager, Sales

Is there a particular trend or product in the next few years that you see as "the next big thing?"
I expect to see continued demand for sensors with higher resolution and higher frame rates, particularly in applications such as semiconductor and flat panel inspection. The challenge here is managing and processing the amount of image data that is generated. GigE Vision at 10 Gb/s is an ideal solution to enable imaging systems to leverage network infrastructure and distribute image processing across multiple computers.
In terms of what could be the next big thing, wireless technology is everywhere and it's only a matter of time before it enters the industrial imaging space. With 802.11ac becoming more common, I believe manufacturers and integrators will start looking at this technology as a means to simplify some of their systems. Many machine vision applications are still served bycameras with resolutions of 1 megapixel or less and sensors in this range could be good candidates for wireless interfaces. Factor in the aggressive growth in mobile computing, and the potential for wireless imaging systems in traditional industrial automation applications as well as other markets such as medical is very real.
How will imaging systems have to change to meet emerging applications?
As demand for higher throughput and productivity continues to increase, imaging systems will need to become more scalable. This means systems may need to start leveraging distributed and parallel processing. Ethernet is by far the best interface option for this. Leveraging the multicast capability found in standard Ethernet network hardware, systems can be designed with the ability to scale from Gigabit to 10 Gigabit with minimal disruption.
Do you have any new exciting products or developments on the horizon?
Yes, we are actively working to further expand our line of USB3 Vision external frame grabbers and will be adding new models to that portfolio in the coming months. In parallel, we are also planning to further expand the flexibility of our eBUS SDK by integrating support for additional operating systems and hardware environments.
Is there anything vision-related that you've seen recently, in any particular market, that you thought was particularly cool?
Working directly with our customers puts me in a position to see unique and interesting applications every day. No two vision projects are exactly the same. Recently I've seen an application where vision-guided robots roam hospital hallways autonomously to facilitate remote consultations with patients, enabling medical specialists to 'meet' with patients where time-consuming travel would otherwise be required. When the consultation is complete, the robot simply returns to its base.
Also check out:
(Slideshow) Six unique ways 3D imaging helped solve problems
(Slideshow) Five unique examples of industrial machine vision inspection
Live from the AIA Vision show: An outlook on collaborative robots

Share your vision-related news by contacting James Carroll, Senior Web Editor, Vision Systems Design
To receive news like this in your inbox, click here.
Join our LinkedIn group | Like us on Facebook | Follow us on Twitter | Check us out on Google +
Page 1 | Page 2